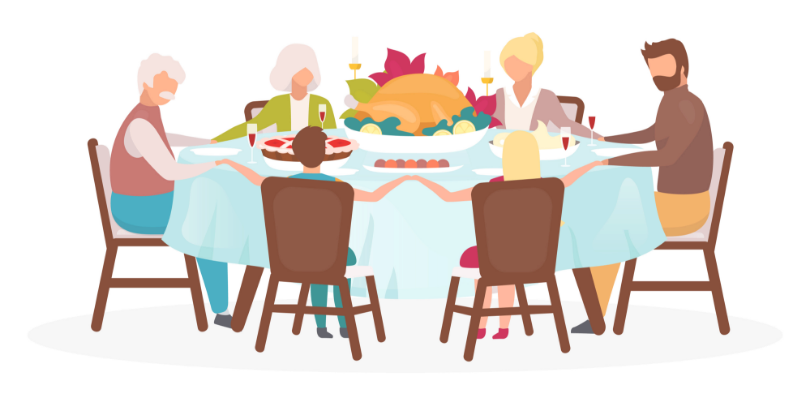 Thanksgiving is a time to gather with loved ones and take time to appreciate all of our blessings - typically with a good meal as a plus! It can take a lot of time and effort to organize your holiday events. After all, you're busy managing details such as where to meet, what everyone should bring, and how to communicate with guests. 
Online sign ups are perfect for: 
Organizing a food drive 
Recruiting volunteers to serve Thanksgiving meals 
Coordinating dishes between friends and family 
Online sign ups can take the pressure off the organizer so everyone can enjoy the festivities - no matter how you choose to celebrate the season. See how you can create a plan and execute it with the help of a sign up. Trust us - you'll be extra thankful for these Thanksgiving event tips this year! 
Create a plan 
Before you get started, you'll need to decide the type of event you are planning.  Are you hosting a
Friendsgiving
, bringing family together for a
meal
or having a
party
? Maybe you want to
plan a service project
or organize a food drive. Regardless, you'll need to plan out your needs and how people can participate.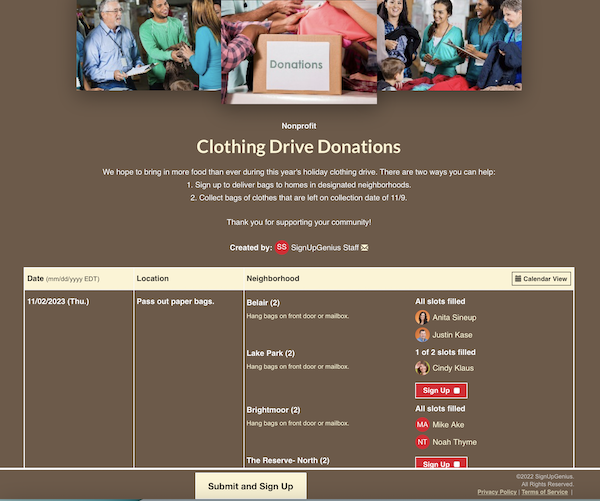 Start by creating a sign up that reflects your event. You can customize the layout of your sign up or  browse design options to choose a Thanksgiving theme. Enter slots for specific food dishes or require the comment field on the sign up so that people can list their specific dish for others to see.  

Hosting a food drive or volunteer event? Be sure to list out your needed items as slots. This is a great way to ensure you have an even distribution of supplies.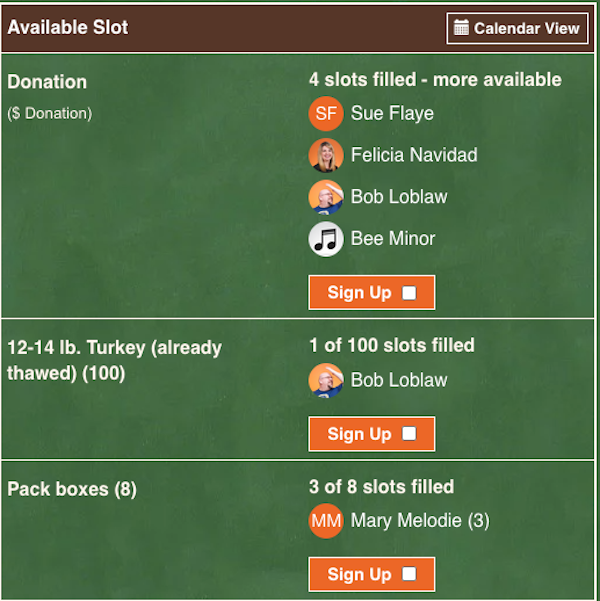 Spread the word 
Once you've created your sign up, it's time to request help for your upcoming event or simply invite others to
RSVP
. A sign up makes it easy for people to respond and prevents miscommunication regarding dish assignments.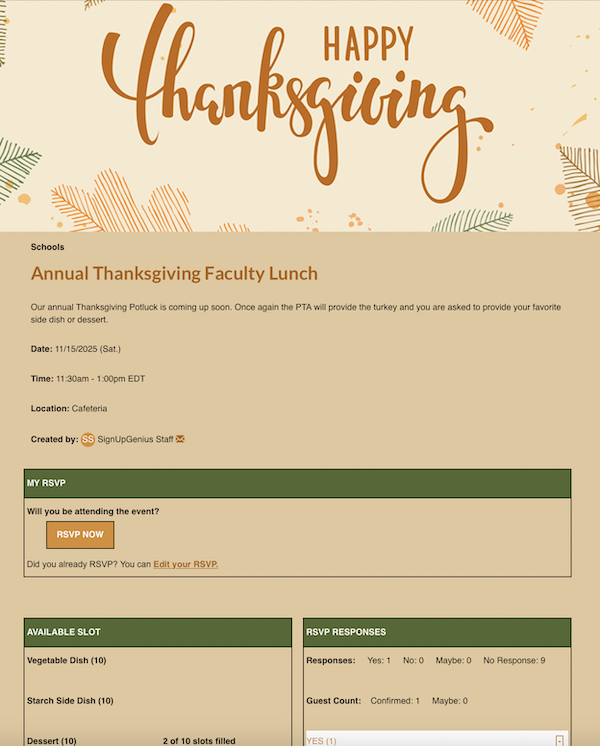 Spread the word about your event to ensure you have a good turnout - you'll get the food items you need and have plenty of help. You can promote your sign up in many ways. You can email the sign ups to your family, but if you're looking for volunteers to serve meals or hosting a food drive, you might want to consider sharing the link on social platforms or in a newsletter. 
Follow up 
Once everyone has heard about your Thanksgiving gathering, it's important to follow up with sign up participants. With our
premium plans
, you can keep your volunteers or attendees informed by sending out
customized reminders and messages
crafted by you. These notifications can include helpful information about your gathering, like including a map link to make sure everyone knows where to go and how to get there. After all, even friends might not remember where you live. 
Connect with conversation 
Once it's time for your group to come together, make sure you have a plan to give everyone the chance to connect and create conversation.  
Holidays can put a lot of pressure on people in social situations, so ease into your gathering with these icebreakers or Thanksgiving questions. This can even be helpful for making small talk with other volunteers or the guests you are serving. For a traditional Thanksgiving, start your event off with a few games that are great for the whole family!  
This Thanksgiving season, plan to gather and give back with those around you. By simplifying organization with online sign ups, you'll have more time to spread joy and reflect on all that you are thankful for this season.