50 Friendsgiving Tips and Ideas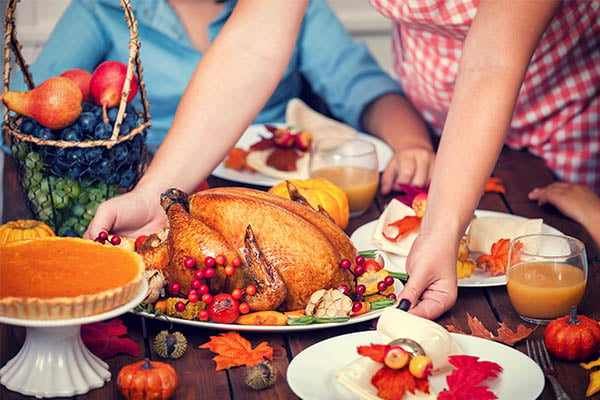 Friends are the family we choose, which is why they're the perfect candidates to help celebrate a holiday like Thanksgiving that's all about being thankful (and stuffing our faces with delicious food). Here are 50 tips to make sure this year's Friendsgiving is the best one yet. 
Set a Date
Plan Early - The holidays are often the busiest time of year, and it can be tough to get a spot on people's rapidly filling schedules. You may need to start polling people about their preferred dates as early as the end of summer.
Be Flexible - Can your celebration take place on a weeknight? What about lunchtime? It may be easier for people to work you into their schedule if you're not planning a traditional weekend dinner.
Get Techy - Use SignUpGenius to plan a date that works for everyone and to collect RSVPs.
Plan Around the Big Game - If your group is full of fans, you might want to consider picking a date that will have lots of football on television.
Check the Weather - Depending on where you live, you'll want to pick a date that won't be too far into the snowy season — leaving your guests to decide whether they love you enough to brave a blizzard.
---
Plan a low-fuss feast with this printable Thanksgiving checklist! DOWNLOAD.
---
Pick a Place
Find Your Host (or Hostess) - See if someone in your group is willing to host the shindig at their home, and make it clear everyone will help with setting up, cleanup and other chores.
Consider a Restaurant - Going out for Friendsgiving is a great option if you don't want to worry about cooking or cleaning. Just make sure to find out the restaurant's policy on check splitting if you have a large group.
Get Progressive - A progressive dinner is a fun Friendsgiving option for neighbors. It takes the burden off a single host or hostess, and allows you to check out everyone's fall decorations (and cooking skills).
Decide Your Vibe - Do you want everyone sitting around a huge table or will you be OK with people eating out of their laps in front of the television? Your answer could help determine the best place to have your meal.
Sample Sign Up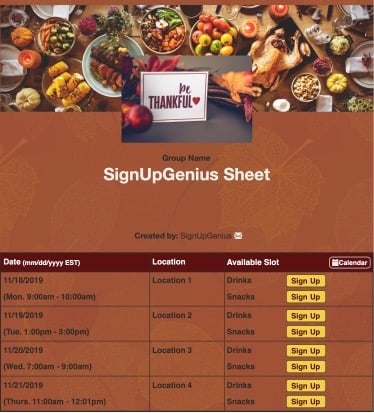 Send your Invites
Decide Who's Coming - Once you decide where you're having the celebration, you'll have a better idea of how many people can come. If your group's too large for the space, consider separating your event into two different nights or having it somewhere else.
Be Prepared to Squeeze - If you absolutely have to get your group into a smaller space, get creative. People can eat on the floor at a coffee table or even bring their own chairs if necessary.
Don't Forget Out-of-Towners - Make it a point to invite friends (or colleagues) who live far from family and may not otherwise be able to get home to celebrate the holiday. Even if you aren't that close, Friendsgiving could be a great way to get to know them better.
Is it Family-Friendly? - Make it clear whether children are invited to the Friendsgiving festivities, and if they aren't, give everyone enough time to find a babysitter.
Consider a Group Sitter - If lots of your friends have kids, consider getting one or two sitters to keep the whole group of youngsters while the parents enjoy themselves.
Go Traditional - Everyone loves getting snail mail, so consider having paper invitations printed. They'll look great in the scrapbook alongside pictures of all the memories you'll share.
Go Paperless - Email invites are quick, simple and free. You can even customize your invitation's theme for the event. Genius Tip: Collect RSVPs on a sign up that also lets people volunteer for a dish to bring.
Make it Easy to RSVP - You'll be more likely to get responses if you make it easy for guests to let you know they're coming. Consider including your cell number or email address on the invites if people prefer that method.
Follow Up - Send a group message a day or two before your event to make sure everyone is still planning to be there. Genius Tip: Head to SignUpGenius' Message tab on your account page to send a reminder to your group.
---
Create a sign up to let people bring their favorite Thanksgiving dishes! SAMPLE.
---
Plan a Menu
Get Everyone Involved - Use SignUpGenius to have guests volunteer which dishes they'd like to bring on a sign up. No worries about three gravy sauces showing up!
Don't Neglect Dietary Restrictions - Tell guests to make it clear if they have nut, gluten or other allergies so everyone can plan their dishes accordingly. Genius Tip: Create a custom question on your sign up to collect this information.
Go Old School - Ask guests to bring a dish that's been in their family for years. It's a great way to experience different families' traditions.
Brine the Turkey - Brining is a method of submerging the bird in a salty solution for a long time to keep it moist and flavorful. Look online for a recipe that sounds scrumptious.
Offer Options - Some people love canned cranberry sauce and some will only allow the fresh stuff to touch their turkey. It's the same with various varieties of yam/potato dishes. Let guests know what you're serving, and encourage them to bring their versions so everyone can compare.
Try a New Recipe - Friendsgiving is the perfect time to test out a new dish you've been itching to try. With a large group, it's sure to get eaten rather than sitting in your fridge for a month.
Think Outside the Box - Your menu doesn't have to consist of just turkey and stuffing — what about a Mexican food-themed Friendsgiving? Talk to your guests about a fun theme that will lend itself to a unique, delicious menu. Genius Tip: 50 creative potluck themes.
Send Your Menu in Advance - You can do this via email through a message reminder, but let guests know what they can look forward to.
Drink and be Merry - Decide whether you're going to provide alcohol or have guests bring their own — and make it clear on the invite. Include a note if you expect a dry event.
Consider a Keg - Sure it may remind you of your last college fraternity party, but if your guests have similar taste in beer, a keg may be the cheapest option. You can also go directly to craft breweries for growlers and pony kegs of unique brews.
Create a Signature Drink - A fall-themed beverage is a great way to keep your drink menu simple. Look online for recipes that feature flavors of cinnamon and cloves.
Mark Your Territory - Give guests permanent markers to write their names on cups so no one gets confused about whose drink is whose.
Give a Toast - Friendsgiving is a great opportunity to toast your friendships. Say something special and serve your signature drink for the occasion.
Nix the Fancy China - Disposable plates and cutlery will cut down on the time you spend in front of the sink, and many brands offer environmentally friendly varieties so you don't have to feel guilty tossing it in the trash.
Be Safe - Any emergency room staffer will tell you the holidays are rife with injuries. Use common sense when it comes to safety at Friendsgiving. (That means no frying the turkey right next to the house).
Don't Forget Fido - If you're allowing pets at your Friendsgiving, consider bringing fun snacks like turkey-flavored dog treats for your four-legged friends.
---
Organize a Thanksgiving meal for those who are alone for the holiday with an online sign up! SAMPLE.
---
It's All in the Details
Plan a Dress Code - Some friend groups love getting dressed to the nines while others would be happier in sweat pants. Decide with your group what the dress code will be so no one feels out of place.
Decorate - Pick decorations that go with your theme (maybe a piñata for the Mexican-themed idea above?) or go with the traditional pumpkin-and-gourd motif.
Get Guests Involved - Remember those toilet paper tube pilgrims you made as a child? Turns out it's just as fun to make these as adults. Bring the supplies and put your guests to work creating their own decor.
Make Fun Place Cards – Direct guests where to sit with place cards that are drawn by hand or printed from a template. Taking the extra step will show guests you care (and avoid endless refrains of "is someone sitting here?").
Pump the Jams - Decide the vibe you're going for, and have it reflected in your background music. Want something relaxing? Try Frank Sinatra. Looking to get the party started? Crank up the hip-hop.
Kick off the Holiday Season - You can make your Friendsgiving the official start of the holidays by playing Christmas music, putting out holiday decorations or even drawing names for secret Santa.
Have Some Fun
Hand Out Name Tags - If all your guests don't know each other, name tags are a great way to help everyone get familiar. Bonus points for having guests add a line letting everyone know how they met the host.
Assign Dish Duty - Offer to let people sign up for different cleanup duties, or as a last resort, draw names from a hat to assign chores.
Remember the Reason - Have guests go around the table and say what they're thankful for. This tradition may remind you of your childhood, but as an adult it's sure to give you the warm fuzzies.
Grab a Pack of Playing Cards - Card games have been entertaining houseguests for generations. Find a game that everyone knows how to play or feel free to teach a new one.
Ban Boredom with Board Games - Old-school board games have often fallen by the wayside in adulthood. Your guests will love the retro feel of Life, Monopoly, Sorry! and the like. Genius Tip: Liven the party with 20 Thanksgiving Day Games for the Whole Family.
Get Physical - Nothing beats a game of touch football outdoors in the crisp fall air. Just remember to stretch before and after — you aren't as young as you used to be!
Give Favors - You don't have to break the bank to send guests home with a treat that will help them remember the occasion.
Play Icebreaker Games - If you have newbies in the group, it's fun to have everyone say their name and one fact about themselves to help everyone get to know one another. Genius Tip: Try these 100 funny icebreaker questions.
Embrace Competition – Play a team-based game like Pictionary or Charades. Bonus points if you can work the Thanksgiving holiday into the rules for the evening.
Turn on the Television - Whether you're showing the big football game or your favorite goofy holiday movie, the television can add some background noise and conversation starters to your event. Just make sure to keep the volume low so your guests can keep talking to one another.
Plan ahead and your event is sure to be a success. Remember, perfection isn't what people expect — it's good company and friendship. 
Sarah Pryor is a journalist, wife, mom and Auburn football fan living in Charlotte, N.C.