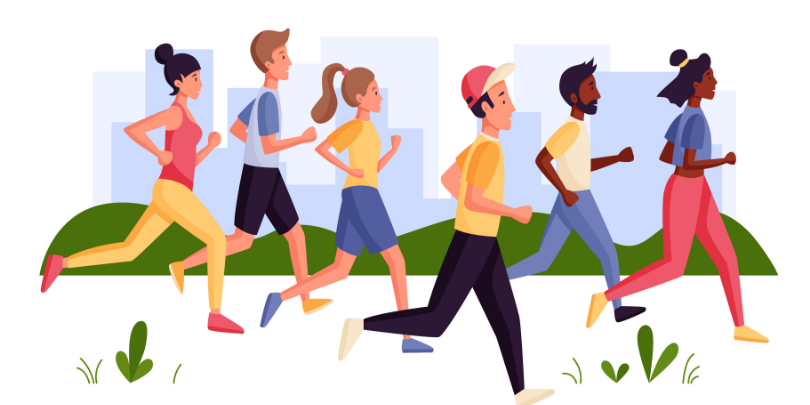 Fun runs are a great way to raise money and awareness for special causes but organizing them can take a lot of work! Using a sign up can help you simplify race registration for participants and streamline the coordination of volunteers; now that's genius! 
Select a theme for your race to include the "fun" part of the run, and then make sure your sign up reflects it. We have hundreds of designs for you to pick from, or you can customize your own to fit your organization's branding.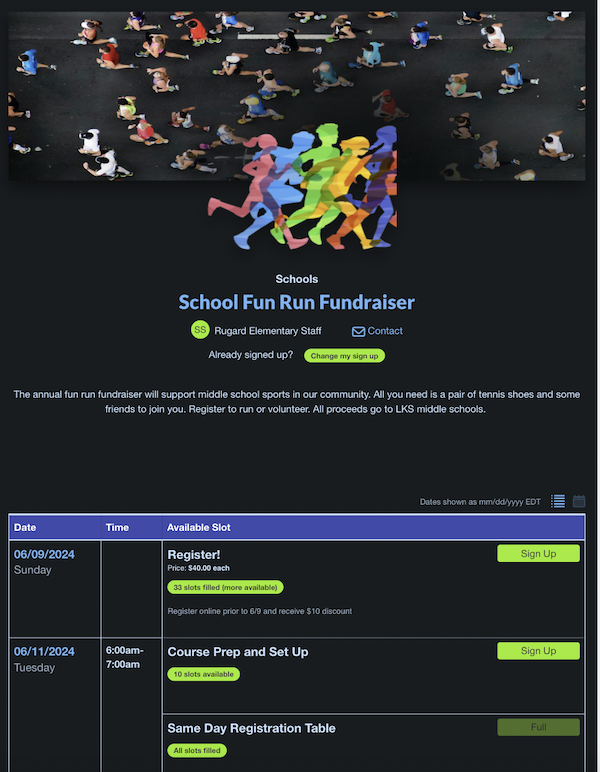 Spread the word about your race to your community and use these 3 features to successfully manage your fun run from start to finish: 
Collect fees 
While these runs are a great time for the community and a fun way to get active, the goal is to raise money for your cause. Streamline the process by
collecting race fees
through your sign up once participants register.  
With our online payment tool LumaPay, participants can pay directly on your sign up with their credit card or digital wallet. You aren't required to have a SignUpGenius subscription plan in order to collect money, so you can get started right now!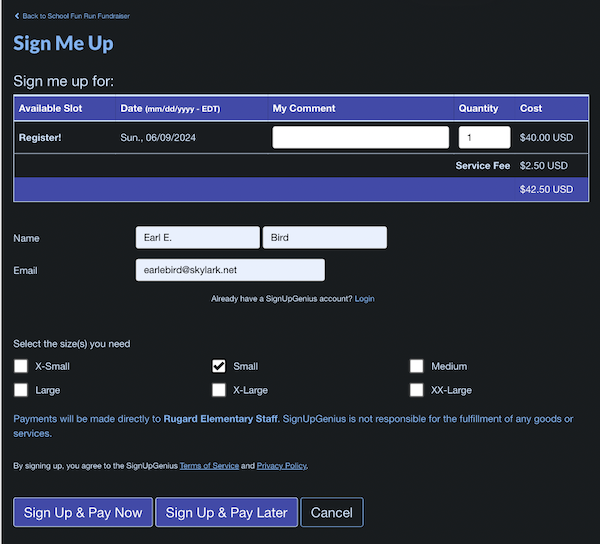 You can also create an additional slot on your sign up to collect donations from those who want to support your cause but may not want to run the race.  
Genius tip: You can get a detailed payments report from your sign up to help you keep track of who has paid, and gain insight on how much money you are raising. Use these reports each year to track your growth and help with goal setting in the future! 
Attach waivers 
Reduce paperwork and simplify the sign in process for you and registrants by
attaching waivers to your sign up
. Participants can download the forms, fill them out and either submit them electronically or bring them on race day!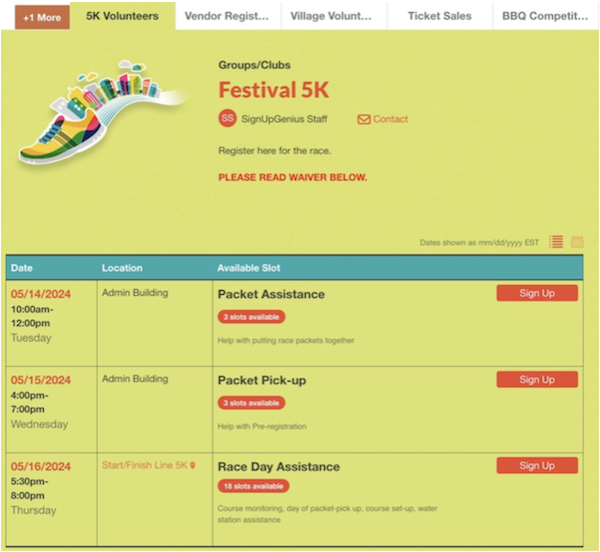 Including these waivers in your sign up process will help to speed up check-in on race day, saving your volunteers and runners time while helping you stay organized and efficient!  
Don't forget to also include custom questions on your sign up if you need to collect additional information, like t-shirt sizes, from participants.   
Send custom messages 
Need to communicate with the runners or the volunteers? With our
premium plans
, you can
send custom reminder or confirmation messages
to sign up participants.  
These messages will help you tell runners where to meet for check in, remind them to complete registration waivers and send any additional information they need to know before race day. They can also inform and remind volunteers of what station they signed up for, where to go and what their duties will be for the duration of the race. 
Now that you have the tools and tips for coordinating a fun run, what are you waiting for? Start planning a race that will get your community moving while raising money for an important cause. Ready, set, start organizing!