20 Creative 5k Race Themes and Ideas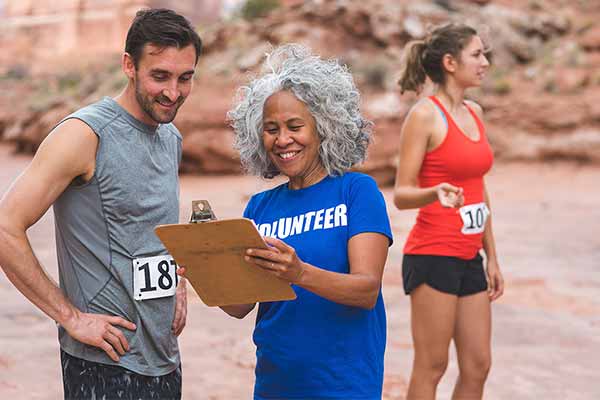 Put on your running shoes and get off to a fast start to plan a fun and successful 5k. If you're new to the course, don't worry. Here are some ideas to start you on the right track!
Friends and Food
Test your ability to exercise while still enjoying some sweet treats with these themes that center around food.
Donut Dash - Donut delay in putting on a great race and fun challenge where people can enjoy the race and satisfy their sweet tooth. In this case, America really does run on Dunkin'!
Chocaholic Heaven - Who needs a water break when you can have a hot chocolate break? Calling all chocoholics to race toward the finish line filled with chocolate delights like protein bars, chocolate-covered strawberries and chocolate fountains.
Food Fight - Throughout this course, unruly cafeteria behavior is welcome. Runners will race through a course where people are stationed to throw mashed potatoes, spaghetti and pizza at them. Don't worry, the finish line has a cleaning station where athletes can freshen up before actually enjoying some food!
Breakfast Bash - Ensure you eat the most important meal of the day by centering a race around breakfast foods! Runners can head over to hydration stations for orange juice and build up their muscles by eating fresh, sizzling bacon.
Food Truck Frenzy - Fill the finish line with a variety of food trucks so participants can top off all their hard work by enjoying a meal with family and friends. Book trucks with different types of food so you can try new cuisines and find a new favorite food.
---
Collect 5k registration fees with a sign up. View an Example
---
Happy Holidays
Take your holiday celebrations to the next level by including exercise in the plan for family and friends.
Santa Surprise - Join the Christmas cheer and host a run where people can dress as Santa, elves and reindeer to get in the holiday spirit while enjoying friendly competition. Candy canes, eggnog and many more holiday treats are welcome at the finish line!
Valentine's Day Victory - Find a loved one and include an invitation in your valentine to run their heart out in a race for love. Watch out for Cupid's arrows! He'll be on the lookout to provide extra roses and chocolates to participants throughout the race.
Turkey Trot - Start preparing yourself for all the holiday sweets and treats and participate in a 5k to burn off those extra bread rolls. Invite friends and family to give thanks to all your blessings and celebrate the day with a little exercise and a lot of memories.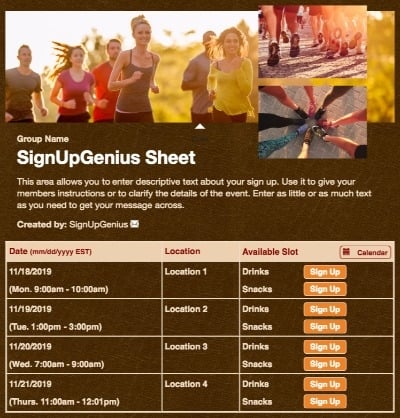 Easter Egg-citement - Gather all your peeps and make sure your Easter is eggs-tra special with a 5k. Spread eggs throughout the course and have fun activities at the finish line like dyeing eggs and timed relay races. Genius Tip: Go beyond your typical Easter egg hunt with these 25 Easter games and activities to help make your 5k one for the scrapbook.
Shamrock Shake - Have some St. Patrick's Day fun and run to find the pot of gold at the end of the rainbow with this 5k. All leprechauns are welcome at this event centered around having fun. Expect all kinds of shenanigans including a hunt for four-leaf clovers. The winner will secure the luck of the Irish!
---
Plan a Turkey Trot 5k and Fun Run with a sign up. View an Example
---
Crazy Costumes
Let your imagination take control when you enter these costume-based races. The person or group with the best costume wins an extra prize!
Superhero Strides - Take your strides through this 5k with your favorite superhero's powers. Whether you are Batman, Superman, Iron Man or Ant Man, you're sure to be flying through the course in no time!
Dynamic Duos - Grab a friend to create a costume pairing for the best dynamic duo. You could create any costume, from Squints and Wendy from the Sandlot to rock members of KISS, as long as you stick together to complete the race.
Fortnite Fun - Recreate your favorite Fortnite character and put on your running shoes to participate in a 5k based on the game that has taken over the popularity charts. Create different photo stops along the course so kids can show off all of their Fortnite dance moves!
Monster Mash - Beware! There will be increased sightings of zombies, ghosts and gremlins during this 5k. Bring out your costumes and your best makeup tricks to really make your monster creation look like the real deal!
Dance at the Disco - Pull out the flared pants and go-go boots to participate in a 5k throwing it back to the times of disco. Join the crowd at the end of the race to have a celebration featuring the best of the Bee Gees, Gloria Gaynor and many more to get your groove on!
---
Coordinate 5k training sessions with a sign up. View an Example
---
Creative Concepts
Attract people who want to have a little fun by mixing up your typical 5k with these interesting ideas. Your race will be off to a quick start in no time!
Neon Night - Save your workout for after the sun sets so you can truly enjoy this glow-in-the-dark fun run. Wear all white to enhance the glow gel and brightness of the glow sticks!
Color Craze - Provide runners with white t-shirts and some washable paint and powder color packets so they can prepare to make masterpieces. Participants will get doused with color throughout the race and can join in the craziness at the finish line when they throw their color powder packets in the air. In this case, the messier the race, the better!
Fundraising Frenzy - Set out to create a 5K that is all about generating awareness and raising funds to support charities of your choice. Each athlete can set out to get a sponsor to keep them on track to run the race and pledge a certain amount to support the charity. Genius Tip: Look through these 25 easy fundraising tips to raise more money to help meet your goal and collect a record amount to donate to a greater good.
No Shave November - Turn out in numbers to support raising money for prostate cancer research. Encourage male runners to grow out their facial hair in all sorts of fashions and hand out mustache stickers to girls so everyone can participate!
Obstacle Opener - Everyone loves a good obstacle course that provides an extra physical challenge over the course of a 5k! Include mud pits, jumps and rope ladders Spartan-race style to add new elements to a typical race.
Have some fun and log a new personal record with these unique ideas for your next 5k. Plus, don't forget to
recruit and manage volunteers
for your event. With a little bit of effort and a whole lot creativity, people will sprint to line up for your race!
Celine Ives is a college student who enjoys playing field hockey, cuddling with her dog and cheering on her Carolina Tar Heels.