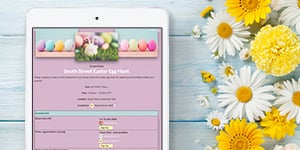 The promise of warmer weather means it's time to reemerge from hibernation and start organizing your spring events, fundraisers and sports teams. Plan ahead, and you'll have more time to stop and smell the spring flowers.
Celebrate Easter
With a whole month to plan for this holiday, you can keep it simple with an Easter brunch for friends and family or go big with an Easter egg hunt for your church or community. Looking for something more reflective? Plan a 24-hour prayer chain leading up to Easter Sunday.
Start Planning: Early in the month (at the latest) if you plan on a large Easter Egg hunt; mid-month for a more intimate brunch.
Start Spring Sports
Sports teams will be forming, from Little League baseball and soccer to track and field and tennis. If you plan to be a team parent, check out these tips for organizing success. Start by connecting with your coach for a game and practice schedule and sending out a team snack sign up.
Start Planning: Beginning of the month (or as soon as you know your team)
Take a College Tour
Spring break is a great time to pack up the minivan and check out potential universities for your star student. Make the most of your time on campus by browsing these 25 ideas for college tours. Plus, if you're a university, you can simplify the tour scheduling by creating an online sign up.
Start Planning: Beginning of the month, particularly if you need to book a hotel for your visit
Register 5K Participants and Volunteers
It's time to lace up the running shoes and raise money for good causes in the community. Whether you're planning a school fun run or a 5K for a community group, you can easily register event participants and collect money on one sign up.
Start Planning: Beginning of the month
Plan a Party
There are lots of reasons to celebrate in March. Get people together, whether you're cheering on your favorite college basketball team during March Madness with a sports-themed potluck or celebrating the luck of the Irish for St. Patrick's Day with a school party.
Start Planning: Beginning to mid-month depending on the timing of your party (think at least two weeks out)
Organize a Spring Carnival
Looking to raise some extra money for your school, church or community group? March is the perfect time to iron out the organizing details for a spring carnival. Gather a committee and make sure you've delegated all the big responsibilities: from securing sponsors to running ticket sales. Genius Tip: Try these 30 festival games for fundraising to raise more money.
Start Planning: Beginning of the month
Plan Prom (and After Prom)
April and May will mean proms for most high schools, but you don't want to leave planning to the last minute! Still looking for dance inspiration? Try these 25 prom themes and ideas for the big night. If you're a parent trying to organize a safe and fun after prom event, use these tips and ideas to get started
Start Planning: Beginning of the month
With this checklist to get you started, you'll be so prepared for spring that you'll feel as free as the birds flying high and the sun in the sky. Happy organizing!