30 After Prom Party Tips and Ideas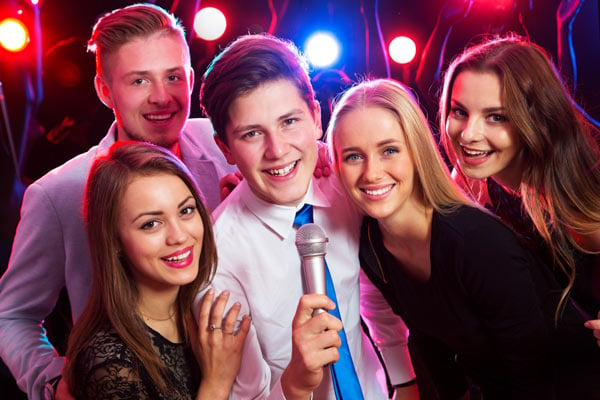 At many schools, after prom parties have become as important as — if not more important than — the prom itself. Whether you're hoping to establish a new post-prom tradition at your child's school, or just looking for ways to make the school's post-prom party even better, here are some tips for organizing an after-affair to remember. 
Getting Organized 
Start early. The idea is to make the post-prom party so appealing that all the other, less wholesome alternatives will pale by comparison. In other words: It has to be amazing. The beginning of the school year is not too early to get started.
Make it a tradition. If you communicate from day one that you want to make this a special, yearly event for the community to support these teenagers on the cusp of adulthood, then all the tasks below become that much easier.
Get the administration on board. Even if it's parents who are doing all the heavy lifting to make the party happen, it's best to get the support of the administration. If you can make it a PTA-sponsored project, even better.
Recruit senior class parent volunteers. Emphasize that the kids have worked hard at school and deserve a blowout, and that this will be among the last opportunities for parents to do something special for their kids before they go off to college.
---
Organize After Prom party volunteers with an online sign up! SAMPLE
---
Recruit underclassmen parent volunteers. Moms and dads of kids who are too young to go to the prom are often overlooked as potential volunteers. But many parents of freshman and sophomores would welcome the chance to get a peek at what the after-prom planning process is like, so they can be more prepared when their child is old enough to go to prom. These are the parents who will carry on your post-prom tradition.
Limit the cost of admission. Charging a nominal entry fee is OK — and even advisable if you think it will make the kids to feel like the post-prom party is going to be a high-quality event. But make sure it's no higher than $25. These kids and their parents have probably already spent hundreds of dollars on attending the prom itself.
Recruit sponsors. Of course you'll want to seek out local businesses that can make in-kind contributions of food, beverages, prizes, etc. But don't forget others that would benefit from the good will generated through having their name featured on ticket stubs, banners and other items. That could include lawyers, dentists/orthodontists, tutoring centers, car dealerships, etc. Genius Tip: Create an online sign up for donations and email the link to potential sponsors.
Solicit parent donations. After buying dresses, renting tuxes and shelling out for all the other trappings that go along with attending prom these days, a lot of parents won't be too eager to donate to the after-prom effort. But others will be willing to contribute a tidy sum for the peace of mind of knowing that their child is safe after the prom.
The Fine Print: Safety, Security and Other Legalities 
Plan Fundraising. If you're organizing the party as a PTA project, some kind of fundraising apparatus is probably already in place for you. If not, it could get a little complicated. Consult with a tax expert and/or lawyer to find out about the tax implications and any fundraising regulations that may apply in your city or state. If you're lucky, you might be able to find such an expert among the school parent population.
Get Insurance. Thinking about the inherent risks associated with throwing a party for teenagers is enough to make anyone give up altogether. But if you think about it again, that's exactly why responsible, thoughtful adults should be planning a post prom event. An insurance professional can help educate you on the policies available to make sure all are protected in the unfortunate event that someone is injured or property is damaged.
Think About Security. Contact your local police or sheriff's office for their advice. Chances are, they'll be happy to help with an event that keeps teenagers from roaming the streets after prom, but you may need to pay off-duty officers to patrol the parking lot, entrance and exits.
The Guest List
Keep a Guest List. Set a clear policy in advance about who can and can't come, because you don't want to end up with kids who aren't familiar to the volunteers staffing the event. For example, kids can come to after-prom whether they go to prom or not. But only seniors can bring a guest who doesn't go to the school, and they are limited to just one guest.
Get it in Writing. Anyone who is under 18 must have a signed permission slip from their parents to attend.
Monitor the Ins and Outs. Make sure you know exactly who is — and who is not — at the party. Make a clear policy that if someone wants to leave early, they can, but their parents will be notified.
 Selecting a Venue 
Pick the School. No, it may not sound exciting, but it has the benefit of being practically free. Plus, the kids get a kick out of seeing the hum-drum high school hallways gussied up for post-prom. So if you can put together a talented decorating committee, this could be the way to go.
Choose a Church, YMCA or community center. The underlying reasons for having a post-prom fall perfectly in line with the mission of many community organizations: keeping kids safe. And many of them have large facilities that don't tend to get a lot of use late on a Saturday night and into early Sunday.
Select a Private Venue. The most expensive option, but also likely the least demanding for organizing committee members. Bowling alleys and trampoline centers are popular spots. Some waterfront communities will even charter large boats for a really unique feel. A bonus benefit of a boat: Your attendees can't bolt if they get bored.
---
Raise money with a prom dress resale fundraiser. SAMPLE
---
Talk About Transportation. For the most part, kids generally arrange for their own transportation to the after-prom. But some organizers make arrangements for a trolley or shuttle buses to take kids from the prom site, to the after-prom and back again. It adds a layer of complexity you may not want, but it also means kids spend more time in a supervised, safe environment and less time behind the wheel on prom night.
Arrange Dressing Rooms. Many kids just go home or to a friend's house to change into their post-prom outfits. But some organizers provide a place at the post-prom event where attendees can change and store their formal wear for safekeeping.
Suggest a Dress Code. There's so much angst (and expense) involved in picking outfits for the prom itself. So take some of the stress out and set a clear dress code for after prom. After spending so many hours in high heels and bow ties, the kids might appreciate it if you encourage everyone to wear T-shirts and shorts.
 Activities, Food and Prizes 
The Theme: Grown up. Teenagers love to act older than their years, so a sophisticated theme could work well. Casino night is a popular one.
The Theme: Silly. Maybe they had enough of the grown up stuff during the prom itself? Offer activities that allow them express their inner child such as bounce houses, sumo wrestling, Velcro walls and video games.
The Theme: A hybrid. Older teenagers are essentially hybrid children/grown-ups, so they might appreciate both grown-up and goofy activities at their post-prom party.
Let Kids Pick. Whatever theme you go with, it's important to let them have a significant amount of input. Consider organizing an online poll to find out what they want to do, see, hear and eat at their post-prom party.
Plan for Food. Have you noticed how food is very, very important to teenagers? While it may be most convenient to just get 100 pizzas delivered, try to think outside the pizza box. Any food that's fun or interesting will keep kids engaged longer. Are there restaurants that are especially beloved or specific foods that are unique to your community? Try to include them in your menu.
---
Organize an After Prom breakfast with an online sign up. SAMPLE
---
Concoct Drinks. Create a signature mocktail and — to give the kids something to stick around for — introduce it with great fanfare for a 2 a.m. toast. Consider incorporating your school colors using juices and garnishes.  
Make Music: While a live band is exciting, it's very expensive to hire a good one. Find a DJ and have him put together a playlist that includes the No. 1 songs from each year the kids have been in school, since kindergarten. Or save some money and do it yourself.
Run a Contest: If you go with a casino theme, the competition is built in, but you could also set up trivia or karaoke competitions to keep kids engaged.
Choose Prizes: Big or small? Door prizes are a hugely important part of attracting kids to after prom. Some organizers offer lots of small prizes so everyone goes home with something. Others offer one huge, breathtaking prize, such as a car (I'm not making that up!). Perhaps take a middle ground and give away a few substantial prizes — such as an iPad or a restaurant gift card — then create swag bags for everyone to take with them. Genius Tip: Many local businesses will consider giving freebies in exchange for marketing. Set up a donation sign up to collect items.
Create Prize Rules: Must be Present to Win. Whatever prizes you give away, make sure you save some for the end of the night and that students know they have to be there when their name is called to collect. Remember: the idea is to keep them at the party, under the watchful eye of caring adults, for as long as possible!
When the night is over, you'll have some sleepy — but safe — teenagers. Take stock on what worked and what didn't. Don't forget rule No. 1: It's never to early to start for next year! 
Jen Pilla Taylor is a former journalist and mother of two school-age children. She is in her fourth year of teaching their Sunday School classes.