25 Prom Themes and Ideas
Prom is a rite of passage for many high schoolers, but planning and pulling off a magical night isn't as simple as snapping your jewelry-adorned fingers. Whether you're a student on the prom committee or a teacher or parent helping lead the charge, try some of these fresh and unique ideas for themes to help the night seem like a dream.
Keep It Classy
1920s Gatsby - Go back in history with a flapper theme from the 1920s. Students will feel like they're at a Jay Gatsby party once you decorate with feathers and a gold-and-black theme. Add songs from the most recent film's score to add some spunk to your playlist. You can also have old-fashioned hats, boas and black-and-white filters at your photo booth for extra fun.
Masquerade - Add a dash of mystery to a special night by making your prom a masquerade ball. Guests can match their masks to their outfits, whether they're made in advance or at a table set up near the door. Dim lighting and string lights will add to the effect, and medieval décor will help students feel like they're royalty.
Winter Wonderland - If your prom is earlier in the spring, a winter theme can be very classy — and easy to pull off. White fabrics like tulle can easily dress up a venue. To decorate, sprinkle fake snow around and spray paint branches white to make them look like iced-over trees. Bonus points if you cover the trees in lights for ambience.
Galaxy - Make sure your prom is out of this world with a space theme. Wrap lampshades in dark paper or fabric with holes punched in to give the illusion of stars, and make your photo booth background a large moon. Hang "planets" from the ceiling and sprinkle glitter around for an extra galactic touch.
Black and White - For a super swanky theme, stick with all black-and-white décor. With balloons and a checkerboard dance floor, the dresses and dancing will be the things that pop. For even more fun, serve black-and-white foods (like Oreos and chocolate chip ice cream) only.
Phantom of the Opera - This simple theme is both spooky and classy. Use lots of (flameless) tea candles to provide dim lighting. Roses, along with music-themed décor, will make your dance floor feel like the Phantom's lair. Combine this with a masquerade theme if you want an extra hint of mystery.
Come Sail Away - Students will feel like they're on a luxury cruise when you decorate with lights, life preservers and fancy décor á la the movie Titanic. A photo booth set up like a boat stern can be fun — check with your school's theater department to see if they have old nautical sets you can use.
Fairytale - Take a page from your favorite storybook and go for happily ever after. Decorate with fake ivy and string lights, and hand out tiaras (save the flashiest for your Prom Queen). For bonus points, provide classic fairytale archetypes, such as a mirror, rose or glass slipper, at your photo booth to add a touch of fairytale magic to pictures.
---
Brainstorm prom theme ideas with an online sign up. SAMPLE
---
All About Location
Hollywood - Students are sure to feel like A-listers when you bring out this red carpet theme. Decorate the entrance with a red carpet, and include spotlights and a Walk of Fame covered with names of students and teachers. Popcorn and movie theater candy make for fun snacks. For an extra touch, dress underclassmen yearbook staffers or parent volunteers up as "paparazzi" as students enter.
The Big Apple - Transport your guests to one of the greatest cities in America with this New York theme. Decorate with cutouts of the city's skyline and fake marquees that will make students feel like they're right in the heart of NYC. Make replicas of street signs and use iconic markers such as Wall Street and Fifth Avenue to indicate places like the photo booth or snack table.
Broadway Babies - For another New York theme, narrow it down to just Broadway, and let the lights dazzle. Create fake marquees, and hang red fabric to look like curtains. Students will dance the night away just like the stars do on 42nd Street.
Night in Vegas - Turn your dance into a casino in the style of Las Vegas. Decorate with larger-than-life dice, poker chips and playing cards, plus a red-and-black color scheme. You can also set up tables for students to play card games and poker (without gambling money).
A Little Bit of Paris - Bring European flair to the big dance with a Paris theme. Make some miniature Eiffel towers, and hang string lights for effect. For snacks, go with crêpes and pastries, and make your prom tickets look like plane tickets or passports.
Night in Greece - Your prom will look like a scene straight out of a Greek myth. Pillars, ivy and tulle fabrics will make your students feel like Greek gods and goddesses. Serve hummus, bread and grape juice on golden dinnerware for extra fun. Just make sure no one tries to wear a toga.
London - Whisk students away to one of the most famous cities in the world with a London-themed prom. Red phone booths, a Big Ben skyline and tea will make for a classy affair. For laughs, dress your principal up as the king/queen! You might even get some students speaking in their best British accents.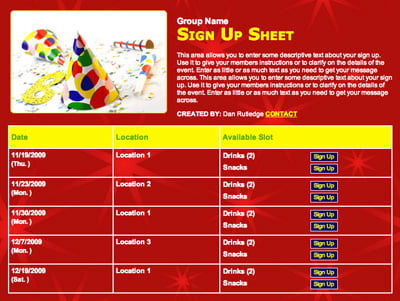 An Informal Affair
Night at the Carnival - If you're looking for something a little less traditional or formal, try a carnival prom. With red-and-white striped decorations, popcorn and funnel cakes, you'll be well on your way to an unforgettable night. Add some booths and games to give students something to do besides dance, and hold a raffle with prizes.
The Emerald City - With a Wizard of Oz theme, you'll never run out of decorating inspiration. Make a yellow brick road leading into the venue, and use green fabric to create an Emerald City dance floor. For a photo booth, have your shop class make a backdrop that looks like Dorothy's house, and have ruby red slippers on hand for girls to don for pictures.
Ocean Extravaganza - It's one of the most iconic prom themes — seen frequently in movies and TV shows — but more than that, an ocean theme is fun and inexpensive. Use blue fabrics, transform hanging lights into jellyfish and create paper mache coral centerpieces. Some blue mood lighting will make your students feel like they're underwater.
Do the Sock Hop - A 1950s-style dance is informal and high energy. To give a vintage feel to the night, play songs straight from the decade. Rent old-timey cars for a night to take photos with, and serve diner-style food. Students are sure to feel like T-birds and Pink Ladies.
The Chocolate Factory - A candy theme à la Willy Wonka will make prom a super sweet night. Use cellophane and paper plates to make life-size lollipops and candies. Mini candy bars will satisfy your students' sweet tooths, and you can design your tickets to look like Wonka's famous golden ones.
---
Recruit prom committee helpers with an online sign up. SAMPLE 
---
Stick With Your Budget
The Secret Garden - To decorate, buy inexpensive faux ivy and flowers, and hang them from the walls and ceiling. With dim lighting from candlelight or string lights, they'll look completely real. You can even make fake lampposts and add park benches to give students places to take a break from dancing.
Rave - For a disco feel, cover lights in colorful fabrics and buy glow sticks to hand out. It's cheap and easy to have art classes at your school paint your decorations graffiti-style with glow-in-the-dark spray paint. With the lights turned low, your prom will be a true party.
Peace, Love and Prom - Your dance is sure to be totally groovy with a 1960s theme! Decorate with tie-dye, flower patterns and peace signs. Students can even wear hippie-themed dresses and attire if you want to make your prom more informal or a little easier for students struggling to afford expensive formalwear.
Among the Clouds - For a very simple prom, try a cloud and sky décor theme. Drape tulle fabric around the venue, and use blue mood lighting. Hang "clouds" from the ceiling. If you want to be elaborate, design a "sunrise" at the entrance and a "sunset" at the exit door.
Prom in Paradise - If you're somewhere cold and winter has dragged on and on, give your students a touch of summer with a tropical prom. Leis and food like coconut and pineapples are sure to be a hit. For décor, large crepe flowers can add color to the walls without seeming tacky.
Start with this inspirational list, and you're sure to find something that will fit your school's taste and budget. Years from now, you'll still be laughing over those prom night memories and photos.
Kayla Rutledge is a college student who spends most of her time writing, singing for her church and eating quesadillas.