25 Unique Family Night Ideas
Activities to Create Lasting Memories Together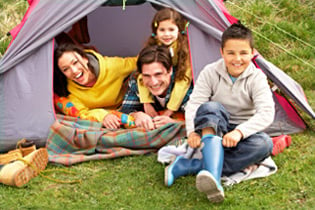 Are you eager to spend some quality time together as a family but can't seem to find the time or creativity to come up with new ideas for what to do? As always, here at SignUpGenius, we're happy to provide resources to simplify your life. Take a glance through these 25 unique family night ideas to find a few your crew will enjoy trying together.

1. Pick up a book from the library and go to a coffee shop to read it out loud together.
2. Get ice cream or better yet, make it together.
3. Create an obstacle course that all family members have to cross together and compete against yourselves by trying to beat your time on each run through the course.
4. Take a walk together in a different neighborhood from where you live.
5. Prepare a package for someone in need of particular items like a serviceman, a widow or an orphan.
---
SignUpGenius can help you organize your family's activities for free! Get started now!
---
6. Create a large art piece where you all draw what you like to do together.
7. Exchange names before going to the mall where each family member receives $2-$5 to buy a gift for the person they chose. Shop for a set amount of time and then exchange the gifts over a soda or soft pretzel.
8. Play football, soccer or Frisbee at a park.
9. Make a family mailbox and leave it in a prominent place in the house for notes of encouragement.
10. Split up the family by ages or genders and compete to complete a scavenger hunt. Video and photos to share later are a must!
---
SignUpGenius can help you organize your child's sports snack schedule! Learn More.
---

11. Go to a free music in the park night.
12. After the kids get tucked in for the night, surprise them with an unexpected ice cream run in their pjs.
13. Make dinner for a shut in and go join them for the meal. Add a song and dance routine if some members of the family are so inclined as to entertain.
14. Leaf through old family photo albums or watch home movies from years past together.
15. Play a new card game.
---
SignUpGenius can help you organize school activities! Learn More.
---

16. Start a "Thankful for" journal and have each person write in it. Little ones can draw photos.
17. Pitch a tent in the living room and watch a movie.
18. Bake a special dessert together and then sit down to eat it all together.
19. Invite another family to join you for a family night when you try out a new activity together.
20. Play a few rounds of "Sardines" which is the opposite of "Hide and Go Seek." One person hides and each time someone finds her, they hide in the same place until the last person finds the whole group.
---
SignUpGenius can help you organize your neighborhood cookout! EXAMPLE!
---

21. Perform your favorite songs for each other with a karaoke machine.
22. Attend a local high school football game or drama performance together.
23. Take a bike ride on a nature trail or local greenway.
24. Put a puzzle together while listening to a book-on-CD.
25. Draw pictures of family members and exchange them to hang in bedrooms and offices.
 
Posted by Angel Rutledge
Posted by A.J Cooper on Wed Nov 4, 2015 7:55 PM EST
Amazin ideas thank you! Do you think you could do more??
Posted by Kandice Ilgner on Mon Jun 16, 2014 9:29 PM EST
some really great ideas - most of them without the need for alot of money - love that. This and the "50 Snack Ideas" are going on my fridge! Thanks guys!
Posted by Mary Miller on Sun Jun 1, 2014 11:58 AM EST
These ideas are pure genius and yet so do-able!! Thanks for posting!!
Posted by Jojo Serquina on Wed May 28, 2014 3:06 PM EST
Those are some great ideas! I really like #3, #5, #7, #18
Posted by madison mims on Sat Jan 11, 2014 2:06 PM EST
this is great advice i will love to try this
Posted by koraleigh ahearn on Thu Dec 27, 2012 5:42 PM EST
that's really good advice
Posted by Brianna Rinon on Sat Jun 9, 2012 8:24 PM EST
This will be really fun to do with my family
Post Your Comment
NOTE: You do not need an account to post. For the ability to delete, create an account.