3 Great Studies to Get Your Small Group Talking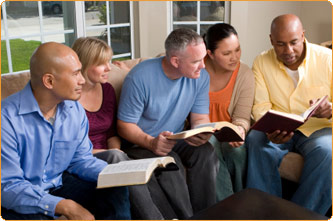 Having the right study for your church group can really make a difference in the spiritual growth and commitment of your members. Thankfully, we are blessed to live in a time with some incredible authors and resources available. If you lead a church Sunday School class, a community group, a small group, men's group, women's study, or lifegroup and are looking for curriculum to study -- below are three recommendations based on groups that I have lead in the past. Click on the title for the full review. 
---
HEY SMALL GROUP LEADERS!  
Collect money to purchase books as a group with SignUpGenius Payments.
---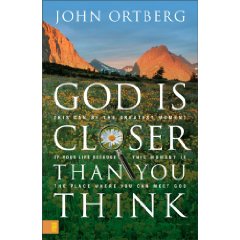 Title: God is Closer Than You Think
Author: John Ortberg
Study Type: Personal Christian life study
Media: 6 Week DVD Series. Discussion guide and book also available.
Spiritual Level: For believers of all levels and possibly seekers.
Review: John Ortberg is one of my favorite authors. Lately, he has been taking classical works of Christianity and reworking them into very accessible modern studies with his trademark wit and passion. God is Closer Than You Think is kind of like a modern-day version of Brother Lawrence's The Practice of the Presence of God. In Christianity today, we often throw around the words "knowing God personally" -- but then we rarely teach practical ways to build a relationship with God. In this series, Ortberg uses a lot of inspirational illustrations and personal examples to show how we can learn to cultivate an ability to experience God's presence and have a deeper relationship with Him in the midst of ordinary life. The DVD series is designed specifically for small groups or Sunday School classes. Each session includes a main video segment that lasts about ten minutes, allowing time afterwards for group discussion. The video production value is decent. While there are a few cheesy moments, Ortberg (who leads the study) is a good communicator and the content is interesting, moving, accessible to Christians at all levels of their faith, and spurs great discussions. I like that this study focuses on personal application, which is often missing in small group studies. The video segments are light on scripture, but the discussion guide has verses that can be used to go more in depth.
Prep Required for Leader: Minimal. It took me about two hours each week to prep for the lesson. I would watch the video, read through the discussion guide, study the verses, then pull out 4-5 of the best questions for group time. Prior to the study, I did read the full book, which I also recommend.
Prep Required for Group Member: None. This is a great series to go into if you've just completed a study with heavy homework and need to give your group a little break. No prep is necessary and your group members can just come in and watch the video.
Available:  Amazon.com and elsewhere.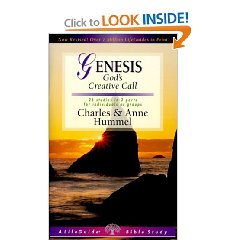 Title: Genesis: God's Creative Call (Lifeguide Bible Studies)
Author: Charles E. Hummel, Anne Hummel
Study Type: Scripture study
Media: Bible study book
Spiritual Level: For Christians with at least some basic knowledge of the Bible.
Review: Genesis is a great book, but it can be intimidating for a leader to tackle because you sometimes feel like you are required to have vast knowledge about creation theory. This study is refreshing and really opened the book of Genesis up to me, because it takes the focus off the science and turns it toward what the book teaches about the character of God and the implications of being a fallen human being. This study explores the rich characters in Genesis and stays focused on what's in the scripture, with questions that guide you to how to apply it to your life. Although it works well in a small group, the format of the book is more like a personal study workbook, with 10-14 questions per chapter. Chapters are divided into logical portions of scripture. The back of the book includes group study helps with background information related to some of the harder questions. The study is organized into three major sections with about eight chapters each: Section 1 is titled Creation & Primeval History, Section 2 is called Abraham, Isaac & Jacob, and Section 3 is about the story of Joseph. The sections stand by themselves and your group could study one or more of the sections. Our Sunday School class, for example, studied the first section only over a period of 6-8 weeks. While sometimes study-guides ask the simplest/most obvious questions, I found the questions in this study to be well written – guiding me to really think. I recommend this study for groups looking to get into the Bible with their group time. This study gets you into the scripture, yet doesn't require advanced study of the original languages in order to understand the basic, yet poignant truths that Genesis contains about God and man.
Prep Required for Leader: Medium. It took me 2-4 hours to complete the study myself, really reflect on it personally, then go through the questions and determine which ones to use for group discussion.
Prep Required for Group Member: This is up to the leader. This study can either be done cold (people come into the group and read the passage for the first time) or with weekly prep (people get the book and study prior).
Available:  Amazon.com and elsewhere.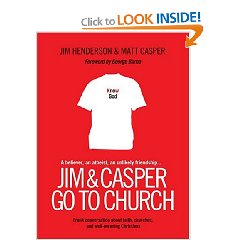 Title: Jim and Casper Go to Church
Author: Jim Henderson and Matt Casper
Type: A discussion on culture and Christianity
Media: Book, 208 pages. DVD also available, although I have not reviewed it.
Spiritual Level: Recommended for established Christians with the maturity to apply Biblical truths to challenging topics.
Review: This is a fantastic concept for a book -- Jim Henderson is a pastor who hired Matt Casper, a dedicated atheist, to travel with him around the country and visit prominent churches in order to critique them. Jim and Casper developed a rating system and would go to the church, unannounced, and evaluate every aspect. I found it incredibly interesting reading to see what a modern day atheist thought of today's entertainment-heavy Christianity. Casper's central question to Jim was… "Is this really what Jesus told you guys to do?" Simply fascinating. That said, I must say that I passionately disagreed with about half of this book, even some of Jim's conclusions. You should not go into this study thinking this is a teaching book or a Bible study. Disagreeing with the content, however, is not necessarily a bad thing… because in nearly fifteen years of leading church groups, I don't know if I've ever lead a study that created such engaging discussions for everyone. This study would be great for people involved in church leadership who need to assess their ministry. The challenge for the leader of this study… is to guide your group discussion into personal application and spiritual growth instead of letting it dissolve into rants about things "those other churches" do wrong. It will definitely get your group talking, but you might want to consider supplementing the book with scripture passages that will ground the discussion.
Prep Required for Leader: Light to medium. The chapters are quick and easy to read. There are some questions at the end of the chapter and it won't take much to get the discussion going. As mentioned above, I'd recommend spending some extra time preparing supplementary material.
Prep Required for Group Member: Minimal. Reading a chapter or two each week.
Available:  Amazon.com and elsewhere.
---
About the Author:
Dan Rutledge has been leading church small groups for over fifteen years. Buy him a cup of coffee and he'll gladly talk your ear off about good small group Bible studies, ways to build small group community, and the importance of growing together in Christ.  For info on more church and leadership resources, follow Dan on Twitter.
Posted by Dan Rutledge
COMMENTS:
There are currently no comments for this page.
Post Your Comment
NOTE: You do not need an account to post. For the ability to delete, create an account.
Organize Your Small Group Snacks
| | |
| --- | --- |
| | BUILD A FREE SIGN UP SHEET |
| | WE SEND OUT EMAIL INVITES |
| | PEOPLE SIGN UP ONLINE 24-7 |
| | EVERYONE GETS EMAIL REMINDERS |
I love SignUpGenius and have introduced it to my entire staff here at First United Methodist Church in New Braunfels! I have become much more organized, and have saved a lot of paper in the process! Thank you for offering this great service and we plan to use it for years to come! Thank you again!!
Terri Hartman
Youth Director
First UMC, Texas
See what others say
Recent Church Articles
Organize Church and Temple Activities Easily
Coordinating activities and responsibilities at your church or temple doesn't need to be a burden. Organize volunteers, events and supplies easily with SignUpGenius.com!
Ideas for Planning a Meaningful Youth Retreat
Need help planning your next youth retreat? Consider these tips to create a fun and meaningful experience for all.
Mission Trip Fundraising Ideas