Blog
/ Be a Fall Organizing Pro!
The Genius Blog
Be a Fall Organizing Pro!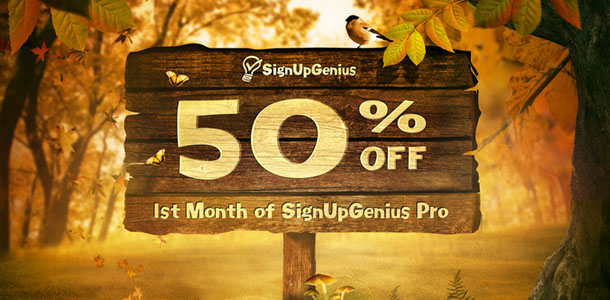 October is here and busy as ever. Before you get swept away in the fall frenzy, check out what SignUpGenius is offering to make your life easier!

Sure, you're already a genius. But did you know you could be a Pro Organizing Genius? We know... it's an impressive title. And it could be yours for as little as $4.99 this month! If you want to set a start and stop date on your sign up, attach a document, or theme email invites to look like your sign up, you've come to the right place. 
Upgrade your account to SignUpGenius Pro now through October 31st. Click HERE for details!
Comments
Posted by Scott Lent on Tuesday, November 11, 2014 10:40 AM EDT
How can I use Signup Genius to send an advance reminder to people who have volunteered to supply certain items for our event? I looked through the messages section and couldn't see a way to accomplish this.
Posted by Amy Tidwell on Tuesday, November 11, 2014 2:26 PM EDT
Scott,
If your sign up has date(s) on it, the option to send automatic email reminders will be available to you at Step 5: Settings. If you wish to send an additional reminder, or if your sign up format is the non specific date option, you can email your group anytime from the Messages area of your account. If you wish to create the email and set a time for it to go out, you will need to upgrade to Pro for that option. If you have further questions, please email our support team via the "Help" button so we can assist you directly. Thanks!