We're Growing!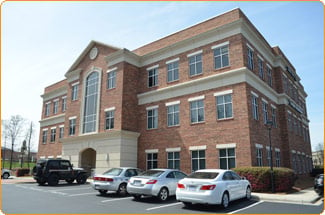 Here we grow again! Those of us behind SignUpGenius are happy to share that we recently made an exciting office relocation from Robinson Farms in South Charlotte to a larger office suite on Ballantyne Commons Parkway.
The move stems from SignUpGenius's unprecedented growth in the last year and will enable SignUpGenius to maintain the utmost in customer care and contact with its site users while also making room for future growth.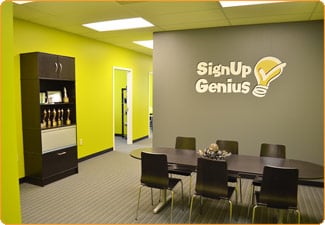 "It's been humbling to hear reports from schools, churches, sports teams, and non profits all over the globe that have been helped by SignUpGenius," says Dan Rutledge, President of SignUpGenius. "We're excited that our new office space positions our company for further growth and will enable us to serve more great organizations as they pursue their world-changing missions."
There is nothing more rewarding to SignUpGenius staff than seeing the great work others are doing in their communities, schools, businesses, homes and more with our site. We'd love to hear how YOU organize with SignUpGenius. Share your story HERE.
Also, make sure you join SignUpGenius on Facebook, Twitter and Pinterest to keep up with the latest news, resources and contest opportunities that we have available!
Posted by Kate White
Posted by Dan Rutledge on Thu Apr 18, 2013 8:38 AM EST
Hi Beth. Welcome to SignUpGenius! The quickest way to reach us is to click on the "help" tab on our site and use the simple form to send a note to our support staff with your question. We have a team of people available all day and even on nights and weekends to make sure you get a response back quickly! Hope we are able to save you some organizing time!
Posted by Beth Griffin on Thu Apr 18, 2013 8:31 AM EST
Hi! New scheduler here, and I need to get up to speed on this as soon as possible, since I have more than one group to manage... my first sign up list is for a twice monthly food pantry volunteer shift. Hope I survive this! WHen I have a question, the quickest way to get the answer is probably to call, right?
Posted by Dan Rutledge on Mon Apr 8, 2013 4:42 PM EST
Thanks for the kind words, Carol. So glad we can help with your school! Have a great day!
Posted by Carol Chaffee on Sun Apr 7, 2013 6:08 PM EST
This website is amazing! I wish I had discovered it earlier. I run a business program at a high school and am constantly signing up students for various activities. It's very easy to lose count of how many are going or have someone fall through the cracks. This website will make sure that I keep track of all attendees and needs in one, organized place! Thank you!
Post Your Comment
NOTE: You do not need an account to post. For the ability to delete, create an account.