25 Football Party Ideas to Kick Off the Season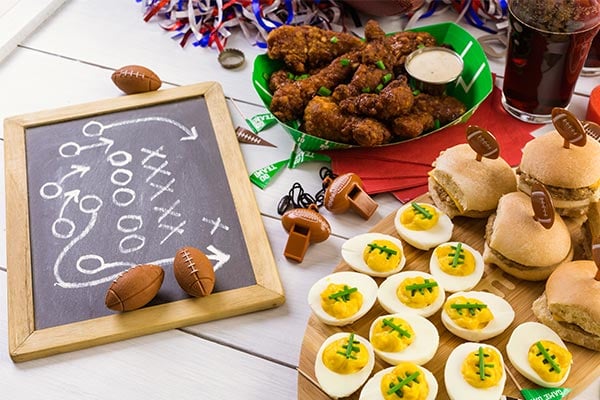 Are you ready for some football? Host friends or family with a fun party or potluck this fall using these 25 creative party ideas. Now you'll just have to worry about the kicker making that game-winning field goal. 
Set Up for Success 
Send Themed Invites – Once you know the season schedule, invite your guests with plenty of notice. If you're only planning one or two parties for the biggest games of the season, make it special by designing your own online invitation. If you have a standing get together every weekend for a group of friends, keep costs reasonable by creating an online sign up where guests can RSVP and sign up to bring snacks.
Quench Thirst – With all the cheering, your guests will need something to drink. Decorate the drink station in team logos and colors. For a fun touch, serve drinks in football-style Gatorade coolers. If you have a beverage tub, make sure there are several bottle openers close by. Tie the openers to the tub to help keep track of them.
Make it a "Tailgate" – You might not be lining up outside the stadium, but you can recreate the tailgate atmosphere. Make it a neighborhood affair, with food stations set up in different driveways — bonus points if you actually have a truck or van to decorate and load up with food. This could easily become a fun yearly tradition. Genius Tip: Try these 20 winning tailgating tips.
Create a View to Remember – Think outside the box — a great view of the game is the most important element for many fans. For large gatherings, try to set up multiple viewing options. Hooking up a television outside or renting a projection screen is a fun touch — provided there's no rain in the forecast. For a more intimate gathering, you can probably get away with rearranging seating in your main viewing area.
Plan a Creative Tablescapes – Set up your main food table the day before the game and make sure there is a clear path all around it. Include some fun touches: yellow napkins labeled as "penalty flags," painted mason jars that look like the playing field or a ref's jersey or a pumpkin that's painted like a football.
---
Plan a football party rotation with an online sign up. SAMPLE
---
Make AstroTurf Yard Line Bunting – Your guests will feel like they're right on the field with this easy craft project. You'll need AstroTurf, scissors, number stencils, white paint, a hole punch and twine. Cut the AstroTurf into triangles, then use stencils to spray paint vertical stripes and a yard line number on each triangle. Punch holes, thread twine through and then hang your bunting around your party space.
Set Out Football Food Labels – Make it easy for your guests to figure out what to eat with football-shaped food labels. You can make your own or purchase at your local craft store.
Design a Football Field Party Table – Dress up your snack table with a tablecloth inspired by the yard lines on a football field. Doing this will help protect your table and make for easy cleanup. Choose one that you can roll up and toss in the garbage. Select a green table cloth and dress it up with white washi tape for the yard lines. Go even further by making miniature goal posts out of PVC pipe.
Be Welcoming – Hang a personalized team banner on the outside of your house or go into DIY mode to greet guests. Create a homemade wreath using tulle (team colors, of course) and other embellishments or take a plain doormat, stencils and spray paint to create a custom message. It's a great way for people to find your house and show your family's team spirit.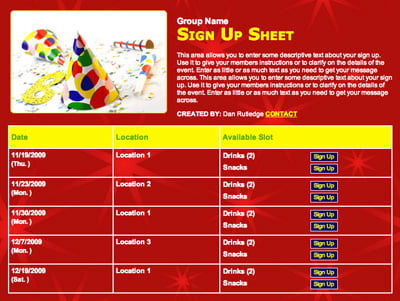 Plan Football-themed Activities 
Take Football Star Photos – A life-sized cutout of a favorite football player provides a great photo booth prop. It can be used to greet your guests at the front door and you can bring it out for many football parties to come. Not quite at that level? Create a photo backdrop with a few printouts of your favorite players taped to a solid background on the wall.  
Take a Deep Breath with Stress Footballs – Consider having some stress balls in the shape of footballs for guests to squeeze when the game becomes a nail-biter.
Pin the Football – Instead of a donkey and tails, use a field goal and paper footballs. See which guest can place a football closest to the middle of the goal blindfolded. It's a fun activity for kids and adults.
Play Touch Football – Go outside and burn up those party food calories with a game of touch football. This can be a fun halftime or pregame tradition depending on the time of kickoff. It's especially good to play if you've got kids with extra energy!
Try Flick Football – Kids can make footballs out of paper for this classic tabletop game. Players take turns trying to "flick" their paper football between the "goal posts" of their opponent's fingers to determine a winner. Make it a March Madness-style tournament for the ultimate competition.
Create a Football Word Scramble – Jumble up football-related words (such as "quarterback" and "defense") on a whiteboard for guests to unscramble during halftime. You can also find a football-themed scramble online and print one for every guest. Give out small prizes such as candy.
Play Football Bingo – This is a great activity for all ages, especially guests who aren't big football fans. While guests watch the game, they can mark off different images or actions they see on their bingo cards such as truck commercials or a thrown penalty flag. Free downloadable bingo cards are available online.
Do a Mini Football Toss – Play a lawn game similar to corn hole with a flat wooden goal and mini footballs. Participants can play against each other to see who can toss the mini football into the hole with the most accuracy.
---
Schedule game day volunteers with an online sign up. SAMPLE
---
Score with Festive Food 
Make a Football Snack Stadium – Keep your stress to a minimum on party day by serving easy-to-make and easy-to-eat finger foods. Arrange the food in a stadium-style platter, with slanted containers holding veggies and salty snacks as the "bleachers" and the dip on the "field."
Serve Hearty Beef Chili – This time-honored classic football meal is easy to make in a slow cooker and stays warm throughout the game. Serve with toppings like shredded cheese, sour cream and chopped onions. Get your friends in on the action by hosting a chili cook-off on game day. Genius Tip: Use an online sign up to prepare for the competition.
Dip Football Strawberries – Dip fresh strawberries into a chocolate sauce. After cooling, pipe on football stripes and stitching with white chocolate to create an artistic football treat.
Make a Pizza Ball – You can't go wrong with several selections of pizza to fill hungry stomachs, especially the ones belonging to kids on your guest list. Take it up a notch by arranging toppings such as pepperoni and peppers to look like the stitching on a football.
Get Creative with Dessert – Set out some Ring Pops and label them as "Super Bowl rings," dip pretzels into chocolate and decorate with white stripes to look like a football or just ice sugar cookies in your team's signature colors.
Go Classic with Buffalo Wings – Wings are as all-American as football. Offer ranch and blue cheese dressings to cool down wings that have a kick. Keep these warm in a slow cooker, and make sure you have plenty of napkins. Serve with carrots and celery on the side.
Pick a Variety of Chips and Dip - These appetizers will go fast. Some favorites to consider: spinach artichoke dip, Mexican seven-layer dip, homemade guacamole, buffalo chicken dip, taco dip or a cheese ball. Have plenty of chips on hand as well as warm pita.
Send Guests Home with a Snack - Leave your guests clamoring for more with some take-home snack bags. Decorate some plain, small paper bags to look like footballs and fill with pretzels dipped in chocolate the color of your team's jerseys or simpler concession-style fare such as popcorn, trail mix or roasted nuts (make sure to label clearly in case of allergies).
With these ideas, guests will be anxiously awaiting the next invite from you. Football season is the perfect time to bring friends and family together — now here's to that next big win! 
Sara Kendall is a freelance writer and mom of two daughters.