75 Spirit Day Ideas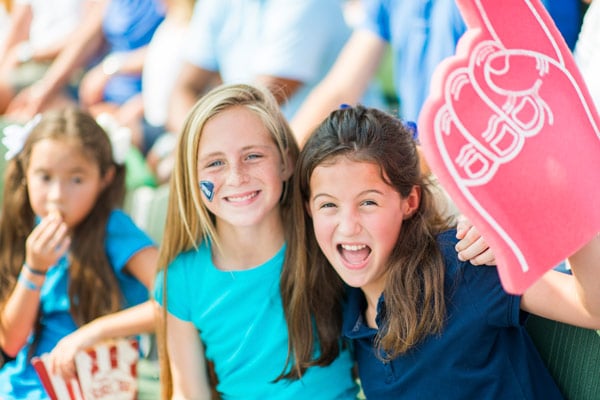 Spirit days are a great way for schools to shake up the monotony of the year. However, picking a difficult theme can mean (uh-oh) only three students dress up and participate. Pick one of these fun themes, and you won't be paying therapy bills for those three embarrassed students!
Scrabble Day - Organize a large group of friends to spell out something using letters on your shirts. This can be fun because if a lot of people do it, you can form different words throughout the day!
Tourist Day - Pull out the fanny packs and cameras for a day of cheesy sightseeing.
Cartoon Day - Students can relive their childhood by dressing as a favorite cartoon character.
Board Game Day - Dress as your favorite board game or card game character. (e.g., an Old Maid, the Queen of Hearts, a Twister board)
School Colors Day – Sure, students can wear school shirts, but make it more fun by seeing who comes up with the craziest outfit in your school's colors.
Twin Day - Each student grabs a friend to match with for the day – even the teachers can get involved!
Formal Day - Class up the school by having everyone dress to the nines.
Vs. Days - Pick a popular rivalry (Marvel vs. DC, 60's vs. 70's) and let students pick a side to dress like.
Pajama Day - You can't go wrong with wearing pajamas to school – anything to help people get a little more sleep.
Jersey Day - Wear a jersey to school to support your favorite sports team.
Future Day - Students can dress up as the occupation they'd like to be when they grow up.
Celebrity Look-alike Day - Pick a favorite celebrity to dress as for the day (no paparazzi in Math class, please).
Disney Character Day - Turn your school day into a page out of a fairytale by having students dress up as their favorite Disney character!
College Day - Each student wears a t-shirt from the college they hope to attend/will be attending.
Patriotic Day - Pull out the red, white, and blue and show your American pride.
Animal Day - School is a jungle anyway, why not have students dress as their favorite creature?
Hat Day - Let students break the dress code and wear hats!
Grade Level Day - Give each grade level a color for a day. You'll get everyone to participate – no one will want to be mistaken for another grade.
Jeans Day - If your dress code doesn't allow jeans, relax the rules for a day.
Movie Day - Your school will look like a Hollywood studio when everyone dresses up like a character from a famous movie.
Nerd Day - Are your students the smartest around? Prove it!
Decade Day - Pick a decade (50's, 60's, 70's, 80's) and have a great time remembering the fashions of the era.
Throwback Day - Have each student dress as him/herself – in the past! Whether they imitate their middle school days or go all the way back to being a baby is up to them.
Comfy Day - Encourage everyone to relax and wear sweatpants/sweatshirts for the day.
Global Day - Each student picks a country (France, China, America) they would like to visit and dresses like the people that live there.
Western Day - Your school won't be big enough for the hundreds of cowboys that will show up!
Tacky Day – Forgo all fashion rules for this day of crazy fun.
Teacher Look-alike Day - Students dress like their favorite teacher for the day!
Use SignUpGenius to simplify recruiting volunteers! View an Example
Book Day - Each person dresses up like a character from his or her favorite book (Warning: You might have a lot of Harry Potters).
Wacky Sock Day - See which student has the funniest socks!
Fandom Day - From Star Wars to One Direction, everyone can obsess together for a day.
Superhero Day - Will you dress as Batman, Superman, or a teacher? (See what we did there?)
Neon Day - Everyone can dress up in his/her favorite bright color. Sunglasses suggested!
Squad Day - Encourage students to get into groups for costumes! Whether they go as a pack of crayons, characters from Star Wars, or just dress alike, it'll be a blast.
Inside Out Day - Wear your clothes inside out.
Senior Day - Have everyone dress up like an elderly person! This can be especially fun for a graduating senior class.
Holiday Day - Dress for your favorite holiday – no matter what time of the year it is!
Medieval Day - This one might be especially fun if your school mascot is a knight! Have everyone dress up like medieval lords and ladies.
Under the Sea Day - Whether dressed as something mythical or real, students will have a great time swimming in their 'school' of friends.
Homeroom Wars - Each homeroom picks a theme to dress for and the one with the most participation wins.
Beach Day - If it's the dead of winter and you're missing sun and sand, dress up for the beach.
Charity Day - Have students show their support for a certain charity (e.g., wear pink for breast cancer awareness) and do some good.
Mythology Day - You're sure to see some togas and funny get-ups when students dress up like one of the ancient Greek myths.
Rainbow Day - Have students wear as many colors as possible, and see who can wear the most.
Pattern Day - Clashing as much as possible is encouraged!
Crazy Weather Day - Have students dress for snowstorms or rainstorms and see some zany outfits.
Stuffed Animal Day - Everyone gets to bring in a stuffed animal for the day.
Circle of Life Day - Students can dress up to be any age they want, from newborn to elderly.
Music Day - This can be as simple as wearing a t-shirt for your favorite band or as all-out as dressing as your favorite musician.
Duo Day - Pick a friend and dress as an infamous pair (Bonnie and Clyde, peanut butter and jelly, Buzz and Woody).
Villain Day - Turn your school sinister for the day and have everyone dress as their favorite villain.
Cult Movie Day - Pick your favorite classic and obscure movie character to dress as!

 
Organize your Class Wish List with SignUpGenius. View an Example
Ugly Tie Day - The grossest tie wins – just don't tell your dad why you need to borrow his clothes.
90's TV Day - Have students pick their favorite 90's sitcom and dress up!
Stay Afloat Day - Have everyone wear floaties around the school for a day.
Trend Day - Remember silly bands? What about tamagotchis? Pick your favorite outdated trend and bring it back for a day.
Camo Day - Wait...where'd all the students go???
Circus Day - Turn your school into the big top, with all kinds of attractions. Students can dress as clowns, elephants, trainers, or acrobats!
Out of This World Day - Go crazy with space-themed outfits!
Whiteout/Blackout Day - Students wear all black or all white. This is good for the day of a football game, because students can wear the outfit for both!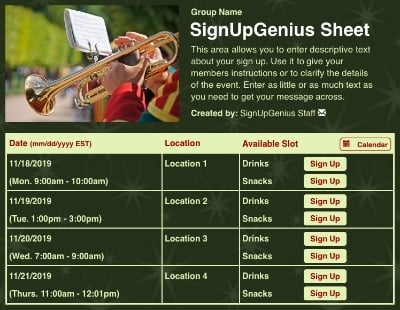 History Day - Have everyone dress up as a significant figure from history. However, make sure no one dresses offensively.
High School Stereotype Day - Dress like a stereotypical clique in high school. (e.g., a jock, theatre kid, or nerd)
Work Out Day - Have everyone wear his/her exercise clothes for the day.
Facial Hair Day - Everyone can wear silly, fake facial hair for the day. We "moustache" (must ask) you, will you do this day?
Toy Day - Dress like a classic toy for a day that will bring out your inner child.
Weird Shoes Day – Wear the silliest pair of shoes possible!
Leather Day - Your students will look like the T-birds from Grease on this day.
Farmer Day - Pull out the overalls and have everyone dress like a farmer.
Role Model - This day has a lot of freedom. The choices will be telling.
Tie-Dye Day - Your school will look like a rainbow on this day!
Parent Day - Come as one of your parents when they were in school! Borrow a high school or college t-shirt and go to town.
Stoplight Day - Students wear red if they're taken, yellow if they're talking to someone, and green if they're single. This can be adjusted if the students are younger to identify if the child is the oldest, middle, or youngest child in their family.
Flannel Day - If it's chilly where you live, flannel day might be a good way for everyone to stay warm!
Flip-Flop Day - If your dress code doesn't usually allow flip-flops, let students wear them for a day!
Zombie Day - Get into the new craze by having your students come as the undead for a day.
Organize all your spirit week voluntteers and events
with online sign ups. With this list of unique ideas, you'll have a day, or a week, that's full of spirit and fun!