30 Senior Spirit Week Ideas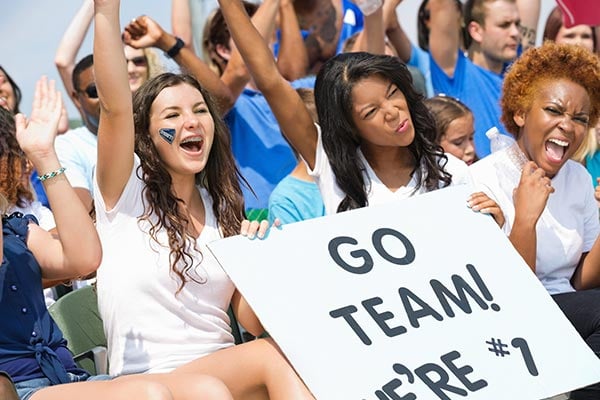 Ah, senior spirit week. The week every high school student has been waiting for since freshman year! How will it ever live up to the hype? Thankfully, one of these 30 ideas will be a perfect fit for your senior class.
Senior Sleep-In - What student doesn't want a morning off? Let your senior students skip the first period of the day for a sleep-in.
Locker Decorations - Ask parents and friends to decorate the outside of each senior's locker the Friday before Senior Week. Use heartwarming pictures, stickers and positive notes.
College Spirit Day - Have each student dress in their college gear for one day of the week. At lunch, gather students into groups based on their college or career choice.
Off-Campus Lunch - If your school doesn't allow students to eat lunch off-campus, relax the rules for Senior Week.
Senior Sunrise - Provide free breakfast for your seniors as a special treat during Senior Week.
---
Coordinate spirit week volunteers with a sign up. View an Example
---
Costumes - Consider assigning a fun costume theme to each day of the week. Need some ideas? Check out our 75 spirit day ideas.
Pep Rally - Throw a pep rally to celebrate your seniors and their hard work over the past four years. Involve the seniors in the planning and give each club or group an opportunity to participate. Genius Tip: Plan an energetic rally with these pep rally ideas for spirit week.
Door Decoration Contest - Let each senior homeroom decorate the door of their classroom to express their spirit. The homeroom that wins receives a prize!
Parking Lot Art - Have teachers, parents and younger students decorate the parking spaces of senior students with chalk.
Class Change Dance Party - Play music over the loudspeakers during class changes for a fun atmosphere.
Early Release - Let seniors out 15 minutes early every day of Spirit Week so they can avoid the school parking lot traffic.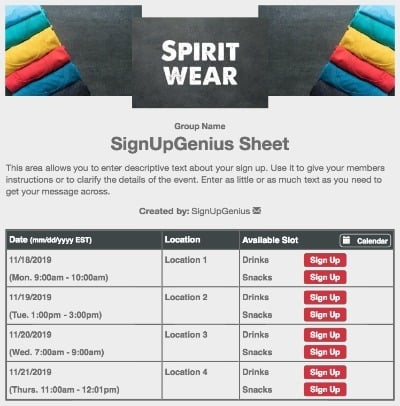 Talent Show - Host a talent show for seniors to show off their special skills before graduation.
Duct Tape the Principal - Raise money for a good cause by letting seniors pay $1 each for a strip of duct tape to secure your principal or school administrators to the wall for the day.
Posters - Let seniors make posters and banners to hang in hallways. Allow them to include inside jokes, school cheers, and positive references to the senior class!
Senior Symposium - Make your seniors feel good about their achievements by hosting a "Senior Symposium" where they can advise younger students about high school and the college application process.
---
Sell spirit wear (T-shirts, hoodies, water bottles and more!) with a sign up. View an Example
---
Field Day - Take it back to everyone's favorite day of elementary school by holding a traditional field day with fun games and events that seniors can participate in.
Senior Superlatives - Rather than simply assigning senior superlatives, host an assembly where you hand them out and students get to cheer for (and laugh along with) their friends!
Advice Wall - Create an advice wall where seniors can put sticky notes with everything they've learned over the past four years.
Senior Singing Valentines - Recruit your school choir to go around delivering singing valentines from one senior to another!
Movie Day - Create a free period where your senior homerooms can kick back and watch a movie.
Senior Stories - Host an informal comedy show where teachers get to tell funny stories about the seniors from experiences with them over the past four years!
Senior Announcements - Let a group of seniors take over the morning announcements for the week and put a fun spin on it.
Future Self - Have each senior write a letter to him/herself in a year. Send them out to the students the next year so they can see how much they've grown.
Lunch Break - Take a poll to find the senior class' favorite restaurant and order free lunch for your senior class!
---
Register students for a senior class trip with a sign up. View an Example
---
College Advice - Host a fun Q&A where teachers and staff members can give college advice to your seniors.
Lock-In - Host a lock-in and let seniors stay the night in your school. Plan games and activities for them to enjoy and have fun together.
Senior Picnic - Turn the football field into a giant picnic for your seniors.
Bring Your Pet to School - If your senior class is small enough, let them bring their pets in for a class period so everyone can snuggle with cute cats and dogs!
Donation Race - See which grade can raise the most money for a cause that is important to your school. Your seniors will feel a sense of camaraderie, and you'll fundraise for a good cause!
No Dress Code Day - This is a little risky, but if you think your seniors can handle it, relax the dress code for a day and let your students wear hats, shorts, etc. as a fun treat.
With just a few of these fun ideas, you will celebrate your seniors and show appreciation for all of their hard work.
Kayla Rutledge is a college student who spends most of her time writing, singing for her church and eating quesadillas.