20 Preschool Fundraising Ideas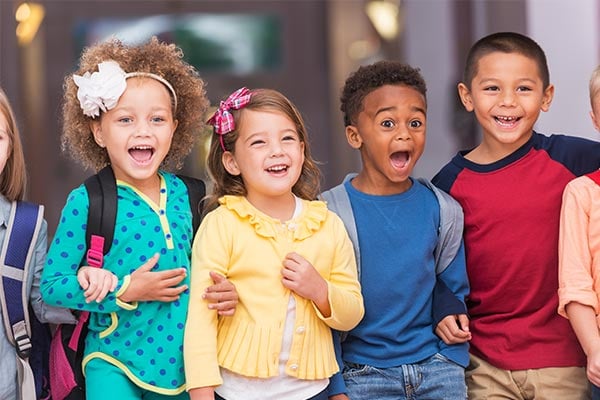 Even your tiniest learners can be productive fundraisers, helping earn money for their preschools for extra programs or charitable causes. All you'll need is a little creativity — and a healthy dose of supervision. Browse these 20 easy ideas to get started.
Get Students Involved
Create Calendar Art - Children are already creating lots of art in preschool, so put it to good use by taking digital images and uploading into an online program that creates customized calendars. Print some of the wall and desk variety and hold a sale before the holidays — a fun present for parents, grandparents and even your coworkers.
Plant a School Garden - Teach young students the value of growing their own food. Keep it simple with herbs, leaf lettuces and squash or cucumbers. Once it's harvest time, set out your yield in plastic bags and sell to parents for a price comparable to the farmer's market.
Host a Read-a-thon - Ask students to get friends and family to "sponsor" them for every book they read (or have read to them) within a time period of one week. Earmark proceeds for a fun class experience like a field trip or for a charitable cause like a child literacy program.
---
Coordinate volunteers for a preschool art show with a sign up. SAMPLE
---
Hold Penny Wars - Decorate glass jars to entice parents to toss in their extra coins for a month-long period. Young children love spare change, so encourage them to remind their parents. The classroom that raises the most money gets a popsicle party, and the money can go toward a charitable cause.
Plan a Trike-a-thon - Students will get a kick out of being able to show off their wheels and can ride laps around a track or roped off parking lot. St. Jude's is a popular sponsor of these events, and students can earn prizes like T-shirts and stuffed animals while raising money for a good cause.
Plan a School Event
Host a Bingo Night - Bingo is a fun and easy game that the youngest children can enjoy. Use animal, food and sport recognition cards so preschoolers can play along.  Raise money by charging a small fee for each Bingo card and by selling concessions like pizza, water and snacks. Genius Tip: Try these 100 simple concession ideas.
Plan a Fall Carnival or Spring Fling - Carnivals are a fun and profitable fundraiser. Sell tickets for games with small (and inexpensive) prizes — sure to be a hit with preschoolers. Recruit parent volunteers with special talents to perform magic tricks, create balloon animals and more. Bring in a food truck (or several) for even more of a community draw.
Sing Karaoke - A karaoke night is a fun way to bring families together. You will need to rent karaoke equipment or hire someone who runs a mobile business to come to you — just make sure they have kid-friendly song options. Raise money (and child excitement) by asking parents to "vote" via donations to hear teachers sing a favorite (school appropriate) song. The teachers will have to put on a performance to the tune that raises the most money.  
---
Recruit volunteers for preschool events with a sign up. SAMPLE
---
Host Movie Night - Show a preschool-age appropriate film, with the cost of admission a set number of canned foods. Sell concessions such as popcorn and goldfish (avoid too much sugar) and the proceeds can go to a local soup kitchen or food pantry.
Remember, X Marks the Spot - Put together a pirate party for the children in your school, complete with treasure maps, games and refreshments. Market this as a parent's day out and charge for watching the kids an extra two to three hours one weekend afternoon. Kids will be thrilled to have a fun tradition to look forward to — and parents will be thrilled to have some quality alone time.
Have Breakfast with Santa - This activity is already on the holiday to-do list of many preschool parents, so make it easier for them while raising money for your school. Schedule pictures with Santa and a simple breakfast of pancakes, eggs, sausage or bacon in exchange for admission tickets. Genius Tip: Sell tickets with an online sign up.
Plan a Potluck and Silent Auction - Ask parents to sign up to bring a favorite shared dish for a fun event that centers around a silent auction. Ask each class to contribute to a fun theme. For instance, one class could bring in essential items for a road trip, while another could bring in a "summer fun" bag filled with items such as bubbles, a plastic pool and yard games.
Involve the Community
Organize a Paw-A-Thon - Put a twist on the classic walk-a-thon by inviting furry family members — just make sure they're leashed. Charge a registration fee that includes cute T-shirts and let proceeds benefit a local animal rescue. Sell concessions (for pups and humans!) to raise some extra money.
Hold an Attic Sale - Children consignment sales are popular, but broaden your base by holding an attic sale that includes children and adult clothing, home goods and more. Recruit parent volunteers to price items and run cash registers the day of the event. Spread the word on social media and by placing yard signs at popular nearby intersections.
Sponsor a Night at a Local Restaurant - This classic fundraiser still has legs, but think about it a little differently. You'll still find national chain restaurants that will give a portion of sales back to your school, but also check with local restaurants, breweries, food trucks and even delivery services.
---
Get help for preschool graduation with a sign up. SAMPLE
---
Get Crafty - Do you have some talented members of your preschool family who could lead a craft session or teach a particular skill? Set up a "maker" day and charge a fee for each session. Genius Tip: Collect payments for sessions with an online sign up.
Make Family Meals - Most families want more ideas for easy, healthful weekday meals. Take that motivation and open up your school's kitchen (or pick an offsite location) for a lesson with a local chef who can give tips and provide favorites recipes — and split the proceeds with you.
Eat Lunch with a Celeb - Chances are someone at your preschool knows someone who's a local "celebrity" — like a celebrated newscaster, notable business person or maybe even a pro athlete. Work your connections and auction off a couple of lunch dates.
Slime Factory - Elmer's has a safe, fun slime recipe that your preschoolers will love! Have them make it together, and then sell mini mason jars of slime at school events and to friends and family.
These creative ideas can quickly be implemented to boost your preschool's fundraising. Just remember to keep things simple and enjoyable for your families.
Sara Kendall is a freelance writer and mom of two daughters.