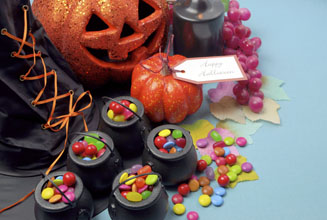 When it comes to organizing school parties, you'll want to bring your "A game." These tips will make class party planning fun and easy! 
Setting the scene 
You will be limited on both time and space so concentrate on setting up a central area theme – such as the food table. The goal is five minutes or less for set up.
Define your space – Lay the foundation for your party with a tablecloth. It sounds simple, but even a solid color will make everything else pop. Insider tip: go for a plastic or plastic lined tablecloth so that this decoration doubles as easy clean up.
Theme it up – Festive paper plates and napkins are not only cute; they are something parents are happy to provide! Add those items to a sign up so everyone can lend a hand. Need themed party ideas? Browse resources on Pinterest for the best ideas!
Double duty – A creative basket (like a cauldron for Halloween or a wrapped package for the holidays) filled with classroom-friendly party favors doubles as décor and a fun take home. Stick to practical goodies like themed stickers, pencils and notepads. List all of your party supply needs on a sign up! SAMPLE
Activities 
Some teachers will have plans for party activities, while others are looking to parents to come up with something new and different. Whatever the situation, keep thing simple and mess free.
Get crafty – Keep those little hands busy with a themed craft project. Timeless classics include gluing a pumpkin face on a paper plate, paper feathers on a turkey or cotton balls on a snowman.
Story time – Hit up the local library to grab a couple seasonal books, then enchant the class with a story. Bonus points if you are brave enough to teach the kids a song!
Smart gaming – Earn extra points from your child's teacher if you can work in math practice (shh, when kids are having fun, they don't realize they are learning!). Pinterest is chock-full of ideas for "Halloween Math Games" and "Winter Math Games." Seasonal BINGO is always a hit, too.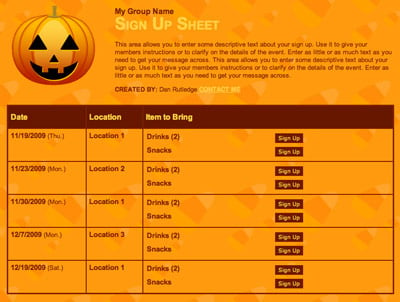 Fun With Food 
The first rule with food in the classroom is to check for allergies. You don't want to cause a problem or leave a child out. Beyond that, your party options are endless!
Dress up drinks – If you don't fancy yourself a chef, get creative with juice boxes or water bottles. Cheesecloth will turn any drink into a mummy. Just add pipe cleaners, googly eyes and a red pom pom for an instant reindeer.
Print it – You can get creative with fancy foods or you can dress up simple kid-friendly snacks (like Goldfish) with printed tags. You may even be able to find low-cost printables online!
Tame the sugar – When it comes to delegating party snacks, plan your class menu with SignUpGenius. If you don't request a specific mix of healthy treats with sweets, you are likely to end up with a sugar binge. And, well, no parent needs that gift.  
Recruit Help 
SignUpGenius
makes it easy to recruit parents to fulfill any role. Signing up online is super-easy, so the party organizer doesn't have to worry about calling the same parents over and over to help out.
Find your party people – You may decide to have different parents be the "party chair" each time. This can be a great way for others to get involved.
Send reminders - Make it easy on yourself by letting SignUpGenius handle sending out reminders a day or two before the event. That way no one will forget what they have signed up to bring.
Plan for enough manpower – Make sure to have enough parent volunteers on hand to distribute snacks, direct students through activities, and of course, clean up! 
Now that you have your grab bag of class party tips, planning will be a breeze. Need more Room Mom tips? See our Room Parent Resources!
Jennifer Burg is a flip-flop wearing, Gator-loving, picture-taking, deal-hunting Florida gal. As an overachieving mom of two awesome daughters, making to-do lists helps her remain calm and (somewhat) organized. When she's not planning events and party sign-ups, you can find her blogging at www.TheSuburbanMom.com.