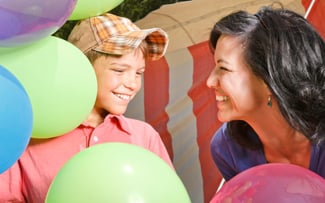 A school or church carnival can be a fun and exciting way to fundraise and bring together those from your organization as well as community. The planning involved with a carnival-style event can seem overwhelming. Let the SignUpGenius Carnival Planning Guide make your life easier!
PLANNING
Questions to Consider:
1. Define the purpose of your carnival. Is it a fundraiser or a fun activity?
2. Set clear goals for fundraising, attendance, and volunteer recruiting. Refer to this list when making decisions throughout the planning process.
3. What time of year is best for your carnival? Keep in mind local conflicts (athletic events, other festivals, etc.)
4. What's your location?  Inside school, outside or a combination?
5. If you'll serve food, check with the local health department about regulations.
General Planning Tips:
1. Consider a theme to simplify planning, games and activities. Be inspired with themes such as an old-fashioned carnival, western, harvest, beach or circus!
2. Form sub-committees with an assigned leader to tackle each area and then provide that committee with a list of goals and the budget.
3. Make an inclement weather plan.
4. Keep in mind permits that might be needed for rides, inflatables, and food preparation and apply early.
5. Keep SIMPLE in mind! While you might want/need to make a large profit from your carnival, don't do it at the expense of burning out tired teachers and already busy and generous families. Simplify to keep the carnival fun and increase the likelihood that you'll have another carnival next year.
6. Have one big meeting with your school administration to present ideas and goals and get approval for asking for donations, volunteers, and activities. They might not want teachers solicited at all.
7. Form sub-committees with an assigned leader to tackle each area and then provide committee with a list of goals and the budget.
How SignUpGenius can help:
Form your planning committee by asking interested individuals to sign up online! An online sign up will show people the greatest needs and help you organize meetings and volunteers.
Some individuals may not be able to donate time but would be happy to donate in other ways to make your event a success! Seek donations and sponsorships online by making a clear-cut list that people can help with and give them options in participating.
BUDGET
Questions to Consider:
1. How much money do you currently have on hand to spend?
2. What's your fundraising goal?
3. What are your avenues for making money?

Budget Tips:
1. Look at attendance in years past and keep that in mind when selecting attractions and pricing tickets.
2. Solicit donations of food and prizes from local businesses to cut costs.
3. Remember that the less money you spend, the more fun your families will have because you can charge less.
4. Offer a good mix of money-making opportunities, such as selling tickets and wrist bands, concessions, a silent auction, and/or a raffle.
 
TICKETING and MONEY MATTERS
Questions to Consider:
1. How will you sell tickets? Will you offer pre-event sales or day-of?
2. Will you offer discounts for bulk tickets?
3. Should you consider selling a wristband that allows access to all activities for a flat fee?
4. What activities will require students and parents to have cash on hand?

Ticketing and Money Matters Tips:
1. If you're trying to make a profit, be sure to price the wristband accordingly because parents will spend more on individual tickets.
2. Keep in mind affordability for each family.
3. Try to limit how many people will be handling money before and during the event. Have a locking cash box for locations that will handle money.
4. Sell pre-event tickets at a discounted price online to eliminate handling extra cash and give people an incentive to buy early!
5. Be strategic about the location of your ticket booths and make sure they are easily accessible. 

How SignUpGenius can help:
Set up a sign up to sell tickets and wristbands in advance of the carnival online.