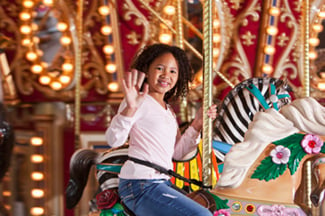 GAMES AND ACTIVITIES
Questions to Consider:
1. What is your main age group? Know your audience but plan for all ages because siblings will attend.
2. Does every activity need to make money or do you have a margin for free activities?
3. Do you want other activities in addition to games and attractions? Like entertainment?
4. Do you need permits for any of the activities? (carnival rides, inflatables, etc.)
Activity suggestions:
1. Carnival Rides
2. Inflatables
3. Pony Rides
4. Some children have never seen "old fashioned" carnival games so they can be highly entertaining for the crowd that's used to technology: Cake walk, fishing for prizes, ring toss, face painting (or temporary tattoos), stacked cans, and more!
5. Let each classroom be responsible for selecting an activity or game and running it. Each class can provide their own volunteers and supplies.
6. Think entertainment too: magician, balloon artists, school choir, drum line, jump rope team demonstration, teacher talent show, teacher pet parade, karaoke, dance troupes, taekwondo studio demonstration and more!
7. Make memories! Provide a family keepsake activity at a craft station or photo booth.
8. A couple "free" activities can make the overall atmosphere enjoyable. Try a cooling off station with water misters for a hot day or a DJ Dance area.
How SignUpGenius can help:
Set up a sign up with all of your booth and game volunteer needs listed in shifts with dates and times available. Have people sign up at their convenience!
SignUpGenius sends email or text reminders to individuals so no one forgets what they signed up for and when! Learn how it works.
FOOD
Questions to Consider:
1. What kind of food/vendors will be available? Local food trucks, volunteer prepared and served food, or a carnival catering company?
2. Who will staff the food and concessions booths?
3. How will people pay for food? Tickets or cash?

Food Tips and Suggestions:
1. Contact the Health Department if you're going to prepare food.
2. Make sure to have affordable and filling options (not just cotton candy and popcorn)!
3. Consider asking a local company to donate bottles of water or have water on hand. Keeping everyone hydrated prevents emergencies.
4. Parents are more health conscious than ever, so provide some healthy food choices like fruit, pretzels, juice, trail mix, and nuts. Families are often willing to pay a premium for healthy choices.
How SignUpGenius can help:
Schedule concessions volunteers via an online sign up. Set specific start and end times to each shift so you know you are covered with plenty of manpower.
You may consider adding the ability that allows volunteers to swap shifts on a sign up, taking less work away from the "middle man," AKA volunteer coordinator.
PRIZES
Questions to Consider:
1. Are prizes essential to your carnival? Can your carnival be attractions only, rather than games with a prize?
2. How will children be rewarded? Make this as simple as possible.
3. How will you help children and parents keep track of prizes? Should you provide plastic bags similar to those that dental offices use upon entry? Contact a local company about providing or sponsoring the bags.

Prize Tips and Suggestions:
1. Seek donations of prizes from local businesses.
2. Keep prizes inexpensive if you must purchase them.
3. Give tickets or coins instead of prizes at booths and then children can redeem them for prizes when they leave.
4. Don't have prizes at all, but rather give a prize bag like a goodies bag from a birthday party with prizes inside.
5. If you choose to give prizes at each game/booth you're going to need a large stash of prizes, so keep this in mind when budgeting.

PUBLICITY TIPS
1. Include date, time, location and highlight events in all forms of communication.
2. Send fliers home with students, send email to all parents, include information in a print newsletter or email newsletter depending on how your school shares information with parents.
3. Contact local media outlets and ask for free publicity. Consider offering free tickets in exchange for publicity.
4. Social Media: Announce the carnival on your school's Facebook or Twitter account. Consider adding a contest for shares and retweets and give free tickets to the person whose name is chosen from all shares.
5. Include business sponsors on all print media and thank them publically via social media.
6. Hang signs and banners on the way into school sharing about the carnival. Include the date, time and location. You may choose to highlight some key attractions.
7. Hang fliers in local businesses.

By Rebecca Caswell and Kate White