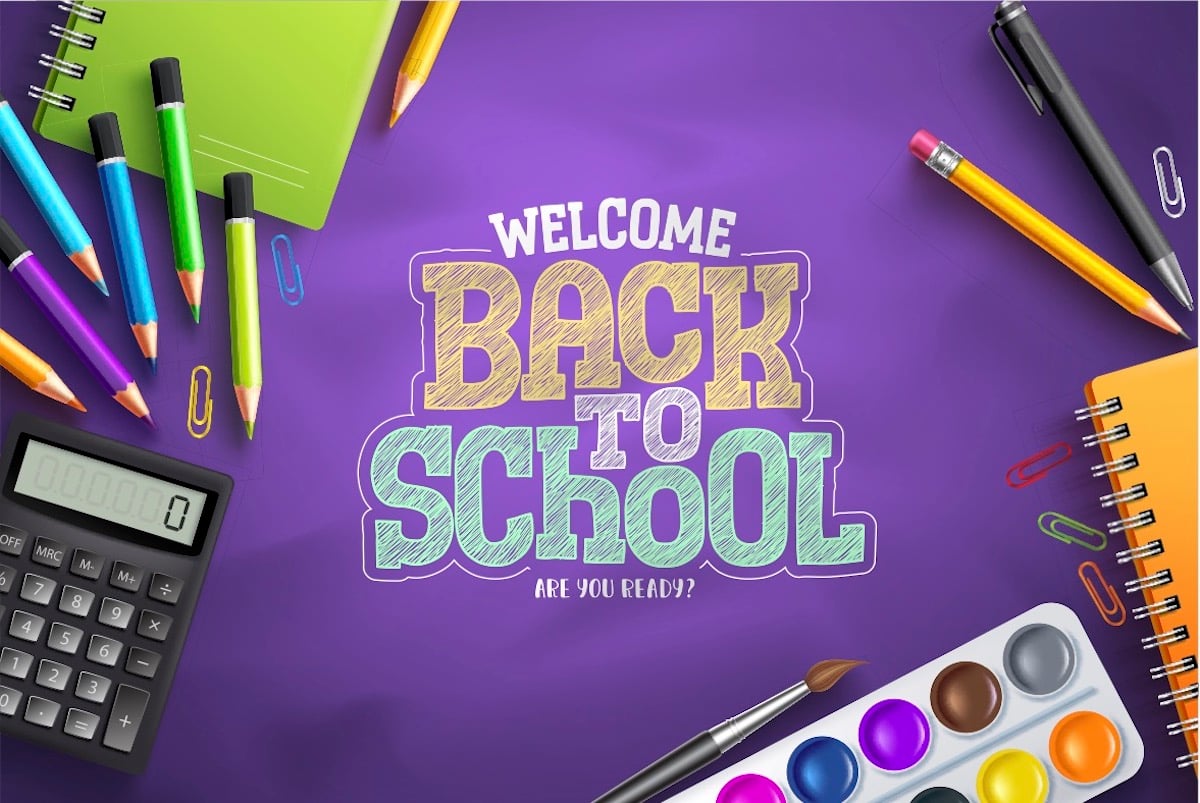 Getting your kids ready for a new school year can sometimes seem like an overwhelming task. Use these back-to-school tips to ease concerns, get organized and have your children ready when the opening bell rings on the first day.
School supplies and clothing
It's a fact of life that you'll be doling out some cash before the start of the year. Keep things in check with these ideas.
Gather your school supply list, and take inventory of what you already have. Consider reusing larger items such as backpacks and binders if they are in good condition.
Start a tradition of letting your child splurge on one item, such as a lunch box, each year.
Don't wait until the last minute — popular themes and characters may run out, and the school supply section is bound to get more crowded.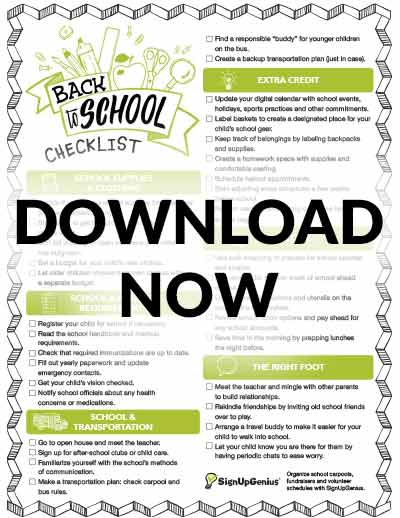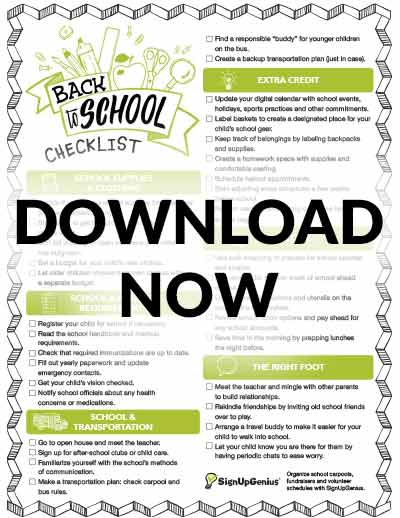 Let your child help. Sure, it might be easier to grab everything yourself, but this will help them get excited about the year to come.
Sort through fall clothing options. It's best to involve your children so they can give input and try on anything they might have outgrown.
Make a list of clothing needs, and set a budget. Consider shopping kid consignment sales, particularly for younger children.
Give older kids who are more particular about clothes a budget so they can make their own selections — just make sure to tell them items they need to buy, such as a new pair of jeans or sneakers.
---
Organize open house volunteers with a sign up. View an Example
School and medical requirements
Familiarize yourself with information on the school's website, and be sure to ask questions about anything you don't fully understand as early as possible.
Make sure your child is properly registered, especially if this is your first year at a school.
Read the school handbook for rules and regulations and review all the school medical requirements.
Check that all required immunizations are up to date. If you aren't positive, ask the school. If necessary, schedule a doctor's appointment for any shots and remember to bring the school forms to the physician's office.
Get your child's vision checked before school starts, so you won't worry about pulling them out during the school day.
Notify the principal's office, school nurse and your child's teacher about any health concerns or medications.
Sample Sign Up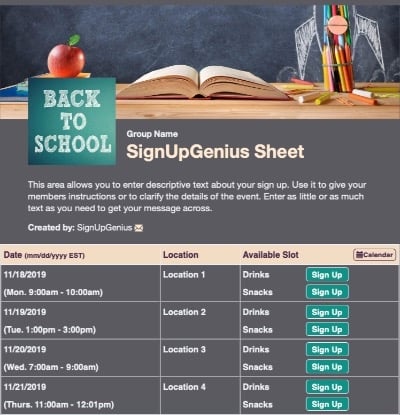 School and transportation logistics
Knowing the basics — like where the classrooms, bathrooms, playground and cafeteria are located — is essential information for every child.
Visit the school for open house to give your child some visual reassurances when walking into the building on their first day. For younger kids, take some time to play in the outside play area if possible.
Sign up for any after school clubs, and make sure you're set up to receive digital and phone communications from the school if anything happens during the day.
Familiarize yourself with the digital tools your school uses for communication and volunteer opportunities. Genius Tip: Check out SignUpGenius' tutorials to see how easy it is to create and sign up for school events.
Check your transportation plan. Your child and the school need to know how students will arrive and depart. Make sure you understand any carpool line rules and procedures.
Ask for help if you have a younger child who is new to riding the bus. Most schools are pretty good about shepherding the kids to the right place, but make sure teachers know if your child has a tendency to wander off.
Arrive on time for pick up. Being late can cause unnecessary stress for your child — and unnecessary delays for school staff.
Have a backup transportation plan. If your child misses the bus, know if you will be able to drive them or if you can call a neighbor to carpool.
Recruit classroom volunteers with a sign up. View an Example
Preparation tips
From setting up after school care to designing a homework space, there are a slew of things that need to be figured out before the start of school.
Confirm any before or after school care that your child may need during the school year. Make this a top priority, since spots fill up quickly and you don't want any surprises on the first day of school.
Take time to update your organizer with the school calendar.

Input school holidays, teacher workdays and early release dates as soon as they are posted.
Add your child's sports practices, games and afterschool activities.
Review your child's commitments often to avoid overscheduling. Genius Tip: Import your events and volunteer commitments from SignUpGenius into your digital calendar using Calendar Sync.

Set up a staging area in a convenient location near your front door. Use a crate or a basket labeled with each child's name. Make sure each child has a designated place to put his backpack, sports equipment, jackets, etc.
Label everything. Reduce potential meltdowns over not being able to claim items by labeling all of your child's belongings.
Create a homework space. Set up their designated area with supplies, proper lighting, comfortable seating and anything that prepares them up for homework success.
Schedule haircut appointments, if needed. You'll want your kiddos to look snazzy for any first day photos.
Lay the ground rules early. You'll need to adjust the relaxed summer sleep schedule, starting a few weeks before school. Have your children go to bed 10 minutes earlier each night so they'll be back on track without much hassle.
Encourage kids to read before school begins, particularly if they've slacked off during the summer. Ease them into quiet time while giving them a jumpstart on refreshing their reading skills.
Celebrate the end of summer with a back to school bash. View an Example
Healthy meal ideas
It's important to fuel up the family with good food choices while trying to please everyone's taste buds. Consider incorporating the following into your game plan for the first weeks of school.
Make a favorite food list with your kids for school lunches and snacks. Consider bulk shopping at a local big box retailer and stock up on non-perishable foods such as juice boxes, napkins, sandwich bags and snack foods.
Plan dinners for the first week of school to give you more time getting your kids back in the swing of the school year routine.
Place all non-perishable breakfast items like cereal, granola bars and bagels on the counter the night before. Line up bowls, plates and the necessary utensils. Having all the choices sitting on the countertop will prompt your older kids to make their own breakfast.
Review school lunch options. Most school systems have lunch menus available online. Let your kids know how many times a week or month they're allowed to purchase lunch, and pay ahead for any lunch accounts.
Fill up drink bottles, get lunch boxes out and decide on snacks the night before even if you can't pack the whole lunch, saving precious time the next morning and setting you up for a quick lunch-making process.
The Right Foot
It's important to help your child shake off insecurities and build their confidence before that first day of school. Here are a few strategies to get your child feeling strong.
Meet the teacher. You and your child will find comfort putting a smiling face to their teacher's name. Mingle with other parents and their children. The more recognizable faces on the first day, the better your kids will feel when they walk into the classroom.
Plan a few play dates before school starts. Often relationships cool over the summer with school friends. Help them reconnect by inviting old school friends over to play.
Arrange for your child to walk or ride with another kid in the neighborhood. A traveling buddy will make it easier for your child to walk into school.
Leading up to the first day of school, have periodic chats to ease worry and boost their spirits. Let them know you are there for them.
Start getting organized and you'll breathe a little easier you prepare your children for a successful new school year.
Sara Kendall is a freelance writer and mom of two daughters.