Volunteer Management Guide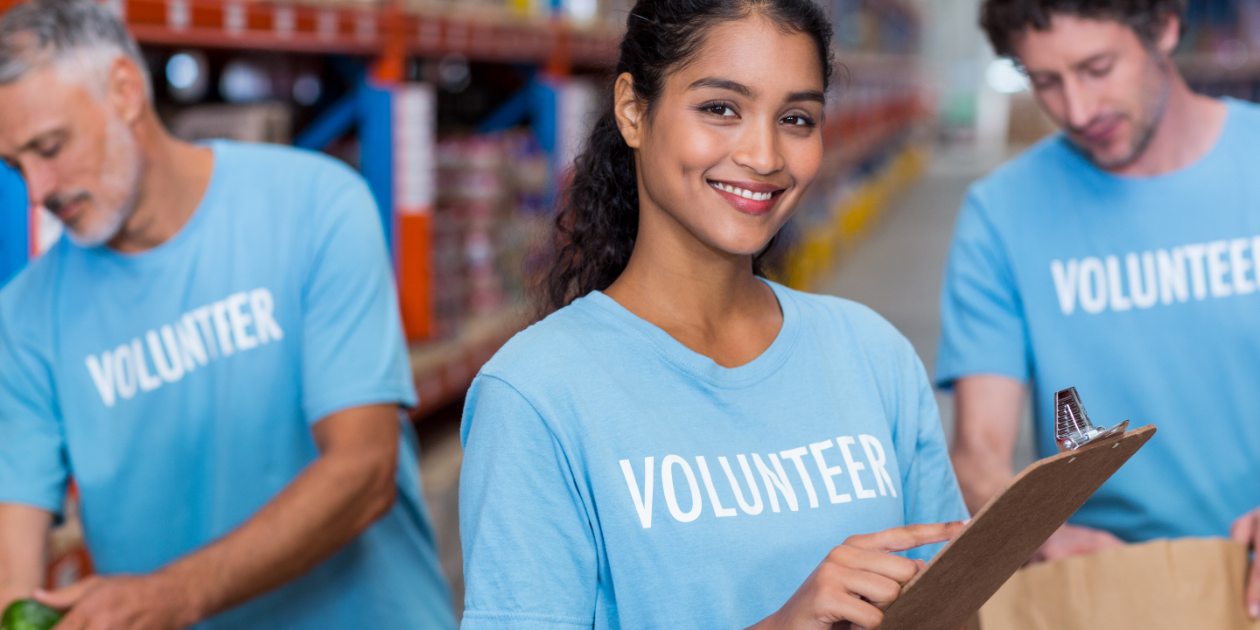 Effectively managing your volunteers will not only help with retention but greatly increase the enjoyment level of your volunteers, helping them to see that everyone is on the same team working for a unified goal. Here are some of the best suggestions out there for successfully managing your volunteers.
Navigating New Volunteers
Elevator Speech - Create a three-to-five minute "elevator speech" about your organization, ministry or event. This should include your overall goals, types of positions that volunteers fill, and, if applicable, what this volunteer's role will be. You can use this not only to recruit but also to reiterate the goals and purpose of the organization when interviewing volunteers.
Safety First - Collect contact information immediately and start the process of doing a background check if needed. Affirm your volunteers' value to your organization by creating a nametag and having it available when they arrive for their first volunteering shift.
Multiple Screenings - Especially if working with children, it's wise to have several layers of screening.  Pre-screening can be a background check and application (with references). A second interview with a second staff person can help gage if the volunteer is a fit.
Add a Timeframe - Consider implementing a "sunset" agreement between you and your volunteers that asks them to commit for six months (or a year if that seems more appropriate). This reassures them they aren't signing up for life and allows you both the option to evaluate at the end of that time if continuing is in their best interest and that of your organization.
Coordinate volunteer shifts with a sign up. View an Example
Utilizing the Time and Talents of your Volunteers
Manage Expectations - During the initial interview, give volunteers a chance to tell you what kind of role they think is a best fit in your organization but also if they are willing to step out of their comfort zone to help in other areas when needed.
Shadowing - If your volunteers will be coming into an ongoing position, have them shadow experienced volunteers in a specific role first.
Delegate - Depending on the size of your organization, it may be wise to hand over a few senior leadership roles to experienced volunteers.  Some of those roles could include:
Volunteer Training Specialist - This person (or several people) can help host training sessions and also step in to lead new volunteers the first few times they are helping to clarify questions.
Special Events Lead Volunteer - This person knows all the needs and roles being filled at an event and can help with troubleshooting.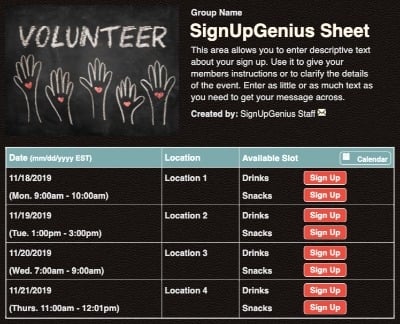 Cover the Details - Never assume that a role is so easy people will automatically know what to do or how to problem-solve. This is where assigning a volunteer training specialist can ease your workload with onboarding new people.
Ongoing Support - Proper initial training is vital, but so is ongoing supervision focused on assessing to see if the fit is still good, and also assessing whether a volunteer might need a fresh opportunity within the organization to keep them engaged.
Streamline Volunteer Planning - An online sign up can quickly help you fill roles such as event registration, set up, serving refreshments and tear down. If applicable, you can include slots that you'd like board members to fill and make other specific requests of volunteers all in one place.
Send Reminders - A great feature of using an online sign up for your next event or for an ongoing need is that it also sends reminders to your volunteers, which is a great time saver!
Schedule volunteers and remind them about their shift location with a sign up. View an Example
Retaining Your Volunteers
Create Community - Make the extra effort to develop a sense of community with your volunteers by creating a social media page or a place where updates and information can be shared.
Share Information - In addition to social media groups, consider creating a monthly volunteer newsletter that reiterates your vision and purpose (this will be especially helpful to new recruits), as well as any internal organization changes or inspiring stories. You can assign a volunteer gifted in communication and graphic design to do the newsletter — win/win!
Create a Positive Environment - Make sure your work culture, especially for volunteers, is kept drama-free and positive. It's hard to let go of good volunteers, but if they are causing other volunteers to leave because of gossip or negativity, it's time to sit them down for an evaluation (this is where the sunset agreement mentioned before is especially helpful).
Use Software - Go a step further and utilize volunteer management software solutions to streamline contact information. Genius Tip: Check out this roundup of volunteer management software solutions.
Document a Process - If you have a high number of rotating volunteers who may have large time gaps between helping, keep binders handy labeled with the volunteer role and inside, a suggested task list. These binders are also a great place to keep sticky note announcements if last-minute changes need to be noted.
Appreciate Your Volunteers - Celebrate your volunteers with a dinner, potluck, event or fun outing for your volunteers. This goes a long way to show how much you value and depend on their commitment. Genius Tip: Thank volunteers with these low-cost volunteer appreciation gifts and ideas.
Plan a volunteer appreciation event and coordinate gifts with a sign up. View an Example
Be Forward Thinking about Your Volunteers
Start a Referral Program - Always encourage your volunteers to look for other people in their circles to join the ranks of volunteers and keep your base growing. Encourage face-to-face recruiting which helps potential volunteers feel compelled to at least give it a try.
Plan Strategically - Take time every six months or so to meet with your volunteer team and strategically plan for whether volunteers need to be added or even what roles might need to be added (or subtracted). They are your best resource for assessing future needs.
Collaborate - If there are others in your organization who are also managing volunteers, don't be afraid to call a meeting of the minds to assess best practices for recruitment, training and retention of volunteers. There may be lots of potential within your own organization to learn new things and do it better.
Volunteers provide immense value to your organization at no cost, so it's well worth your time to invest in a clear management guide to train and maintain your volunteers. Use ideas like these to help guide your organization to increased volunteer productivity, satisfaction and retention.
Julie David is a freelance writer, educator, and worship pastor's wife from the Midwest who likes warm hugs.