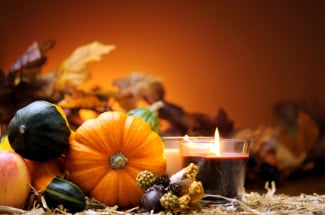 Nothing says family get-together as much as the Holidays. However, the cost of planning a feast of any caliber can quickly add up. You also may have so much "on your plate" that preparing meals for the big celebrations can make you feel frazzled. Here are some practical ideas to help you save time and money on your Holiday celebrations:
Trim Down The Menu
Most of us think of a smorgasbord of dishes when we think of a Thanksgiving dinner table. However, you can trim your dinner costs by planning your menu wisely. Make sure to include those dishes that have been a hit in the past. There really is no reason to waste your money preparing dishes that no one eats.
Ask Your Guests For Help
Take a bit off the workload and costs of cooking for a large gathering by asking your guests for some help.  Asking guests to bring the side dishes or dessert will trim your budget quickly, and it lets everyone share in creating the meal.
---
Plan the perfect holiday potluck with our online invitations and potluck sign up sheets. See how.
---
Prepare Ahead
Earlier shopping sprees will also alleviate the stress and pressure of holiday expectations as time runs short, allowing you to focus on other holiday responsibilities as they arise, like all that cooking!
Fall weekends are the perfect time to do a little extra cooking and baking to prep for a time-crunched Thanksgiving day.  Make double portions of your favorite casserole or lasagna and freeze some or bake your own signature meatballs days in advance.  Cooking stress should be minimal so there will be more time to enjoy the experience.
 
Shop Seasonal And On Sale
Most Holiday menus lends themselves to celebrate and utilize seasonal ingredients. Take advantage of plentiful pumpkins by serving a creamy pumpkin pie or an Apple Raisin Stuffed Squash. In-season Brussels sprouts make for the perfect side dish. Turkey sales abound, so make sure to shop around for the lowest price. Print a consolidated list with everything you need for the week, organized by recipe or by grocery department.  Even if you're not a regular coupon clipper, use manufacturerr's and grocer's coupons to save a bundle on  all of your holiday must-haves!
---
Check out a sample Pot Luck sign up using SignUpGenius!
---
Buy An Ingredient Once, And Use It Twice
Do you dislike buying ingredients that you don't get to use in their entirety? That can be pretty wasteful. Look for items you already have in your cabinets to go from ordinary to extra-ordinary. Even a dish of plain green beans becomes a gourmet delight when sprinkled with a few slivered almonds. Add honey and a sprinkling of nutmeg to cooked baby carrots, toasted pecans to candied yams, or dried cranberries to spinach salad. Tap into your creativity.
Plan Ahead For Leftovers
While making sure you serve only the food that you need is a good way to trim back on expenses, however you'll still end up with some leftovers. There is nothing as wasteful as leftovers that don't get used. Send your guests back home with some of the bountiful meal they just enjoyed. Freeze any leftovers for lunch meals or quick, convenient snacks.
The Holidays are almost always centered around the feasts. Things may not always go as planned but just be grateful for the food and the family and friends that get to share it with you.
Happy Holidays from SignUpGenius.com!