50 Super Bowl Appetizers and Snacks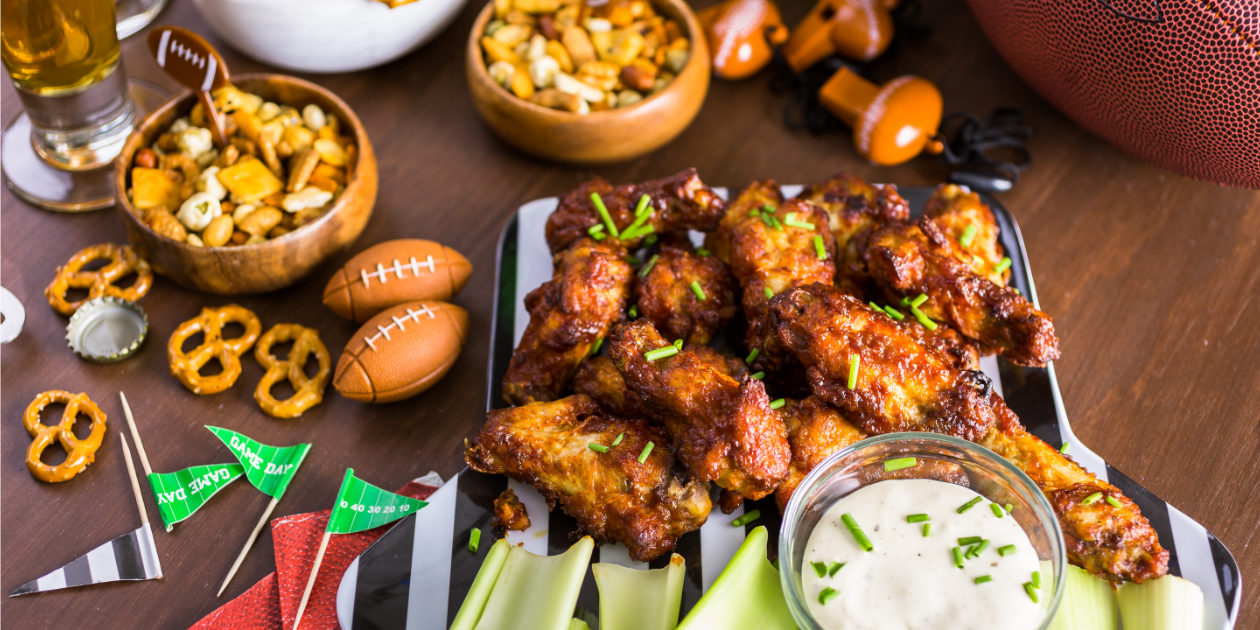 Score big with your Super Bowl guests by making some of these 50 winning appetizers. Finger foods made ahead of time and arranged in a self-serving buffet spread ensure everyone — even the cook — will be watching the game from kickoff to victory. 
Corndog Muffins - Pop a small bite-size hot dog slice into a tin filled with corn muffin mix, then bake as usual – an easy way to make a version of a corndog. Don't forget to have ketchup on the side.
Chocolate Clementines - Peel the clementine and remove all the white strings. Dip segments into chocolate dipping sauce and place on wax paper to cool. Arrange on a plate and serve for dessert. This one will be a big hit.
Hot Pizza Dip - Layer pizza ingredients such as marinara sauce, cheese, pepperoni and olives in a skillet and then bake until the cheese is brown and bubbly. Scoop up this comfort food with crostini. Your guests will love you for this one!
Football Strawberries - Dip fresh strawberries into a chocolate sauce. After cooling, pipe on the white football stripes and stitching with white chocolate to create a delicious football treat.
Loaded Game Day Tots - Top baked tater tots with a dollop of sour cream, crumpled bacon, diced red peppers and a snippet of chives to make a bite-sized version of a loaded baked potato.
Reuben Dip - You love the flavors of a Reuben, so consider skipping the traditional sandwich for a warm dip of corned beef, sauerkraut, Thousand Island dressing and Swiss cheese. Wheat crackers and pieces of rye bread will make an excellent companion.
Create an online sign up for your football potluck! View an Example
Spicy Mediterranean Feta Dip - Blend feta cheese, plain yogurt, juice of a lemon, herbs, salt and pepper. Top with olive oil, then serve with pita chips or veggies. Want a little kick? Add some Tabasco sauce for the win!
Bacon Cheeseburger Dip – Mix cooked ground beef, crumbled bacon, diced onions, shredded cheese and sour cream in a skillet then bake until piping hot for a crowd-pleasing appetizer. Serve with hearty crackers to handle this rib-sticking treat.
Baked Jalapeno Poppers - Jalapeno peppers, halved and filled with cheese, coated in breadcrumbs, and then oven baked are spicy, creamy, and oh-so satisfying. Your guests will love you for this delicious snack! Pair with a lime cilantro dipping sauce to cool the heat.
Baked Pickles - A baked take on the usually fried pickle is really tasty, not quite as messy and just as pleasing. Whip up a ranch dip made with fat-free sour cream or yogurt.
Barbecue Ribs - Rubbed with sugar and spices, baby back ribs are the quintessential game-day staple. It's a must-have on your table — just have a tall stack on napkins on hand.
Sample Sign Up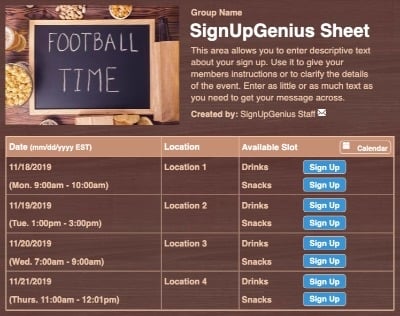 Bean Dip - Either cold or warm, a combination of beans, cheese and mild spices go wonderfully with veggie sticks and crackers.
Blue Cheese Dip - A blue cheese dip sprinkled with celery salt and pepper paired with kettle potato chips is a match made in heaven.
Bruschetta - This Italian appetizer is a crowd-pleaser. Brush grilled bread with olive oil, garlic and salt then add your favorite topping such as diced tomatoes, vegetables or beans.
Chicken and Vegetable Kabobs - Marinated chicken and vegetables grilled on a bamboo skewer are ideal finger food. Top with salsa for the perfect flavor combination.
Chicken Empanadas - Make this Spanish delight — diced chicken plus garlic, onion, jalapeno peppers and cheese equals yum. Chili lime dipping sauce will serve as the perfect complement.
Chicken Wings - This time-honored football game favorite can be the main course on your table. Consider making a variety of flavors like honey mustard, orange glazed, buffalo and teriyaki for a wide selection to dig into.
Crab Dip - A thick, creamy dip with chunks of crab in every bite is heaven in a bowl! You could change the flavors up a bit with a variety of spices, cheeses and some horseradish.
Fondue - Consider offering a pot of bubbling cheese for your guests to dip sliced veggies, apples and chunks of French bread.
Fried Mac and Cheese Balls - Comfort food at its best! Add bacon for a salty flavor or jalapeno peppers for a spicy kick.
Organize game day volunteers with an online sign up! View an Example
Fruit Kabobs - Place seasonal fruit onto bamboo skewers and serve alongside a honey yogurt sauce for an easy, sweet option — and almost guilt-free dessert.
Fruit Slices and Caramel Dip - Honey crisp apple slices drizzled with caramel dip and then sprinkled with coarse salt make a healthy yet satisfying dessert.
Ginger Garlic Shrimp - Shrimp cocktail is a tasty appetizer. Jazz up the old standby by mixing shrimp with basil, ginger, garlic and lemon juice.
Grilled Beef Satay - For an easy pick-up food, marinated beef strips grilled on a bamboo skewer creates a yummy and eye-pleasing snack. Get creative with the marinade with cracked pepper & garlic, teriyaki or soy-ginger.
Guacamole - Every Super Bowl spread has to have this classic dip alongside a bowl of tortilla chips. Browse through a variety of online recipes to jazz it up if you are looking to put a new twist on this one.
Hearty Beef Chili - This time-honored classic football meal is easy to make in a slow cooker and stays warm throughout the game. Serve with toppings like shredded cheese, sour cream, olives and chopped onions.
Homemade Chicken Nuggets - Take this appetizer up a notch. Coat the chicken with unexpected flavors in the breading like hot sauce, Parmesan cheese or nuts.
Sample Sign Up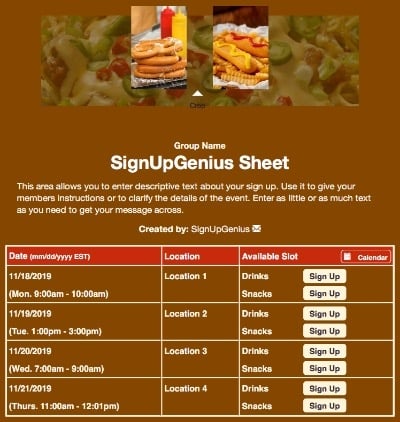 Hummus - Oh, so many varieties — sundried tomato, basil with pine nuts, lemon parsley, spicy black bean — this list could go on forever. Skip the usual chips and salsa, and give your party something to talk about.
Italian Pigs in Blankets - Try this upgrade to the hot dog version by using an Italian sausage. Use a traditional sweet or hot sausage to bring a new flavor to this fan favorite. Add a bowl of marinara sauce for dipping.
Mexican Seven-Layer Dip - The colorful layers of this Tex-Mex inspired game day favorite are sure to please everyone's appetite, especially when piled high on tortilla chips. Added bonus: This appetizer can be made the day before the big game and chilled in the fridge. Score!
Mozzarella Sticks - Everyone loves warm cheese sticks, so why not have a full plate awaiting your guests' arrival. Garnish with marinara sauce or Sriracha for a spicy kick.
Nachos -Stack'em high — layers of tortilla chips, ground beef, sour cream and melted cheese make everyone's Super Bowl buffet complete.
Nut Mix - Offer a flavorful homemade nut mix, which is easy to prep and offers minimal baking. There are oodles of varieties — you just need to select your favorite nuts and decide if you want to go sweet, salty or spicy.
Quesadillas - From cheese or shrimp to chorizo sausage or classic chicken, the possibilities are endless. Make a variety of choices and arrange on platters for an eye-catching display.
Queso - A warm cheese dip with a spicy kick of diced jalapeno peppers is seriously addictive when served with warm tortilla chips.
20 tips for planning a memorable tailgate! View an Example
Ranch Dressing Dip with Veggies - Kids and ranch dressing make a happy match. Add carrots, celery sticks and broccoli chunks for ways to scoop up their favorite dressing while adding a nutritional punch.
Pepper Jack Meatballs - Add a twist to the standard meatball by filling with pepper jack cheese. The spicy kick will hit the taste department. A marinara sauce will cool down some of the heat for your guests.
Pepperoni Pizza Egg Rolls - Slices of pepperoni, a cheese stick and a dab of marinara sauce rolled up in egg roll wrappers then baked – yum! You can satisfy both the kids and adults at your party with this dish.
Pinwheels - Buttery, flaky dough filled with bacon and cheddar is ideal buffet food. Pair with ranch dressing.
Pizza Pockets - Use store-bought pizza crust to make homemade pizza pockets. Pack with your favorite pizza ingredients along with cheese and marinara sauce to bake. Serve right out of the oven.
Popcorn Dessert - Make a batch of regular popcorn with oil and salt. Drizzle on a sweet flavoring such as warm chocolate and caramel for an easy sweet and salty treat.
Potato Skins - The bulk of the baking can be done the day before. On game day, scoop out the middle of the baked potatoes and reheat with cheese, bacon and scallions. Yukon Gold or sweet potatoes are good choices.
Savory Snack Mix - Get creative and mix up your favorite flavors and textures with this appetizer idea. Use pretzels, crisp rice cereal, oyster crackers, peanuts, sesame sticks and roasted peas. There are numerous varieties to munch on.
Sliders - Small sliders are easier for everyone to handle than the average-size burgers. Think beef burgers, pulled pork, meatball, ranch chicken and barbeque turkey. A couple of varieties can satisfy a wider range of hungry palettes.
Salsa Sloppy Joes - Mix cooked ground turkey with salsa and scoop onto biscuits for a fresh, South-of-the Border take on this classic meal.
Spinach Dip - Put a bowl of green goodness on your party table. Spinach and artichoke hearts mixed with a blend of cheese with a dash of salt and pepper will certainly be a pleasing dish. Accompany with flatbread crackers.
Stuffed Mushrooms - This vegetable comes already bite-sized, ready to be stuffed with cheese, garlic and sausage.
Sweet and Sour Meatballs - It's a classic for good reason — it's simple to make, stays warm in a slow cooker and is easy to eat with a toothpick.
Tacos - Kid-pleasing tacos will keep all the younger guests happy, as well as the adults. In separate bowls, place lettuce, tomatoes, sour cream and cheese, so guests can add what they like.
Vegetarian Chili - Let the beans take center stage. Meat lovers won't miss the meat when you add beans and more veggies for a different version of chili.
Whether your favorite team made the big game or not, you'll almost certainly be tuning into the Super Bowl. Try some of these ideas and no one will remember in a couple of years which team won — but they will be asking for your recipe. 
Sara Kendall is a freelance writer and mom of two daughters.