30 Things to Do on a Rainy Day with Kids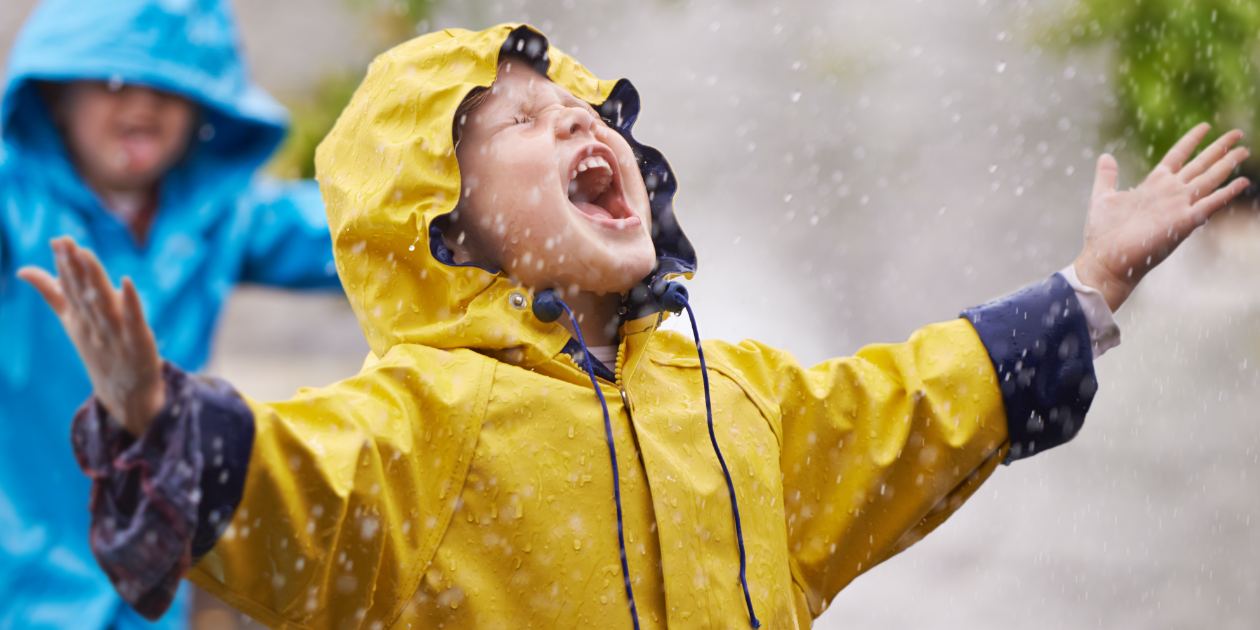 Spending time in the sunshine is the best way to release some of your children's never-ending energy. But what do you do when a rainstorm bursts your sunny bubble? Being cooped up indoors on a stormy day with energetic kids can feel overwhelming, so make a game plan.  Have some toys or activities reserved just for days like this. And if you need some more boredom-busters, here are 30 activities you can do with children of all ages on a rainy day. 
Make playdough or slime - The thought of turning your kitchen into a slime factory might be scary, but the mess is totally worth it! Find a recipe online for playdough, slime or oobleck (not quite a solid but not quite a liquid either) and let the fun begin. You can even make the playdough edible if you have a younger baby that likes to taste everything.
Paint the toys - This is a great activity, and if you want to keep the mess to a minimum, layout out some inexpensive plastic drop cloths. Just set your kids up with an ice tray filled with washable paint and let them go to town painting their (plastic only) toys. When they're done, bath time for the kids and the toys!
Sensory bins - Sensory bins are a great way to let little ones explore with all their senses. Just take a plastic storage container or box and fill it with interesting textures. You can try sand, water, uncooked rice, water beads or anything they love to get their hands on. Add a few plastic toys and scoopers to the bins. If your children still explore with their mouths, try something edible like "sand" made from crushed Cheerios.
Movie Day - Chances are, the rainy weather has you feeling a little lazy. Nothing beats a movie on a rainy day! So make some popcorn, find a blanket and snuggle up with your little ones. Genius Tip: Pick a movie from this list of family-friendly classics.
Tape Road - This is a great activity if you have kids who are obsessed with all things on wheels. Find a roll of painter's tape and mark out a "road" for them on the floor. Grab a few vehicles and then let the racing, parades, police chases or anything else their imaginations can dream up commence.
Phone-a-Friend - Sometimes, you need to call in backup. This is a great activity for grandparents or friends. Call or video chat with them and have them entertain your children while you get a little work done. They can read a story, show them pictures, play a game or ask your kids to find things around the house to show them.
Scavenger Hunt - This activity takes a little pre-planning, but it can be a great way to burn some time and energy. Create a scavenger hunt or treasure map for your children to follow. Depending on their ages, you can make it as elaborate as you'd like. For younger ones, ask them to find things around the house that are a specific color or shape. For older children, create clues or have them find hidden objects.
 Egg Hunt - Who doesn't love a good egg hunt? And who says you can only do them at Easter? Keep some plastic eggs handy year-round for rainy day egg hunts and take turns hiding and looking around the house for them. If you don't have eggs, feel free to substitute with stuffed animals, matchbox cars or anything you can hide easily.
Explore a Museum Online - There are plenty of ways to use the internet to broaden your children's minds on a rainy day. Many museums and zoos offer free virtual tours, sometimes even live streaming in real time. You can explore sites around the world from the comfort of your home.
The Floor is Lava - An all-time kid favorite! Just set out pillows, stools, furniture or blankets across the floor and see who can get from one side of a room to the other without falling in the "lava."
Exercise Video - If your little ones have boundless energy, try an at-home workout video. There are plenty of options on sites like YouTube that are specifically geared towards children. For example, you can find children's yoga videos and dance videos that are sure to burn some energy (and calories).
Make Your Own Pizza - Nothing goes better with a rainy day than hot pizza pie. Get your kids in the kitchen to help you make some unique pizza creations. They can help roll out the dough (make your own or buy it pre-made) and add whatever toppings they choose. Let each child create their own little personal pizza to really make the activity special.
Build a Fort - What kid doesn't love building forts? Use your couches, cushions, blankets, bar stools and anything handy to create a fun kid-sized fort for your little ones to play in. Let them take in flashlights so they can read, or even let them eat lunch in their secret fort.
Arts and Crafts - Arts and crafts are a perfect indoor activity for rainy days! The possibilities are endless even with a few basic materials like crayons and paper. Younger children can color and play with popsicle sticks or stickers. Older kids can bead necklaces, create collages or experiment with acrylic paints on canvases.
Tea Party - Invite all your dolls and stuffed animals for a good old fashioned tea party. Make sure everybody dresses up in their fanciest clothes and brew some tea (or air) for a tea party to pass the time. Just don't forget your hat!
Dress Up - Speaking of dressing up, don't forget about your costume closet. Let your kids dress up in old Halloween or dance costumes or give them a selection of grown-up clothes. Let their imaginations go wild as they pretend to be doctors, superheroes or monsters. If you don't have costumes lying around, you can create accessories with construction paper.
Sample Sign Up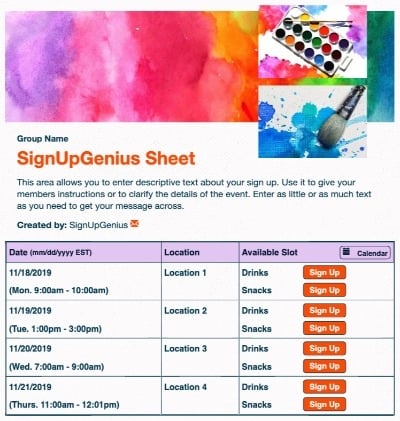 Get Out of the House - If you're tired of being cooped up at home, try visiting a local museum, children's play place or library. You can look online to find options near you that will work well with your children's ages. Sometimes the only way to beat a rainy day is to get a change of scenery. Just getting out of your own house lessens the feeling of being stuck indoors all day.
Dance Party - Dance parties are the absolute easiest and most fun way to burn off extra energy on a rainy day. Just pump up some tunes and dance around! Your kids will love it even more if you join in on the fun.
Board Game - A rainy day is the perfect time to pull out the board games and card games. If you have older children, there are plenty of games on the market for all interests and hobbies. If your children are younger, you can still play some easy games with them, like matching games.
Marching Band - If you don't mind a little noise, let your children create a marching band with instruments around the house. Don't have any? Don't worry – you can make you own easily. Just use pots, pans or whatever is handy. Let your children parade through the house playing their music.
Puppet Show - Kids love puppet shows, so why not let them create their own? This activity lets you burn a lot of time between creating the puppets, making the set and coming up with a plot line. If you don't have puppets, make your own out of socks or paper bags.
Lego Bath - One of the easiest ways to fill some time on a rainy day is to put the kids in the bathtub. Most children love baths, and if you add Lego blocks or other building blocks, bath-time becomes even more fun.
Popsicle Bath - Much like the Lego bath, the popsicle bath is a simple concept guaranteed to give you a lot of bang for your buck. Kids love baths and kids love popsicles. Put them together and you have a great activity for all ages, and without the typical sticky cleanup.
Fun with Boxes - If you have any cardboard boxes lying around, don't let them go to waste. Set your children up with age-appropriate art supplies and let them decorate all sides of the box. Then, they can use their imagination to come up with all kinds of uses for their box creations.
Create a "Zoo" - This is a great activity that can take up a lot of time on a rainy day. Let your children gather their stuffed animals and create a "zoo." They can use cardboard boxes to create cages or find interesting spots around the house for their exotic animals. Let them go to town creating tickets for the zoo and practicing animal tricks.
Picnic on the Floor - If there's one thing that children love, it's eating in places other than the kitchen table. Set up a living room picnic for your children on a rainy day to make great memories for everybody. Set out a large blanket on the floor and bring your least messy foods to eat.
Origami - If you have slightly older children, you can try a new craft with them like origami. There are plenty of online tutorials to make many different types of animals, and you can use regular construction paper or let them pick out their own special origami pages.
Obstacle Course - Use whatever you can find around the house to create an obstacle course. You can use couch cushions to climb over, dining room chairs to army crawl through or get creative with other furniture. If you really want to up the ante, use a stopwatch or your phone to time each child.
Flashlight Tag - This is a great activity to do if your power goes out during a storm. Just grab some flashlights and play a game of hide and seek flashlight tag. Even if your power is still on, a dark and rainy day is the perfect time for this game.
Play in the Rain - What's the easiest rainy day activity that children love to do? Playing in the rain! Just put on your rain boots, grab an umbrella and head outside. Your kids will love splashing in puddles. Just make sure you aren't out in a lightning storm.
 Hopefully, the sun will come out again soon! But in the meantime, beat those rainy day blues with these fun rainy day activities for kids. Just don't forget to stay weather-aware – make sure there is no lightning in the forecast before doing bath or water activities!
Kelsey Caldwell is a realtor and freelance writer from Charlotte, NC. She and her husband are parents to two amazing kids, a puppy, and rabbit.