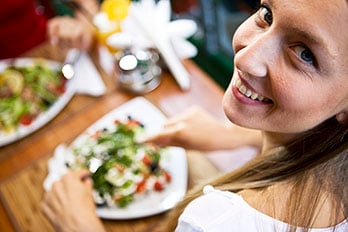 Want to host a dinner party for friends? On a tight budget? Host a potluck dinner where everyone contributes one yummy dish to the meal. It's a great way to save money because all that's left for you, the host, to provide is a creative theme, décor, invitations, and a small party favor for your generous guests!
Pick a Theme
Every great potluck starts with a great theme. After all, you don't want mac n' cheese with spaghetti, and no one likes tacos with a side of egg rolls. So get creative and think of one cohesive theme where eaten together, each dish will be pleasing to the palette. Need some help thinking of theme ideas? Check out this potluck article.
Invite Your Friends
A potluck party can only succeed with the help of your lovely guests. Once you've chosen your theme, you've got to create some nifty invitations to send to your friends! Coordinating invitations with your theme is a great way to get your guests excited for the ambiance to come. Let your guests RSVP using SignUpGenius. In the comments section of the sign up, guests can write what dish they will bring to the party beneath their names so no one accidentally doubles up. Don't forget dessert!
Table Setting and Décor
Tying your food and your theme together has everything to do with fabulous and easy-to-do décor. It's all about centerpieces, tablecloths, napkins, nametags, and other fun props. For example, if you choose a Mexican theme, use maracas for centerpieces, colorful ponchos as tablecloths, and sombreros for your guests to wear. Spice up the night with some salsa songs and you'll be ready to rumba!
Party Favors
So, your guests provided the food, you provided the mood. It's the end of the night and all your far from famished friends are headed out the door. Why not top off their evening with a little keepsake to say, "Hey, thanks for coming," and "Your eighteen layer casserole rocked!" It doesn't have to be anything big. Maybe decorative takeout boxes for them to carry home the rest of their lo mien sound inspiring. How about a mason jar full of your special sweet tea with a ribbon and a homemade thank you note? Whatever you decide, the important thing is that it's from the heart!
Now that you've worked up an appetite just thinking about ideas, grab a bite and start planning! Remember, in the end it's not what's on the table that counts, it's who's in the chairs!