10 Crowd-Pleasing Potluck Themes
Who doesn't like a potluck? A variety of dishes from a variety of cooks means there's bound to be something you've never tried before! Here is a list of ten great potluck themes guaranteed to produce an abundant mosaic of colors, tastes and textures - all will love!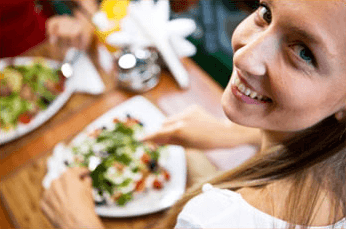 It's a Small World
An International Potluck with specialties from around the world creates a bold, engaging atmosphere. Invite a smorgasbord of Italian, French, German, African, Moroccan, Indian, Greek, Mexican, Chinese, Japanese, or Thai cuisine into your menu. From an authentic antipasto salad to a Chinese chicken slaw, the possibilities are endless!
 
Mexican Fiesta
Everything about the Mexican Potluck emphasizes family, friends and tradition. Tortilla chips & guacamole, taco shells, refried beans, seasoned shredded chicken or ground beef, fajitas, enchiladas, Spanish rice and diced mango will really give your potluck old world sizzle.
 
Breakfast for Dinner
A Breakfast Potluck featuring an assortment of rich and delicious breakfast items is always a huge crowd pleaser. Pancakes, eggs, bacon, hash browns, biscuits, country ham, French toast, coffee cake, sausage, cheese quiche and a variety of jellies, jams and syrups will have even your finicky eaters asking for seconds.
---
Click here to view a sample sign up.
---
Southern BBQ
There are few things in the South more universally revered than a good ole' southern barbecue potluck.  In addition to BBQ pork, brisket, chicken or ribs, a plentiful potluck may include culinary delights like cornbread, baked beans, potato salad, cole slaw, macaroni & cheese, cobbler and banana pudding.


Alphabet Soup
With 26 letters to choose from, pick one and run with it! Things that start with "C" may become a creative cornucopia that can include chili, chowder, chicken, carrots, cauliflower, calamari, chips, cucumbers, corn, couscous, cake, coconut, cookies, curly fries, chocolate and candy.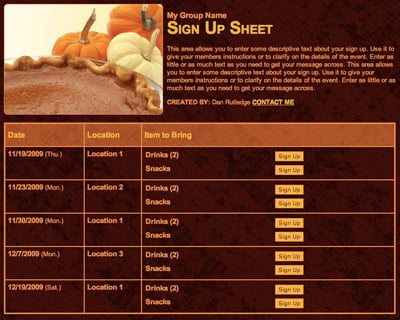 Memory Lane
A Comfort Food Potluck has its own unique style and invokes feelings of nostalgia and warmth. Home style favorites like macaroni and cheese, chicken & dumplings, chili, mashed potatoes, pork chops & gravy, meatloaf, apple pie and chocolate chip cookies are a few potluck hall of famers.
 
Heart & Soul
A Soul Food Potluck is a tasteful delight for all to experience and enjoy at least once, and this creative theme is a favorite among cooks and food lovers alike. Potluck showstoppers may include fried chicken, pork ribs, succotash, corn bread, okra, black eyed peas, shrimp and grits, fried green tomatoes, collard greens and beans over rice.
 
Giving Thanks
It doesn't have to be Thanksgiving Day to give thanks and host a party that features all of your holiday favorites. Even if you get a new twist on an old classic, roasted turkey, mashed potatoes, gravy, yams, green bean casserole and pumpkin pie can be enjoyed all year round.
---
Share your blessings with others by collecting donations for a local Food Bank using SignUpGenius Payments!  Find out how HERE.
---
The Last Meal
This unique potluck theme lets your guests choose any item to bring… as long as it begins with the first letter of their last name. Sarah Smith can bring spaghetti, Barbara Brown can bring buffalo wings, Mary Martin can bring mud pie and so on….and so on.
 
Barnyard Fun
For a fun down-home feel, you can enjoy a collection of dishes made from anything you would find on a farm. This theme offers a wide variety of food, from vegetarian to meat-inspired, plus the usual range of desserts and breads. There is a lot to choose from but popular meals are barnyard stew, chicken pot pie, roasted pork, sliced turkey, creamed corn, fresh fruits and vegetables, egg salad and zucchini bread to name a few.