17. Spice rack. Make cooking easier by keeping spices together in clearly labeled containers in a pull out rack in the cabinet above the stove.
18. Cleaning closet or supply bucket. Designate an area for all of your cleaning supplies. Keep them all together in an easy to carry bucket ready to grab and go whenever you need it.
19. Toy bins and labels. Help keep toys tidy by designating plastic bins for each set of toys. Make labels with pictures so that the children can see and sort their toys. Your house will be more organized and your children will be learning valuable sorting skills!
20. Fridge labels. It's really nice to know that all of the cheeses are in the cheese drawer instead of floating around in the back of the fridge. It makes snacks and meal preparation much easier, too!
21. Pantry containers. Make your pantry more user-friendly by storing food in clear containers with labels.
22. Key holder. Hang a key hook by the door or set a basket on the entryway table to hold keys, wallets, and glasses.
23. Pet area. Pets like to be organized, too! Keep pet supplies together in a cabinet, and store pet food in reusable containers for easy re-fills.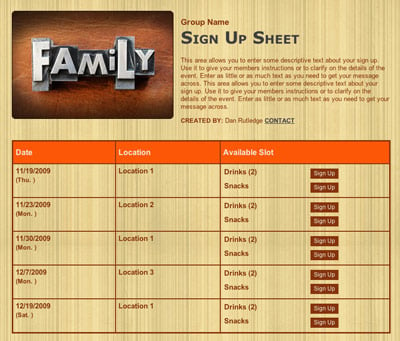 24.
Car organizer.
Feel like everything gets lost in your car? Take some time to get it organized with a car organizer hanging over the back of the passenger seat.
25.
Kids calendar.
Keep kids in the loop with a kid-friendly calendar hung at their level so they can see what to expect each day. This is great for teaching days of the week and months, too.
26.
Weekly Roundup.
Get ready for after school activities and sports by keeping each activity's equipment in its own bag and well stocked.
---
Use sign ups to organize game snacks and activity carpools!
---
27.
Kids' schedule with pictures.
Keep the little ones on track with easy to follow pictures of their morning and night time routines.
28.
Outfits for the week.
Use baskets or a hanging sweater organizer to lay out clothes for the week.
29.
Laundry day.
Keep laundry at bay with a designated laundry day for washing, drying, and folding, or commit to finishing one full load each day.
30.
Sync the family calendar online.
Stay on the same page by syncing your calendar with your spouse's online or on your phones. No more missed meeting times!
31. Hanging shoe organizers can hold a lot more than just shoes. Use them for cleaning supplies, toys, craft supplies, or baby essentials!
32. Use clear plastic tubs to act as slide out drawers in deep cabinets so you don't have to dig in the back for that lost item.
33. Cleaning calendar. Keep up with household chores by making a cleaning calendar with weekly, monthly or quarterly tasks.
34. Book basket. Keep books organized and accessible with a book basket in the living room, by the bed, (or maybe even in the bathroom).