Making Family Memories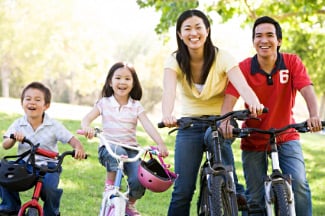 One of my children's favorite things to do around the dinner table is to ask my husband and I to retell stories from our childhood. They never seem to tire of the one about how my husband left chewed up gum on his brother's pillow one night. In the morning, when the poor boy awoke, the gum was stuck in his hair. He got in trouble for chewing gum in bed! My husband did not confess to his part until he was in college. I am quite sure that story will be passed down through the generations.
This may not be the BEST example of a family memory, but it does make you realize that memories matter. Why not be intentional about making some of your own family memories? Here are a few ideas:
Keep it simple
Stay local. Family vacations and special trips certainly have their place in making wonderful memories, but you don't have to limit your special times together.
Use what you have. Get out those board games, puzzles, and decks of cards that have been collecting dust in the closet.
Keep it routine
Plan regular, weekly family time. You're much more likely to be consistent if you put it on the calendar and set the expectation.
Share the planning. Have family members take turns planning your family time.
Keep it inexpensive
Plan a special snack or dessert to enjoy. There are many inexpensive, ready-made treats, or you can create a memory by baking something together to enjoy during your family time.
Use coupons. Many restaurants have nights where kids eat free. This is a great break for mom and an opportunity to get out and not over-spend.
Read aloud together. You can choose from so many different genres and go on your own adventure!
Keep it meaningful
Keep it for family members only. Guarding this time for your family sets a great example to your kids that family is important, special, and valuable.
Pick a community service project to work on together or plan a fundraiser.
Keep it fun
Kick off some karaoke. Seriously, there are inexpensive CDs out there that range from The Beatles, to 80's retro, to Taylor Swift.
Host a Wii tournament. Mario Kart, Sports Resort, bowling, or tennis anyone?
Walk or bike it. Choose different parks to go for walks or bike rides.
Snuggle up for a movie night. A little popcorn and a fire in the fireplace…all make for a cozy evening.
Get some culture. For the cost of dinner and movie theater tickets, you could have a year's worth of unlimited visits to your local museum with a family membership. Most science, history, and art museums have established and changing exhibits, making it interesting each time you go.
---
Want more fun inspiration for family time? Check out our Unique Family Night Ideas.
---
Setting aside time to make some memories together is well worth the investment. Why not get started today?