25 Winter Activities for Kids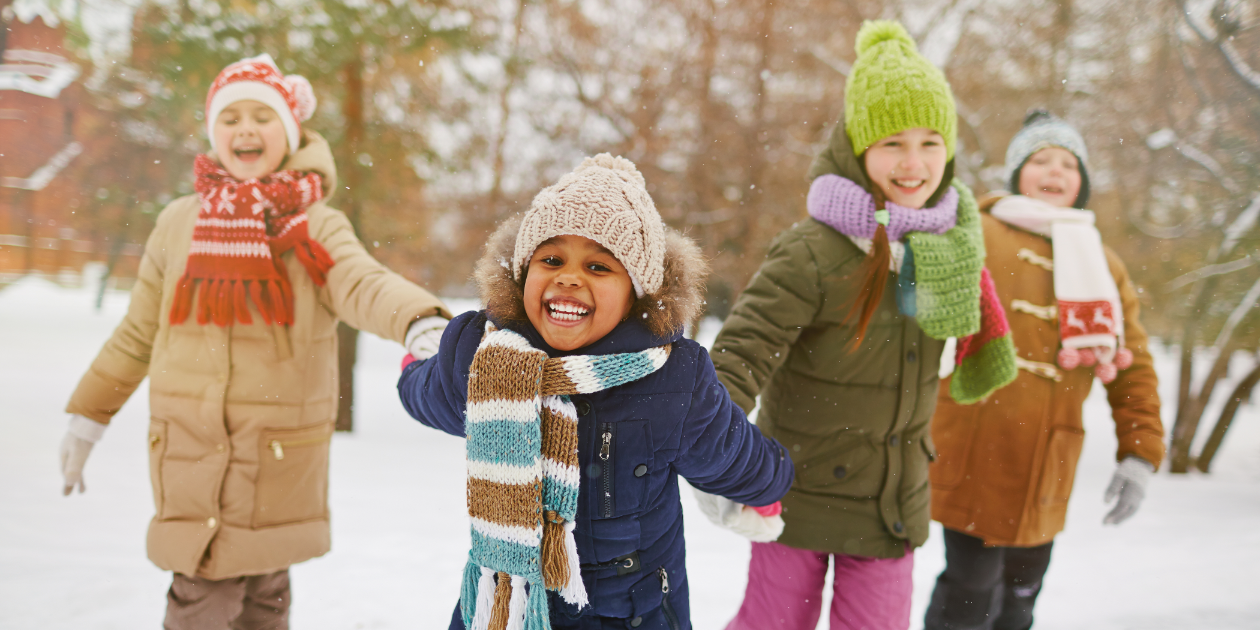 When the cold weather sets in, it may not be long before kids declare boredom and look to you for entertainment.  Make the most of the chilly season with these 25 indoor and outdoor activities. Perfect for a snow day, family time or entertaining friends, this list offers lots of cool ways to have fun! Vote on which activity to try first or make your way down the list one at a time. Keep these suggestions handy to make any day special.  
Indoor Activities 
Fort Building - Pile on blankets, sheets, couch cushions and pillows and build an epic fort. When the cozy abode is complete, enjoy a snack or meal inside your new pad.
Share Some Joy - Bake your favorite sweet treats then hit the road and share your delicious creations with friends and neighbors. Include the recipe for an easy and thoughtful gift.
Frozen Food Bowling - Fill plastic drink bottles with a few teaspoons of water and secure the top. Line up the "pins'' and take aim with bags of frozen veggies. Strike!
Art Walk - Create masterpieces with construction paper, crayons, markers, paint, scissors, magazine cutouts and glue. Display your artwork along a wall or down a hallway and treat everyone to a gallery crawl.
Feed the Birds - Winged friends will flap with happiness when they find yummy feeders outside the window. Use pinecones, hollowed out oranges or toilet paper rolls, fill with peanut butter and top with bird seed. Lunch is served!
Game Day - See who reigns supreme with a board game competition. Break out old favorites or challenge each person to come up with a new game. Good luck!
Invite friends to a game night with an online sign up. View an Example
Movie Marathon - Cold weather is the perfect excuse to bundle up and watch a favorite film or find a new one. Take turns choosing movies and vote for your favorites at the end of the season. Don't forget the popcorn and treats!
Lip Sync Battle - It's time to bring it with the ultimate musical showdown. Divide into teams or go solo, select your song and strut your stuff. Bonus points for costumes!
Indoor Camping - Don't let the weather prevent your camping plans - bring the fun indoors. See how fast you can put up tents and roll out sleeping bags, pop s'mores in the oven and settle in for ghost stories. All the fun, none of the cold!
Kitchen Competition - Test your creativity with a cook off using only the ingredients you have in your kitchen. Assign each contestant five items to use in their dish and set the timer. Dig in and choose a winner. 
Puppet Show - Decorate popsicle sticks or old socks and put on a puppet play. See if the audience can guess the ending or let them direct the show. 
Indoor Snowball Fight - No snow, no problem. Order some soft indoor snowballs and have a snowball fight indoors! Also try some target practice games like seeing who can get the most snowballs in plastic cups or bowls.
Window Herb Garden - Think sunny thoughts and grow an indoor herb garden this winter. Plant rosemary, chives, basil and other savory herbs. Put your green friends in colorful pots and let the sunshine in.
Pajama Day - Spend all day in pajamas! Stay snuggled in bed, whip up a late breakfast and don't even think about brushing your hair. Grab a blanket and a book and see how long you can stay in veg mode. 
Sample Sign Up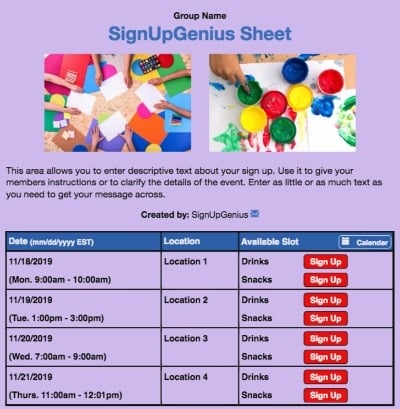 Outdoor Activities 
Animal Tracks - Explore a field or wooded area and snap pictures of animal footprints, then head home to see how many you can identify.
Mobile Hot Chocolate Stand - Share a warm and sweet treat with your neighbors with a mobile hot chocolate stand. Pack a wagon with carafes of hot chocolate and all the fixings like whipped cream, sprinkles, candy canes and marshmallows and head out for a walk.
Scavenger Hunt - Choose teams and have each group make an outdoor scavenger hunt list for the other. Use this list for inspiration and don't forget your smart phones to take pics!
Plan a scavenger hunt with an online sign up. View an Example
Visit a Park - Bundle up and plan an outing to your favorite place to play or try a new park adventure. With smaller crowds, you'll have lots of space to make an obstacle course or stay on the swings as long as you want! Stop by a coffee shop for hot drinks on the way home!
Picture Day - Document a beautiful winter day snapping pictures in and around your neighborhood. When you return, make a game of it and have the family guess the location of the pictures. 
Take the Stage - Entertain the neighborhood or a few friends with a play, song, dance or musical instrument. Distribute flyers to drum up a crowd and serve candy and drinks. 
Outdoor Picnic - If it's not too cold, layer up, pack your favorite goodies and spread out a blanket for a winter wonderland feast. Sip warm soup from a thermos or make it simple with grab and go options.
Neighborhood Clean Up - Make Mother Nature happy by organizing a neighborhood cleanup day. Continue the feel-good effort at a local creek or greenspace. 
Geocaching - Download the geocaching app and collect as many outdoor "caches" as you can. Caches are everywhere so you have a perfect excuse to get outside and seek and find whenever adventure calls. 
Star Gazing - Look up to the night sky and spot as many constellations as you can with the help of a stargazing app. Keep a winter journal and log the cool displays of wonder up in the heavens.
Sidewalk Smiles - Remind everyone spring is on its way with bright pictures of flowers, sunshine, green grass, rivers and lakes drawn on your driveway or sidewalk.
Stay warm and entertained this winter with these 25 activities designed to keep your kids busy. Keep adding to the list and piling on the fun.  
Courtney McLaughlin is a freelance writer in Charlotte, N.C. She gratefully shares her life, home and heart with her daughter and their dog.