30 Kentucky Derby Party Ideas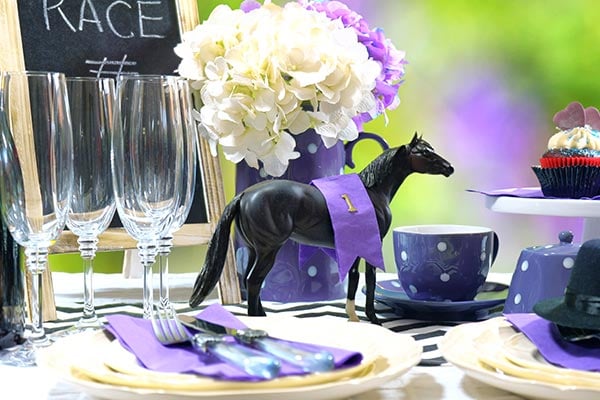 It's the fastest two minutes in sports, but Kentucky Derby parties are about a lot more than just the actual horse racing. This longstanding tradition is the perfect excuse to throw a party filled with over-the-top hats, mint juleps and so much more. Try a few of these ideas to plan a winning event (no matter who wins the race).
Planning
You're Invited - Invitations are the first way to let guests know the theme of your party, and this one is about as obvious as it gets — it's a Kentucky Derby party! Whether you decide to send an online invitation or a traditional invitation through the mail, be sure to select a design that incorporates horses in a fun way.
What to Wear? - Typically, this is one party that everyone knows how to dress for, but it's always a good idea to include it on the invite so guests aren't guessing. Simply put "Derby Attire" on the invite. Consider suggesting fascinators or other fun hats for the ladies and bowties or pocket squares for the guys, just in case someone isn't familiar with the derby.
Set the Scene - The Derby is also referred to as the "Run for the Roses" because the winner receives hundreds of roses. So it only seems obvious that you'd want to include roses when thinking about decorations. Consider placing different size vases around the room with varying shades of pink and red roses.
We're all Winners! - Continue the theme in your decorations by buying plastic trophies of varying sizes and place them around the room as a fun nod to the Derby winner. Later in the day, the trophies can do double duty as you award them to the winners of the games you play.
Official Party Supplies - The Kentucky Derby website offers party supplies for sale, including official mint julep glasses and running of the roses flags.
What's Playing? - Set the tone for your party with the right soundtrack. Create a mix of tunes that include bluegrass, country and southern rock.
Drink Up - Since 1983, the mint julep has been the official drink of the derby. In fact, the derby will serve more than 100,000 at the race. The easiest way to make your own is to mix bourbon, crushed ice, sugar syrup, water and fresh mint. Serve it in a frosted silver glass if you can.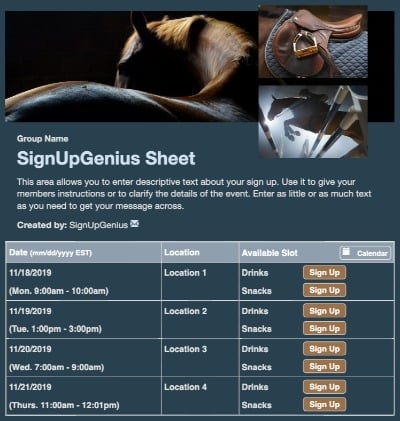 Appetizers
What's Cooking at the Track? - If you're looking for inspiration beyond what's below, you may want to check out the Kentucky Derby website for even more recipes and a complete list of the offerings at the actual race.
Chex Mix - Make your version of this popular treat that's easy for guests to snack on and pairs perfectly with most cocktails!
Cheese Straws - This tasty southern staple will keep your guests happily noshing while you get the main dish ready.
Pimento Cheese Dip - You could make your own, but why go to the trouble when you can find so many pre-made delicious ones at the grocery store? Make sure to offer your favorite crackers or chips for dipping.
---
Collect RSVPs for a Kentucky Derby party with a sign up. View an Example
---
Main Dishes
Roasted Sweet Potato Salad - Combine cooked (sliced) sweet potatoes, roasted and salted pecans and Sorghum dressing. You can make this ahead of time and freeze until derby day.
Let the Colonel Help - Baskets of Kentucky Fried Chicken make it easy to host the party — plus, they're a food pun waiting to happen. You don't have to labor in the kitchen over the main dish, and guests will love the popular treat that is oh-so-perfect for a Derby party.
Sliders - Offer guests a few different options of these easy-to-eat, handheld dishes. You can make these as mini hamburgers, BBQ or brisket sandwiches.
Smoked Turkey and Brie - Offer this lighter fare by combining a few slices of brie cheese, a few pieces of arugula and desired amount of turkey in between two slices of bread and you have an easy finger sandwich. Spread apple butter on bread for a little extra punch.
Burgoo - This thick stew with a mix of beef, chicken and vegetables can be made ahead and served the day of the party.
---
Sell derby tickets with an online sign up. View an Example
---
Desserts
Cupcakes - Cupcakes are always in fashion. Decorate them to go along with your theme, or simply provide a fun pop of color to the dessert table.  
Pecan Pie - This traditional southern dessert is the perfect derby desert. You may choose to offer a bourbon pecan pie as well.
Bacon Bourbon Caramel Popcorn - The perfect mix of salty and sweet. Place bowls of this delicacy around your dessert table so guests can sneak handfuls throughout.
---
Coordinate farm volunteers with a sign up. View an Example
---
Games
You Bet! - You don't have to be at Churchill Downs to make some money on the race. Do your homework to figure out which horse will cross the finish line first. Listen to the experts, check out the horse's appearance, but remember: sometimes picking randomly can be just as much fun and just as successful! Take up a collection or ask everyone to contribute to the pool. Winner takes all.
Get Creative to Get in on the Action - According to Churchill Downs, wagering on race day topped $225 million last year. Like the Super Bowl, there are many other things you can bet on beyond the horses. Have guests guess how long it will take to sing the national anthem or estimate race length. You can bet on just about anything!
The Derby Hat Draw - Rather than picking a winning horse based on strategy, put all the names of the horses into a hat and ask guests to pull out a name before the start of the race. Whoever has the name of the winning horse, wins!
The Lucky Longshot - Have guests pick which horse they think will cross the finish line last. Now everyone has something to root for!
Name That Horse - This is a fun way to have the kids and the adults work together. Ask guests to come up with fun and unique names for their horse. Whoever comes up with the most creative horse moniker wins a trophy.
Best Hat Contest - Hopefully your guests arrive in their best. Give an award for the best original hat. Let guests know ahead of time that there will be a contest as some will want to make their own just for this competition.
Little Mad Hatters - Keep the kids occupied by giving them supplies to make and decorate their derby hats.
Cornhole - Set up this popular game on the lawn. If you really want to impress people, have a custom set made with the Kentucky derby symbol.
Game of Horseshoe - Another lawn game, this is the perfect buildup to watching the derby. All you need are the horseshoes and a stake in the ground.
Bluegrass State Trivia - Did you know that the Kentucky state quarter features a thoroughbred horse? Turn this fact (and others) into a trivia question (ex. What is on the Kentucky quarter?) and have your guests try to answer the questions. The official Kentucky Derby site offers information and fun tidbits you can include.
And the Winner Is… - Make sure the winner of each game receives a trophy, a giant ribbon or maybe a dozen roses so they feel like they won the actual Kentucky Derby.
Television coverage of the derby usually runs several hours ahead of the actual race. That's lots of time to entertain your guests and enjoy all that the derby has to offer!
Michelle Boudin is an investigative reporter for WCNC TV and a freelance writer.