40 Ideas for Your Summer Bucket List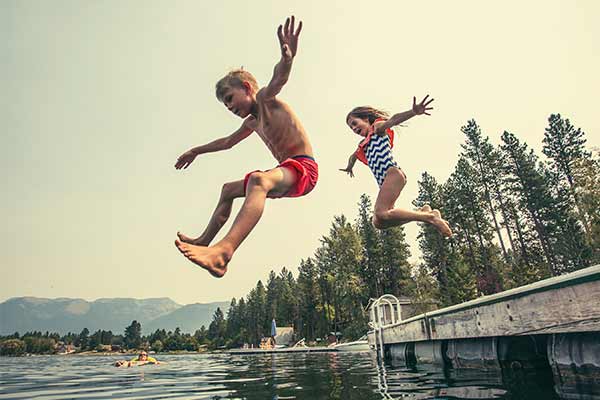 Glorious summer days are always welcomed after a busy school year. Before the season kicks off, gather your family around to come up with your very own summer bucket list. We have 40 fun ideas that are achievable for everyone.  
Get Started With These Ideas 
Choose a Summer Theme Song - As a family, decide on a summer anthem and blast it throughout your summer together.
Schedule a Lunch Date - Arrange a date and time to take your kids to see where mom or dad work, then go to lunch at one of their favorite spots.
Find an International Pen Pal - This is a unique way for kids to make new friends while having a chance to learn about different places, cultures and languages. There are a number of international pen pal websites to choose from online.
Enjoy a Pool Day - Whether you're sliding down a water slide, playing Marco Polo or lounging on a pool float, taking a swim together needs to be part of every family's summer. If you don't have a neighborhood pool, check your local parks and recreation department's web site to find public pools.
Make a Movie Starring Your Family - With video capabilities on our cell phones, the technology is right in your hands, so put it to good use. Either chronicle your family's summer adventures or develop your own scripted story for a fun summer project. Most computers come with video editing software or you can try some free programs online.
Try a New Sport - Step out of your comfort zone and experiment with a new activity. Arrange a family tennis lesson or think of sports that are off the beaten bath — like curling or badminton. You just might find a new hobby as a family.
Run a Lemonade Stand with a Twist - Put your kid's entrepreneurial skills to work for a good cause by donating lemonade sale proceeds to charity. Make fun signs to spark interest about your family's good will. Genius Tip: Use an online sign up to plan a lemonade stand fundraiser.
Screen Free Day - Turn off your home's digital devices and turn on the world around your family. It's likely you will hear some complaining, but you will see your kids' creativity emerge and they will forget about their beloved screen time (at least for a while).
---
Schedule summer rafting lessons with an online sign up. SAMPLE
---
Roam in Your Own Backyard 
Water Balloon Fight - Every family needs to experience a water balloon fight together, so on a hot summer's day let them fly! Invite your neighbors over if you want an all-out war.
Watermelon Seed Spitting Contest - Liven up an afternoon with some friendly competition. Challenge your kids to see who can aim at a target or spit the farthest.
Paint with Your Feet - A big roll of white paper, non-toxic paints and your kids' feet are all you will need for this fun outdoor art project. Your children will love getting messy and creative all at the same time. Make sure to wash your little artists off with a hose before they go indoors.
Watch for Shooting Stars - On a cool summer night, spread out a few blankets in the backyard. Have everyone bring a pillow and be on the lookout for shooting stars. Print out a few star maps to find constellations in the sky or download an app.
Backyard Olympics - Create the ultimate summer competition with favorite games like corn hole, ring toss, badminton and even an obstacle course. Divide your family up into teams or play as individuals, and crank up fun tunes to add to the merriment. Give out prizes to the winners and celebrate with a cookout.
Bonfire and S'mores - One of the best summertime desserts is made by roasting marshmallows over an open fire. Add a piece of chocolate and graham crackers for a gooey treat, or step up your s'mores game with raspberries and Nutella. Create some yummy memories by making these after dark and telling ghost stories.
Catch Fireflies After Dark - Most of us have fond childhood memories of catching fireflies on a warm summer's night. Give your kids those same experiences. Your children can use their hands, a net or a jar to catch and then release them.
Checking items off your family's bucket list will create some lasting memories that are sure to make this a fun summer tradition.