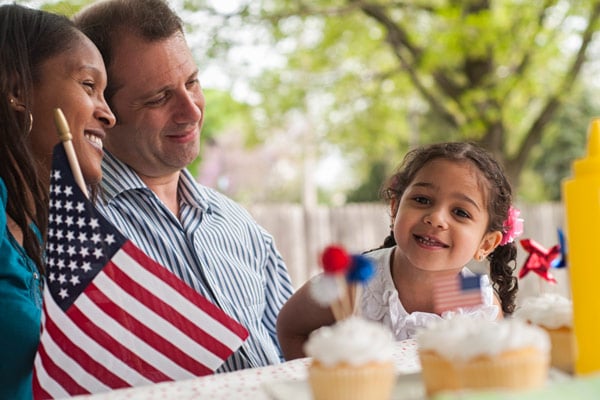 Fourth of July cookouts are an American tradition like apple pie. Give your summer soiree a little extra sizzle with these patriotic tips for food, décor and games.  
Party Prep: "O'er the land of the free, and the home of the brave"
It takes some true bravery to be the host. Your best strategy is always be prepared. 
Invite early and enlist help. Holiday weekends tend to book quickly, and many people travel this time of year, so no time for delay. Genius Tip: Use SignUpGenius' RSVP format to create your guest list.
Do as much in advance as possible. Most barbeque sauces are better if they are made a few days in advance anyway. Consider side dishes that can be made the day before. Frozen treats are also great options.
Remember the classics, but add your own new twists. Take advantage of the ease of hot dogs and hamburgers for this all-American day, but think about offering more unusual toppings such as corn salsas, marinated veggies and homemade relishes.
Keep your guests hydrated. No matter where you are, it's likely to be much warmer than usual. It's the perfect time for ice-cold strawberry or raspberry lemonade. Add a few luscious blueberries floating on top and a festive straw for a pop of patriotic color.
Mix it up. For a colorful adult beverage, there's actually a cocktail called The Fourth of July, made with pomegranate juice, blue curacao and vodka.  Keep the layers separate for a beautiful presentation.
Stay cool with frozen fruit ice cubes. They're easy to make and provide a beautiful splash of color to any beverage. Strawberries, raspberries and blueberries are great options. You can also freeze wine for a fun adult surprise.
---
Hold a Fourth of July potluck with an online sign up! SAMPLE.
---
Décor: "I'm proud to be an American, where at least I know I'm free"
Bring out the stars and stripes for this holiday and commemorate our nation's proud history. 
Show your true colors. It's the perfect time to have fun and decorate with as much red, white and blue as possible.  Party supply stores and online sites have great options for inexpensive small flags and party accessories perfect for all sorts of decorating.
Stay classic. For a low-cost option with beautiful possibilities, choose simple streamers and balloons in red, white and blue. These designs can be as intricate or as simple as you want — leave it up to your creativity!
Create patriotic drink stirrers. Use wooden skewers (some are available in red and blue) and stack with blueberries, strawberries, and marshmallows.
Spray paint Mason jars in red, white or blue. Tie on ribbons from a craft store (stars, stripes and polka dots work well) then fill with fresh cut flowers for striking centerpieces.
Make patriotic popsicles. Get creative with your layers.  You can use so many different ingredients to make this work from juices, Kool-Aid and yogurts, to fresh purees of raspberries and blueberries. The important thing is to let each layer freeze solid in your Popsicle mold before adding the next layer of color.
Dip pretzel rods in white chocolate. Decorate with red and blue sprinkles then place them in a vase or other tall container, and they double as decorations and snacks. This is also a fun project for kids that could be done during the party to keep little hands busy.
Summon star power. Star stickers come in a large variety of colors, sizes and degrees of shimmer and easily decorate so many surfaces. For starters, think red, white and blue candles, paper napkin rings, flower vases and table coverings.
Drape strings of white lights. Dig up your Christmas boxes and place around trees and decorated tables. Use red, white and blue streamers over strings of lights to produce a more colorful effect.
Delectable Eats: "So bye, bye Miss American Pie"
Though pie will always be a great option for dessert, be sure to look beyond the traditional and consider the plentiful joys of summer desserts. 
Take advantage of the bounty of summer fruits. Think especially about those tasty ones that happen to be red, white and blue. Fresh fruit displays can double as beautiful centerpieces for the table.
Make a patriotic trifle dessert. Combine angel food cake, strawberries, blueberries and your favorite filling. Consider combinations of vanilla custard, cream cheese and frozen whipped topping for the filling.
Fill patriotic candy jars. Simple glass vases filled with red, white and blue candies are always a hit. Add a few ribbons, a colorful pinwheel or small flag and you have a great treat as well as a centerpiece option.
Make red, white and blue dipped strawberries. Use white chocolate and blue sprinkles.
Put fruit on a stick. Combine blueberries, strawberries and bananas to make simple, delicious and patriotic fruit kabobs.
Whip this option up quickly. If you're short on time, top store-bought shortcakes with strawberries, blueberries and whip cream for a fast and yummy option. 
---
Organize a fireworks watch party with an online sign up! SAMPLE.
---
Entertainment & Games: "Yankee Doodle keep it up"
Make sure you provide some interesting doodling and dawdling options. Fourth of July gatherings usually mean you'll have a wide range of ages to keep entertained.   
Provide doodle fun. Have a sidewalk chalk contest. Create awards for different categories, such as most patriotic design, most creative or best use of color.
Thank a soldier. Set up a table with supplies to make thank you cards to send to our troops.  There are a multitude of organizations designed to distribute appreciation letters and care packages where you'll find more information, mailing addresses and drop-off locations around the country.
Play classic summer games. A watermelon seed spitting competition never gets old. Other simple ideas include cornhole on patriotic boards, water gun tag or backyard baseball if you have enough players.
Provide a face-painting table. This is a great way to get older kids engaged in an activity and the little ones love their attention.
Have a water balloon toss. It will provide a great way to cool off! Just make sure the balloons are red, white and blue.
Organize a kids' bike parade. Ask kids to bring their bikes, trikes or scooters and provide a decorating station with fun items such as streamers, balloons, ribbons, painted tin cans, pinwheels, construction paper and markers for signs. 
---
Plan a holiday pool party with an online sign up! SAMPLE.
---
Safety First: "Baby you're a firework"
Safety first! Remember, if you're cautious about combustibles around the kids, there are also some fun crafts that can serve as substitutes. 
Keep essential safety supplies nearby. If your party is during the heat of day, keep sunscreen and aloe nearby for easy application. Don't forget extra bottles of water and painkillers/bandages — just in case.
Protect little hands from sparkler accidents. Kids love sparklers, but the younger set might not know what parts are safe to touch. Avoid burns (and tears) by threading the sparklers through a hole in the bottom of a plastic cup (hand inside cup with burning end out and away from cup). This will also keep sparks from landing on little arms.
Make your own firework confetti balloons. Keep the kids busy by providing the balloons, confetti and a funnel while they supply lots of hot air.
Create a safe fireworks display. If you're opting to put on your own show, make sure to check local rules and safety ordinances beforehand. Only adults should handle fireworks, and steer clear of buildings and vehicles. The National Council on Fireworks Safety also recommends extinguishing used fireworks in water and disposing them in a metal trashcan.
July Fourth is a fun summer tradition that brings friends and family together. A little planning and a lot of patriotism will make your party shine bright this year.  
Laura Jackson is a freelance writer based in Hilton Head, S.C., with her husband and two teenagers.