15 Tips for Hosting an Adult Halloween Party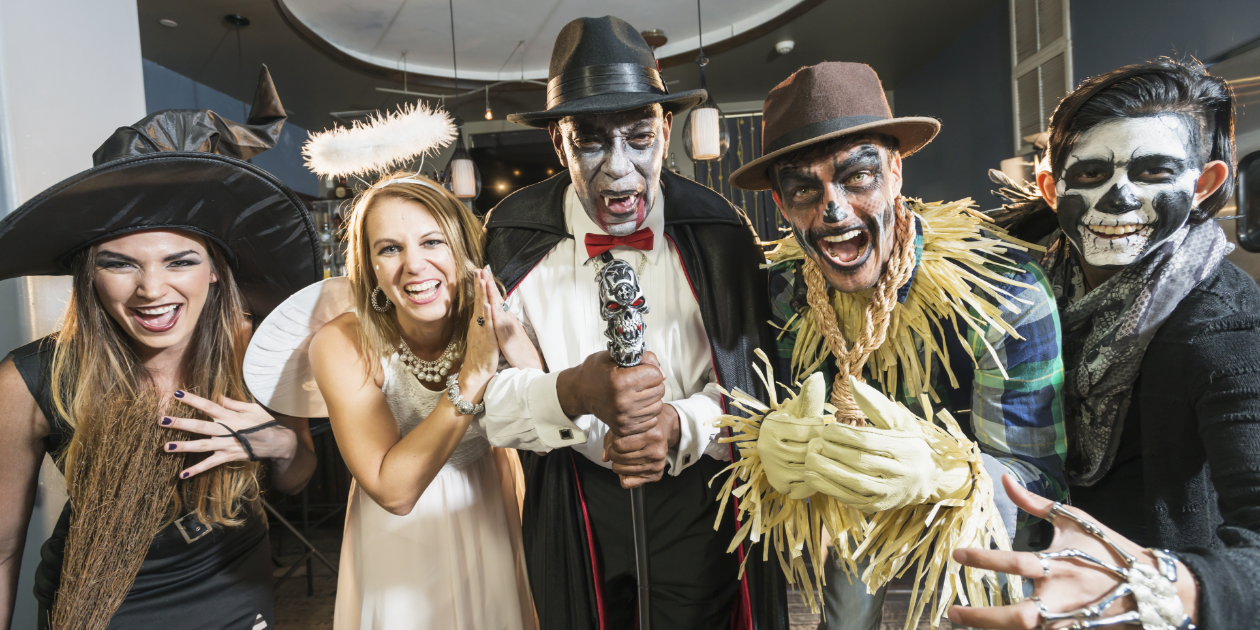 If you think festive Halloween parties are just for kids, a night of scary fun will change your mind. This cool and creepy time of year is a fang-tastic excuse to get your favorite people together to howl at the moon. Plan a traditional costume party, opt for a murder mystery dinner or serve up a magical brunch. Whatever you plan, make it spook-tacular! Check out this list of 15 ways to scare up the perfect Halloween get together.
Set a Budget - First things first - determine how much moo-lah you want to spend on your party. Keep expenses in check by inviting guests to BYOB or bring a dish to share. A costumed brunch, progressive dinner or hair-raising cocktail hour can also help the bottom line. Consider partnering with friends and share the cost and ghostess with the mostess responsibilities.
Create a Guest List - Time to round up your best guy and ghoul pals and celebrate the season! Consider outside and indoor spaces to determine how many goblins will comfortably fit in your haunted abode.
Set a Theme - While it IS a Halloween party, a specific theme will make it easier to narrow down all aspects of your soiree. Go simple and elegant with a black and white motif or delight your inner child with a full-on costume party. Ask party goers to dress up from a specific decade, come in couples' costumes or don a homemade outfit.
Invitations - Now that the theme is set, the invites are next on the to-do list. Set the stage with a design that reflects the vibe of the evening. Include pertinent contact info to give friends a quick and easy way to reach out. Use an online sign up to invite guests and request help filling the table. List specific dishes or categories (apps, drinks, desserts) on your sign up to avoid having 10 meat and cheese plates!
Decorations - Nail the first impression with decor to lift their spirits! Deck out the entry with seasonal inflatables or arrange skeletons in lawn chairs to welcome guests. Add pumpkins, mums and lights and let the party begin.
Music Playlist - Creep it real with tunes from the season. Digital music apps make it easy to play Halloween classics with a mix of new sounds so everyone can shake their boo-ty. Did someone say dance contest?
Games - Keep everyone feeling gourd with games and contests. Have a costume fashion show and vote for the winner, play horror movie trivia, design a scary scavenger hunt or head outdoors for a cornhole or Bocce ball tournament. Check out more ideas for Halloween games, décor and more.
Invite your favorite ghosts and goblins to a Halloween party with an online sign up. View an Example
Prizes - Reward your cool crew with party prizes! Give props to best costume, most imaginative couples outfits or the funniest getupHave a basket of plastic trophies at the ready to salute yard game winners, best group picture, most delicious dessert, etc.
The Great Outdoors - If weather and space allow, arrange a fire pit with plenty of outdoor seating and blankets to keep cozy. Tell ghost stories around the fire or play an episode from a terrifying podcast like The No Sleep Podcast. If you have access to a projector, playing a scary movie outside will really set the mood.
Food - Fall in love at first bite with mummy brie, jack-o-lantern cookies, red fondue, ghost pizza bagels, graveyard enchiladas and other delectable fare. Decorate the food table with extravagant candelabras, fake spiders and other hair-raising critters. Bone appetite!
Boos - The spooky season sets the scene for creative libations! Witches brew, poison appletinis, black magic shots - the possibilities are endless. Be sure to have equally delicious mocktails and nonalcoholic drinks available.
Sample Sign Up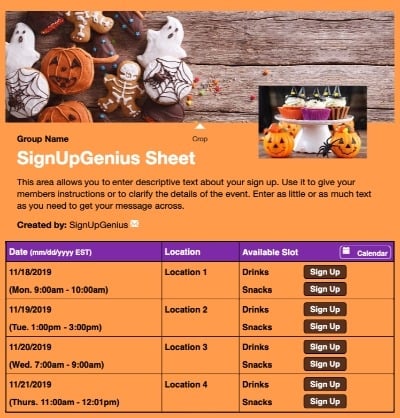 Costume Box - Set up a box with hats, ties, jackets, jewelry, and other props for guests who might need a little extra encouragement to get into the Halloween spirit. Everyone will be looking boo-tiful in no time!
Say Cheese - Give your ghoulish guests a place to shine in a photo area you can quickly pull together. Use a solid color wall or hang a sheet and have a stash of holiday themed props nearby. If you are outside, arrange pumpkins or hay bales to set the scene!
Get Help - No matter the size of your shindig, consider enlisting some assistance. Ask a teen looking to make a few extra dollars to help clear plates and cups, park or move cars, take coats and show guests around. For a larger get together, hire a catering company or bartender if your budget allows, so you have plenty of time to monster mash with friends.
Party Favors - As your costumed friends start to say their goodbyes, don't let them leave empty handed. Give out a festive parting gift like mini pumpkins, a homemade treat or serve drinks in take home glasses guests can keep after the party.
Eat, drink and be scary this Halloween season!
Courtney McLaughlin is a freelance writer in Charlotte, N.C. She gratefully shares her life, home and heart with her daughter and their dog.