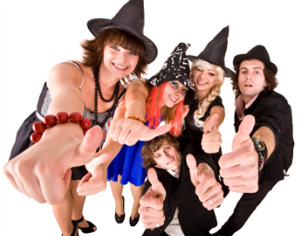 Who says Halloween is just for the kiddies? Not us! We think there's fun to be had for all ages and every holiday! Sure, Mom and Dad, you might not go door to door with pillowcases screaming, "Trick or treat!" (Or maybe you will). But either way, you can celebrate this spooktacular occasion by hosting a costume party.
Here are a few points to remember as you plan your festivities:
Invites
Invitations are very important for a successful costume party. The invite is where you will include the critical information: DRESS UP! Some adults might fancy themselves too grown up for dress up, so use your invitation, along with SignUpGenius to encourage this aspect of your event. Mention that you'll be giving out awards and prizes for the best costumes. Maybe even hint about what some of those prizes might be. Finally, tell your guests to RSVP using SignUpGenius, with their dress-up character name in the comment section. Once your guests notice everyone is dressing up, they'll be more likely to go all out with their costumes.
Food
Food is obviously a staple in any Halloween activity. But when throwing a party for the older kids (that's you parents!), you don't have to make it all bubblegum and chocolate bars. Think about giving your party a little gourmet twist. Make some fancy ghoulish cup cakes or some homemade pumpkin bread. Get creative with hors d'oeuvres and a special Halloween hued punch. Finger foods, especially ones that look like actual fingers, are perfect for a Halloween bash!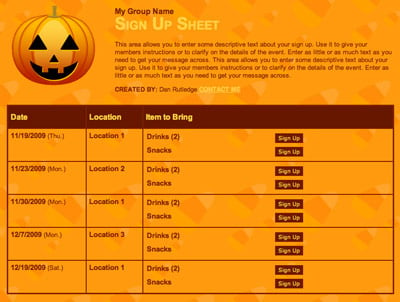 Dancing
A costume party is great because guests are already feeling creative and silly dressed up as Fred Flintstone or Marilyn Monroe. All you need now is a decent sound system and some cleared space for a dance floor. Watch guests break it down…in character!
Costumes
Hopefully your guests seized the creative opportunity and went wild with their costumes. There should be a wide variety of get-ups from scary, to funny, to out-of-this-world. That's what makes dressing up so much fun— the endless possibilities! For this reason, it's almost impossible to pick just one winner. You can hand out as many costume awards as you want. Choose from ideas like best couple costume, scariest, pop culture king and queen, and most creative.
Prizes
If you want to give away more than just titles, you can also find fun prizes for your winners. Local party stores or joke shops will have silly gag gifts. You might want to award your pop culture king and queen a crown and a scepter. Maybe you can present your scary winner with a new horrifying monster mask. If you want to give a not-so-silly grand prize, present two movie passes in a popcorn bucket to the overall winners of the contest. Whatever you award your winners, remember it's all about being creative!
Now that you have a few ideas for your costume bonanza, remember that as an entertainer, you don't have to constantly facilitate the festivities. The best entertainers know that most guests can entertain themselves, if only by socializing and catching up with their friends. The costume charade and the dance floor are just a fun added bonus!