45 Fun Activities to Do as a Family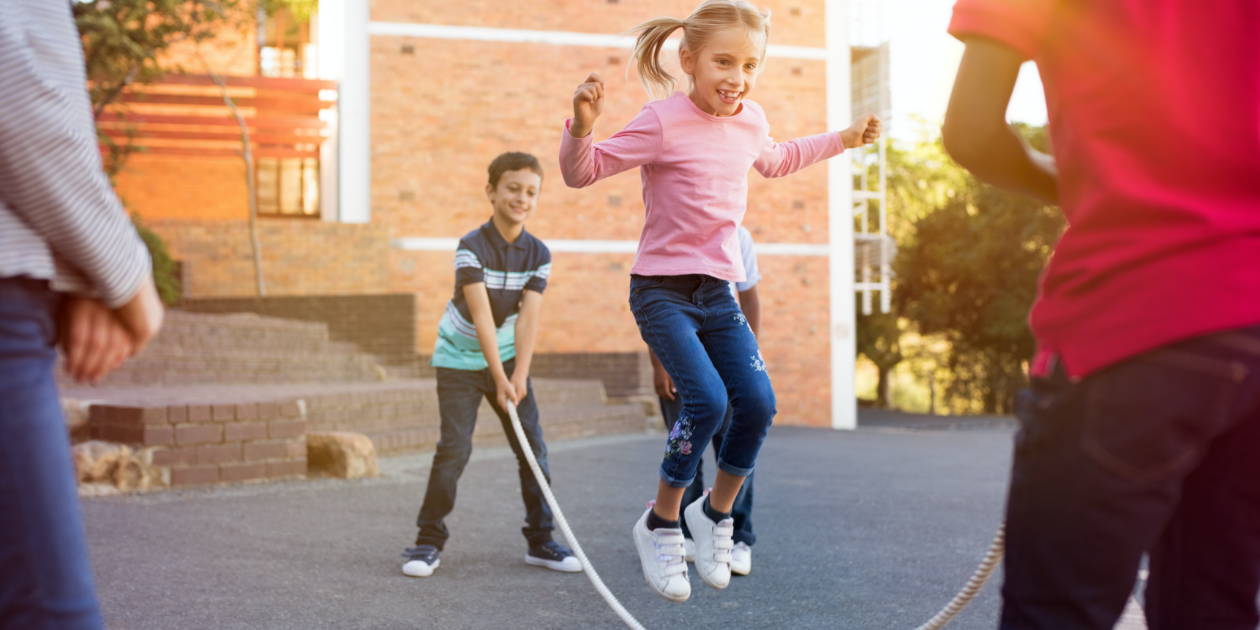 It can be hard to fit in quality time together when your schedules are packed with work, school and extracurricular events. Doing activities together is a good way to build joy and connection into your family dynamic.

These ideas are appropriate for the whole crew — start by adding a few to your family calendar. Post the list and put a star by favorite activities or take these ideas with you when traveling and discover new ways to spend time together.
Close to Home
You don't have to go far to get moving! Try some of these ideas to get your heart rate up in your neighborhood.
Obstacle Course - Use items you have on hand like balls, hula hoops and scrap lumber to create an epic indoor or outdoor obstacle course. You'll be surprised how a few sprints back and forth and through an obstacle can really get the heart beating.
Garden - Make no mistake, gardening is hard work. It takes constant effort from preparing the soil to weeding. Working together in the garden, picking and shelling beans is an activity from a bygone tradition.
Build a Fort - There's nothing like a fort that creates a prop for a play or pretend. Break out the pillows, blankets and boxes for an epic afternoon of fort building. You can also set up a tent in the backyard for an easy fort to play inside.
Scavenger Hunt - Divide into teams and write a list of 10 items for the other group to find. Set the timer and head outside to see who comes back with the most items on the list.
Bake Something - Start a baking project the whole family can get excited about. Whether you create an elaborate dessert or create custom pizzas, it's a fun activity for the whole family.
Take a Class - Check out active classes for kids offered at your local YMCA or community center like gymnastics, sports and more.
Visit a Local Museum - Not every museum has to be a bore to your family. Some museums provide interactive activities that the whole family can enjoy.
Walk the Dog - Get your favorite four-legged friend(s) into the action — leash up and take Fido for a stroll. Stop at a park and play fetch for while to add some extra fun to the walk.
Chore Round - Make chore time workout time! Write five or six tasks on a whiteboard and see who can complete their list the quickest.
Yard Clean Up - Set the timer for 30 minutes and pick up as many sticks and leaves as you can. Many hands make a light load and cleaning together helps build service and teamwork in your family.
Play a Board Game - This is an easy way to plan an activity that brings out some fun competition. Board games come in all sorts of shapes and sizes and can be a short activity or a long one - depending on the one you select.
Dance Party - Sometimes an impromptu dance that breaks out with a fun song is the best way to have a dance party. Here's a favorite song that's quickly becoming a classic for breakout dancing.
Trampoline Park - Bouncing around on a trampoline is a great activity that combines fun and exercise. This is a great year-round activity.
Sample Sign Up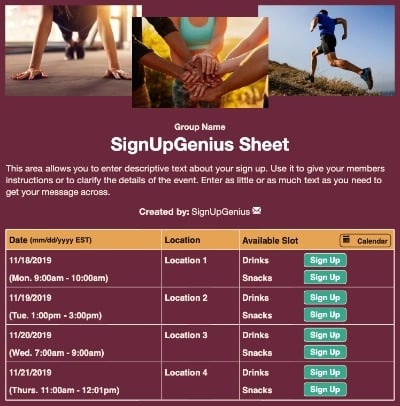 Get Outdoors
Exercise is more fun in the great outdoors. Explore new places in your hometown and plan a day trip for even more adventure.
Go to the Playground - This favorite go-to activity is a fun way to challenge strength and agility! Pack a lunch and spend the afternoon trying out new places to play.
Nature Walk - Enjoy fresh air and discover nature while you exercise together. Visit a nearby preserve or explore the woods near your home. Bring along a book to identify types of trees, plants or birds.
Ride a Bike - This is always a great way to get around the neighborhood. Branch out some and explore nearby parks and trails.
Hit the Lake - find a local river or lake and find an outfitter that rents kayaks or canoes to take onto the water. Many state parks offer this service.
Community Clean Up - Make the world a greener place! Grab a trash bag or two and get the kids involved to help clean up a nearby school or park.
Geocaching - Using a GPs receiver, mobile device and other navigational techniques, search for hidden "geocaches" or "caches." You can find them everywhere!
City Walk - Be a tourist in your own hometown. Map out a walking route to visit local attractions likes parks, museums, monuments and sports venues.
Hit the Ice - Ice skating is the ultimate winter activity and a great workout (check out indoor skating rinks if you're off-season or in a warmer climate). Enjoy some hot chocolate as a break after testing your balance on the ice.
Visit a State Park - State parks provide a lot of fun and learning. Some state parks are on historical sites, others educate on nature. There are lots of activities at parks including hiking, kayaking, fishing and picnicking.
Star Gazing - Find a dark area with a good view for seeing the stars in the night sky. Try to plan when there is a new moon for a dark sky. Download a constellation app and learn about the stars and constellations.
Coordinate a park clean up with an online sign up. View an Example
Game On
From classic childhood games to sports, you'll have a blast and get moving with a little competition.
Golf Range - Hitting golf balls is always a fun activity, and it proves to be less frustrating than an actual round of golf.
Play Charades - Burn some energy and challenge your creativity with a rousing game of charades. Invite everyone to submit their own categories.
Laser Tag - Rainy day? No problem. Play indoor laser tag for a little friendly competition. Switch it up with Nerf guns for an alternate option.
Pogo Stick - Hop on a pogo stick or ball and bounce your way to fitness. See who can get the most bounces in a row before falling off.
Limbo - Grab a ruler or long stick and see how low you can go. Turn up some tropical tunes for even more fun!
Water Balloon Fight - Warm days beg for a fun way to cool down. Get your supply of balloons ready and take aim.
Twister - Increase flexibility and make memories with a game of Twister.
Bowling - Rent some funky shoes and set your sights on a strike.
Musical Chairs - Clear some space in the living room or yard and claim your seat when the music stops.
Miniature Golf - Who's putter reigns supreme? Take a trip to the miniature golf course and find out.
Hide and Seek - A classic way to get moving without a ton of space! Count to 10 and find the perfect hiding spot.
Hopscotch - Got chalk? If so, you have all you need for an easy way to exercise. Take turns drawing a hopscotch board and get moving.
Throw a Frisbee - There are so many ways to get in a quick workout with this flying disc. Toss it back and forth or find a nearby disc golf course and test your aim.
Hula Hoop - Show off your mad skills with a round of hula hoop. How many can you spin at a time?
Simon Says - See who can keep up the leader's directions and make sure to only follow along when you hear "Simon Says"!
Organize a neighborhood fitness challenge with an online sign up. View an Example
Level Up Your Fitness
Try these activities to challenge your body and mind. Set a goal as a family and celebrate when you reach it!
Run a 5K - Choose a race that benefits a worthy cause and start training for the big event. Encourage kids to join in and let them know they can cross the finish line at their own pace. Many races also offer a shorter "Fun Run" event for kids.
Tai Chi - At the end of a long school or workday, settle your mind and body with this breath-focused activity.
Jumping Jacks - Ready, set, go! Time how long it takes you to do 25, 50 or 100!
Ninja Warrior - Many facilities are starting to offer classes and courses set up for ninja warrior training. It's a fun activity that will challenge your agility.
Jump Rope - Try Double Dutch or singles - see how long you can go without getting tangled up.
Breakfast Boost - Jumpstart your day with a short workout that your family creates together. Exercises could include sit-ups, push-ups, stretching, sprints and a dance session!
Climb On - Visit a local climbing center and challenge each other to reach new heights!
This list of activities will provide quality time with your family and build lasting memories. See how many you can tackle on this list.
Courtney McLaughlin is a freelance writer in Charlotte, N.C. She gratefully shares her life, home and heart with her daughter and their dog.