50 Gifts for Dad on Father's Day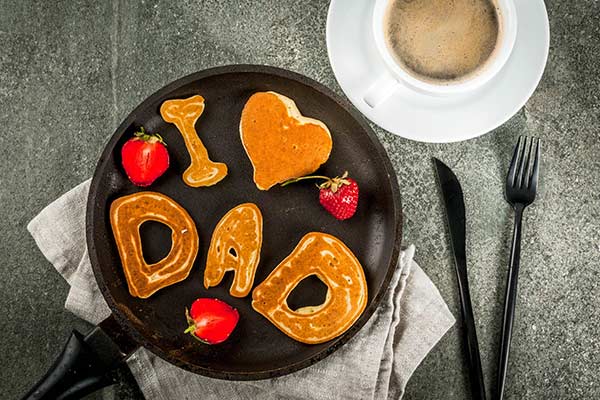 Father's Day is a great time to think about how to make your special guy feel loved, and then get creative with memorable gifts and experiences. Here are 50 creative gift ideas for the deserving dad in your life.
Give an Experience
Go-Kart Racing - Look for one of those go-kart racing places where your favorite guy can suit up and get competitive. Everyone loves a good high-speed race, so it's a creative gift experience he will remember.
Family Laser Tag - Another group idea is to take your family to battle it out at laser tag. Getting to live out their video game fantasies will always make for a good time.
Sports Tickets - Grab sports tickets for Dad and a few of his favorite friends or family members. Sports games are more fun when shared, so you can use this opportunity to send all the dads in your life.
Concert Tickets - If they're not into sports, look for a concert they might enjoy. Maybe they'll love a smaller venue with an acoustic set. Or, tickets to an opera or symphony may be more their jam. Find something that suits their preference and pitch in to send the dad of honor and a guest for a night they'll remember.
Luxury Car Rental - This is a big idea, although you can often find luxury car rental experiences for a steal on sites like Groupon. For this, your main man would get to drive that dream car on a racetrack for an hour. Who wouldn't want that?
Beer Flight - From subscription beer flights to more affordable tasting kit options, it lets the brew lover in your family experience a small amount of several new beers without committing to the full 6-pack. Cheers!
New Restaurant Gift Card - Look for a new joint in his area and surprise him with a meal. Of course, you earn extra points if it's his favorite type of food or a restaurant that offers a unique dining experience, such as a medieval times restaurant or a murder mystery dinner.
Car Detail - We may drive our cars through a car wash from time to time, but how often do we get a car detail for our vehicle? Give your favorite guy the gift of a shiny, clean car that will look and smell brand new again.
Subscription Box - Subscription boxes are all the rage and there are so many cool ideas to choose from. Check out sites like Cratejoy, where you can search by interest, price, type, etc. You will be able to find a box for any passion, hobby or interest in no time — all within affordable price ranges.
Coffee Date - Time is a precious gift, so instead of buying him coffee, take him out to get one together. Spend time reminiscing through some favorite moments and enjoy your favorite drinks together.
Group Activity - What about planning a fun group activity? The sky is the limit for this one, and it doesn't have to be expensive. Maybe it's a nighttime, glow-in-the-dark game of Capture the Flag or your own version of Hollywood Game Night.
New Book - Check out the new releases or search for books in a genre they like. If you're not sure, look for something with a mass appeal or a unique twist.
Star Trek Pizza Cutter - A gift fit for the interstellar foodie in your life! The Star Trek Pizza Cutter, or any fun character-themed cooking tool will elevate their next dinner at home.
Shaving Kit - Turn an everyday chore into a small luxury with a nice shaving kit. From the Art of Shaving kits to picking up an engraved razor he can use for years to come, he will be grateful for your thoughtfulness whenever he uses it.
Groupon Experience - Don't forget about Groupon. They offer curated experiences for a fraction of the price. Scroll through some activities in the zip code where the receiver lives and see if anything looks interesting. From indoor skydiving to escape rooms, Groupon is a great place for ideas.
---
Plan a family reunion potluck with a sign up. View an Example
---
Food and Beverage Ideas
Specialty Beef Jerky - Buying a gift for a big meat-eater? Look for specialty beef jerky or even a beef jerky bouquet! That'll be a delivery they won't soon forget.
Specialty Dessert - Does the dad of honor have a sweet tooth? Look for a sweet treat from a local bakery. If you don't know his favorite dessert, ask around to find the local specialty confectioner everyone recommends and pick up a dessert that will outshine dinner.
Local Olive Oil - Many places have a local olive oil producer. If Dad loves to cook, a fresh local olive oil will elevate any dish. Plus, every time he uses it, he'll think about your thoughtfulness.
S'more Maker - Sounds silly, but who doesn't love a good s'more? Plus, how many grown men go out into the great outdoors as often as they would like? Bring the outdoors in with a s'more maker — easily found at stores such as Target and Sharper Image.
Air Fryer - Make his favorite drive-through foods — but healthier — with an Air Fryer! Easily makes delicious French fries, chicken fingers and more. Pair this with an air fryer cookbook for a yummy gift.
Craft Beer Kit - If your main man is a beer drinker, give him the gift of homemade brew with a craft beer kit. Mr. Beer has some highly rated, affordable kits that will turn him into a home brewer in no time.
Coffee Subscription - Jazz up his next cup of joe with a special set of coffee beans. You can find local roasters at your weekend farmer's market or order a set from an online specialty coffee curator like MistoBox.
Big Green Egg BBQ - What guy doesn't love BBQ? Exactly. The Big Green Egg BBQ is a slow roasting BBQ shaped like a giant green egg. Get ready to enjoy this gift, too, because it'll make ribs that will melt in your mouth.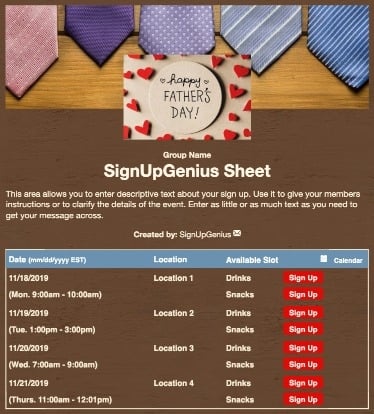 Clothing
Robe - This may seem cliché, but everybody loves a soft robe. Sometimes men wear their robes until they are threadbare, so a nice, fluffy, cozy new robe will be a luxurious gift he will enjoy daily.
Slippers - How many times do you see the man of the house jogging outside to grab a package, something from the car, or bring in the trashcans while barefoot? Not anymore. Get him a pair of slippers with a nice tread on the bottom and he'll quietly thank you every time he uses them.
Funny T-Shirt - With so many great t-shirts out there with dad themes, this one should be easy. From the hilarious, "It's not babysitting when they're your own kids" to themed shirts on a subject he's passionate about, the sky is really the limit.
Dad and Mini-Me Shirts - Many t-shirt makers have been coming out with matching or complimenting t-shirts for dad and the kids. Often these themed shirts that celebrate the contributions made by the men in our lives.
Monogrammed Cuff Links - Does the main guy in your life suit up? Monogrammed cuff links are a sweet luxury that will up his classy work attire game.
Well-Made Shoes - Most of us walk every day. Make it on clouds, with supportive, comfortable, beautiful shoes that will bring a smile to his face with every step.
Nice Socks - Another luxury people do not buy for themselves. Check out socks by Bombas, Happy Socks or Pair of Thieves.
Activewear - Everyone appreciates new workout clothes. Bonus that they can also really motivate you to work extra hard on your fitness.
---
Split up birthday party duties for your main man with a sign up. View an Example
---
Meaningful Gifts
Gift that Gives Back - Consider a philanthropic gift that gives to both your favorite guy and a person in need. Include a note or card sharing that a donation was made in their honor and they'll sport their new gift with the good feeling of doing something for someone in need. Look at companies like Sevenly, S'well, TOMS and more.
Framed Photo Collage - How about a beautifully framed photo collage from Mpix or Minted that they can display in their office, garage work area or man cave? Everybody likes to look at the happy faces of the people they love most.
Photo Coffee Mug - Why not turn those family photos into a photo collage coffee tumbler, so that they can take family memories with them on the road?
Matching Hats - Buy matching hats for the dad and his favorite mini-me. Little Prince Couture has quite a few sets, but you can find them easily by searching "Daddy & Me Matching Hats."
Personalized Photo Album - Curate some of your family's greatest hits and print out a fun photo album. Did your family recently take a trip to Disneyland? Was there a big celebration or a birthday party? Collect the best pics from everyone you can and immortalize them in a photo album from Shutterfly.
Personalized Hammer - Look for a hammer to engrave with a saying like, "We love building memories with you, Dad." Sites such as Personal Creations, Etsy, Engraved Effects and more will have lots of options for messages you can choose from for your favorite Mr. Fix-It.
For Men On-the-Go
Nice Travel Bags - Most men won't buy themselves nice luggage, but if they're traveling, even occasionally, a well-made bag will be very appreciated. Look for techy suitcases from Away or manly, worn leather goods from stores like Fossil.
Well-Made Laptop Bag - The laptop bags usually provided by work get the job done, but are certainly not aesthetically pleasing. Treat him to a messenger bag he will really enjoy carrying and using.
Engraved Pen - Personalize a pen from Cross, Etsy or somewhere that engraves executive pens. Be sure to grab a pen with a nice weight to it and look for a company that offers beautiful packaging for a customized, memorable gift.
New Phone Case - Cases never last as long as the phones. Plus, with new technology always being created, you can surprise him with a case that will offer even more convenience for his device.
Apple AirPods - These have changed the talk-on-the-go game, with their minimal silhouette and crystal-clear sound. Give him the gift of going cord-free.
Car Essential Oil Diffuser - If Dad's car smells like feet, give him the gift of fresh air with a car essential oil diffuser. Pair with fresh-smelling essential oils. Just make sure to check what his power socket looks like so you grab the right kind.
Fitbit Watch or Apple Watch - Treat him to a fun new techy watch to help him stay organized.
---
Coordinate registration and volunteers for a father-daughter dance with a sign up. View an Example
---
Just for Fun!
Fitbit Aria Scale - If he's into his fitness, give him the gift of the coolest scale around and pairs perfectly with his other Fitbit products.
Roku - He'll have more options and channels than ever with the slick Roku device.
Tools - Maybe he needs more than a hammer to finish his toolkit. Grab a high-quality toolset by a reputable brand like Milwaukee or Makita.
Mancrates - Send the lucky guy a Mancrate! They can be delivered in a duct tape cocoon covering a crate that has to be opened with a crowbar. Unique collections offer lots of options, too, so you can choose something he'll love.
Box of Lotto Scratchers - Everybody loves money. The surprise of a scratcher is fun for people of all ages. Grab a whole bunch of different scratchers and see their eyes light up when the money starts rolling in.
Creative Ice Tray - Whether he likes to drink rum or coke, or both, a fun ice tray will liven up his beverage. From Star Wars light sabers to giant domes, look for a creative ice tray at Sur La Table or your local home store and start freezing.
With these 50 gift ideas for dads, you will be ready to pick the perfect gift or experience for Father's Day or another occasion where you get the opportunity to celebrate the special men in your life.
Erica Jabali is a freelance writer and blogs over at ispyfabulous.com.