40 Dinner Party Themes and Ideas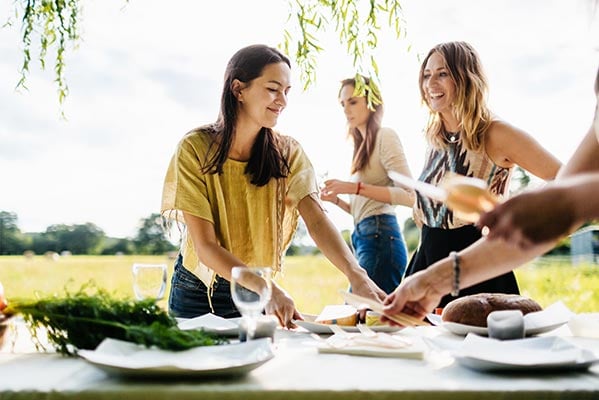 If you're planning a dinner party, you're probably already thinking about the type of food and drinks you'll serve, along with brainstorming ideas for décor. These 40 themes and ideas will give you plenty to choose from for your next dinner party, and many more to come.
Food-Focused Themes 
Street Tacos - Not just your average tacos. Street tacos are all about juicy, marinated meat, such as carne asada or carnitas, and lots of sauce! Look up a cilantro lime dressing and be sure to have all the salsa and toppings a guest could want. Don't forget a cooler full of cold drinks — or bust out your margarita maker for the best dinner party ever.
Polenta Night - Make a huge batch of creamy, cheesy polenta and spread it out on a long charcuterie board. Then, put out a variety of toppings such as sautéed mushrooms, braised pork, a grilled vegetable medley and anything else you can think of. Let everyone design their own polenta bowl and dig in, or eat it right off the charcuterie board, family-style.
DIY Pasta Bar - Who doesn't love pasta? Make all different kinds, from rotini to spaghetti, ravioli to tortellini. Then, put out lots of sauce and topping options and allow guests to make their dream pasta bowl.
Make Your Own Pizza - I know you think this has been done before, but why not give it a fresh spin? Put up a few pictures of different, unusual pizza topping combinations and the toppings to create it. Your guests will have inspiration for their next pie without having to think too hard or resort to their old standby.
Nacho Night - Who doesn't love nachos? They'll love yours the best because you'll give them different options for the base. Make a batch of fries, serve chips, and also have some baked bell peppers as options for the base of the nachos. Then, put out all the toppings, from cheese sauces, seasoned meats, vegetables, and more. Make sure to have a dairy-free cheese for anyone avoiding dairy.
Finger Foods - Why not ditch utensils all together and only serve foods that can be eaten by hand? Slice up the basics of a Caprese salad and put them on short sticks for ease of eating, pre-slice bell peppers and put them in a cup with ranch on the bottom. Look for creative ways to make utensils obsolete.
Sandwich Shop - There's a reason that Subway is so popular. People love sandwiches! Create a make-your-own sandwich bar that will have all your guests wishing they could visit your sandwich shop anytime. Offer bins of different types of chips and cold drinks for them to finish their combo.
Breakfast - But not in the morning. Serve all the favorite breakfast and brunch foods for dinner instead. Fluffy, loaded omelets, eggs and bacon, toast, smoothie shooters, fresh fruit and more — just later in the day. Is there ever a time when pancakes aren't delicious?
Best Burgers - Don't go small here. Get the very best burgers and every possible type of topping and sauce. Offer a bun-free version for those who eat a gluten-free diet. Hand-sliced and air fried fries, onion rings and sweet potato fries make it even better!
Burrito Bowls - Bring your favorite Mexican restaurant to your home with all the fixings for burrito bowls! Let your guests customize their burrito bowl just how they like it.
Super Salads - Forget the bagged salads, this is a salad bar nobody will want to miss. Whisk together a few different dressings and cook up some surprising toppings, such as crunchy onion rings and spiced baked chickpeas, and watch your guests go to town.
Potato Bar - A warm baked potato has a universal appeal and offers a variety of topping options. Offer bacon, cheese, sour cream and green onions in addition to a wide array of meats like BBQ pulled chicken and barbacoa.
Fondue Party - Whip up a big batch of seasoned fondue cheese and dice up all the dippers for your guests to happily dip.
---
Organize dinner club host homes with a sign up. View an Example
---
Shake It Up Ideas
Rethink Seating - Instead of sitting around a table, put floor pillows on the ground and eat around a low table or coffee table. This is especially fun if combined with a family-style dining option where everyone can pass food and sample different dishes.
Dessert First - Serve the most anticipated meal first and then work backward to the appetizers. It's a fun spin on a meal that will make all your guests light up when they're handed a delicious dessert first.
Go Vegan - Can vegan food be a theme? It sure can! Consider trying some of the new vegan recipes taking the internet by storm, such as cashew cream as a condiment instead of sour cream or plant-based burgers. You'll surprise your guests with something new and avoid potential food sensitivities in one swoop.
Family Style - Rather than serving a plated meal, put out large portions of delicious food and let your guests fix a plate. Dishes like sliced flank steak and sides like garlic mashed potatoes and homemade bread make everyone happy.
Indoor Picnic - Kids love it, why not do it for adults? Put out a large blanket and plan an indoor picnic for your guests, just with more upscale food and drinks.
Murder Mystery - Pick up or download a dinner murder mystery game and assign each guest a part to play. They'll show up in character and you'll get to play host. Pick menu items based on what will best match the murder mystery setting.
Mini Menu - Only serve foods that are in their mini form — such as baby carrots and pigs in a blanket. Everything is cuter when it's mini!
Glow in The Dark - Maybe you've seen those restaurants where people dine in the dark. While you won't make your guests do that, consider lighting the dinner with glow in the dark lights or settle for romantic mood lighting with candles.
Drinks First - Rather than focus on the meal, put your effort into the drinks! Either serve one unexpected (but delicious) cocktail with a mocktail option or put out a few homemade juices and smoothies.
Color Theme - Only make food that is a particular color, or two colors, for a fun twist.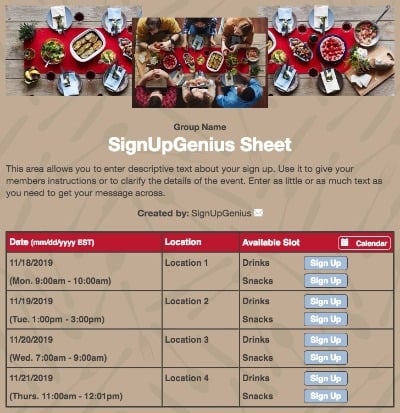 Timeless and Trendy Themes
Time Period Theme - Choose a period in history and design a menu around what would've been eaten during that time. This is especially fun if it'll expose your guests to a delicious meal they've never tried.
Support Local - Restaurants that serve dishes made fresh with local cuisine are all the rage. Create your own version at home by serving only what is fresh, in season and picked up from the local farmer's market.
Giant Charcuterie - Keep the wine flowing and put out a huge, table length charcuterie board with all the cheeses, olives, nuts, baguette, olive oils, spreads and more than your guests could ever want. This will allow them to mingle, taste and enjoy throughout the evening rather than have a formal affair.
Smoke It - Grab a slow roaster and make delicious BBQ that falls off their forks. Serve with classic American side dishes or versions with a twist. Cold root beer or lemonade is the perfect beverage to complete your home-smoked BBQ.
Beauty Foods - Start off with a green juice, move to a fresh tossed salad with loads of antioxidant-rich fruits, and finish with a decadent but healthy dessert like apple nachos. Slice apples, top with melted peanut butter and sprinkle with mini dark chocolate chips.
Thanksgiving - Who says you can only have a turkey dinner in November? Surprise your guests with a full Friendsgiving during a different month!
Medieval Style - You've heard of medieval restaurants, now bring the concept to your guests. Serve authentic medieval style food, such as huge turkey legs and food people can eat with their hands. Serve beer in mead cups and invite guests to dress up if they want.
Tea Party - Create a tea party for adults, with tons of fresh scones, tea sandwiches and pots of tea. Keep the sugar cubes and cream handy for everyone to doctor their drinks, and serve tiered dessert trays for extra points.
Sports Themed - Brownies shaped like footballs, hissy fit dip with chips, burger sliders, mason jar painted like sports balls for drinks and more. Who needs a sports game when you can create a dining experience that will be a touchdown?
---
Coordinate a progressive potluck dinner with a sign up. View an Example
---
Cuisines of the World
Go Greek - The Mediterranean diet is a classic favorite for a good reason. Piles of fresh veggies and feta cheese make an easy, iconic Greek salad. Spanakopita is easy to find frozen for a quick, fan favorite appetizer. Move on to main dishes like gyros or chicken souvlaki for a finger-licking good time.
Cinco de Mayo - Don't save the fiesta for only one day a year. Go all out with Mexican fare on any other day of the year.
Cook French - Make like Julia Child and only serve delicious French cuisine. Sip on a glass of rosé, skip the salad and serve baked egg instead, and nail an authentic dish like Coq au Vin. Dessert is easy — serve ice cream with fresh fruit.
Chinese Takeout - Except everything is made in-house. Serve chow mein and fried rice in to-go containers with chopsticks that your guests can carry around. Be sure to have a pile of fresh egg rolls and mix up a big batch of Thai iced tea to share.
Go Italian - Everyone loves comfort food. Begin with bruschetta and a selection of wine. Move to a crisp Italian salad and a classic dish like lasagna or chicken piccata. Finish with tiramisu and a decaf coffee. The only tricky part will be getting your guests to leave.
Fish and Chips - Pretty self-explanatory — but so delicious! You could also serve some shepherd's pie and bangers and mash for a fully English themed dinner.
Backyard Luau - Take it outside. Decorate with tiki torches and serve roasted pig, rice, blended beverages and pineapple upside down cake for dessert.
Retro Diner - Pump the 50s diner hits, serve the best hot dogs and burgers, grab the classic Coca-Cola in the glass bottles, and serve the biggest milkshakes. Checkered décor and cotton candy bags can finish off the perfect flashback night.
Hosting can be a lot of fun and a lot of work. Now, you'll have 40 strong dinner party themes and ideas to get you started. We hope your next dinner party is the best one yet! 
Erica Jabali is a freelance writer and blogs over at ispyfabulous.com.