50 Christmas Party Games and Ideas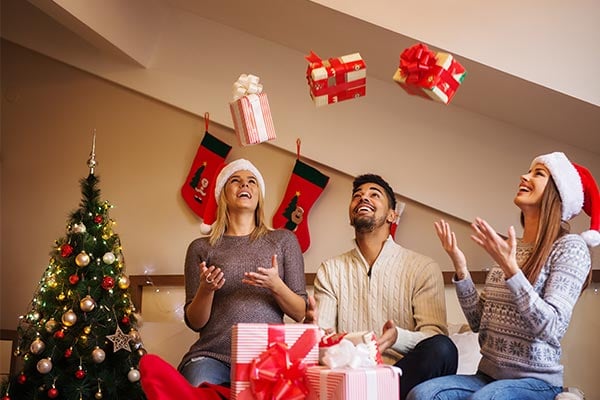 The holiday party season can make you feel like your to-do lists have to-do lists. Planning a fun, original Christmas party on top of everything else might feel impossible, but it's not! We're here to save Christmas with these 50 games and ideas to make your next party a hit. 
Games and Activities for Everyone 
Best/Worst Gift - Give everyone four slips of paper. Each partygoer must write down two good Christmas gifts and two bad ones — one of each that they actually received, and one made up. Put all the slips in a hat and have the group guess which presents were actually given and which ones were made up!
Balance the Ornament - If you've ever tried an egg-on-a-spoon race, you'll love this holiday-themed game of balancing an ornament on a spoon as you run. (Pick ones that aren't breakable!)
Christmas Character - Place a card on every person's back with a name of a popular Christmas character (The Grinch, one of the Wise Men, Rudolph and so on). In order to figure out who they are, guests must ask the other players yes or no questions!
Guess That Gift - Wrap some "gifts" and see if guests can guess what's inside without opening them. Some gifts can be loud, like pasta or LEGOs, and some can be oddly shaped, like a soccer ball!
Do You Hear What I Hear? - Fill five to 10 boxes with a different number of jingle bells. Have your guests try to arrange the boxes from most jingle bells to the least and guess the number of jingle bells in each box.
Who Has the Ornament? - Get a small ornament and have your guests sit in a circle, with one person seated in the middle. Everyone holds their hands behind their back, and those in the circle try to pass the ornament without the person in the middle noticing.
Ornament Bowling - Place ornaments in a bowling formation and then give each guest a certain number of jingle bells. Whoever uses their jingle bells to knock over the most ornaments wins.
Present Stacking - Wrap a series of oddly shaped objects. Whoever can stack the most presents as tall as possible wins!
Name That Holiday Scent - Grab a bunch of holiday candles in funny flavors — you can find some that smell like "snowstorms" or "sweaters" — and blindfold your guests. The one with the best nose wins the candle.
Hang the Ornaments - Decorate doughnuts to look like Christmas ornaments and hang them by a string from the ceiling. Whoever can eat a whole doughnut first (with no hands) is champion!
Who Said It? - Pull together some Christmas quotes from famous holiday songs and movies and see who can guess where the famous saying comes from. Make it quiz-show style for some extra excitement.
Make Your Own Snowstorm - Strap an empty tissue box around a partygoer's waist with ping pong ball "snowflakes" inside and see how many guests can shake out in a certain amount of time.
Ornament Exchange - If you want to do a gift exchange, but don't want to break the bank, why not ask your guests to bring a funny Christmas ornament? They're easy to find, and everyone goes home with a new decoration for the tree! Set a $10 limit to keep costs down.
Winter Masterpiece - If you have snow outside, put food dye and water (in a bunch of different colors) in spray bottles and invite your guests to create works of art outside!
Gone Fishing - Place a cup of candy canes on the ground. Then, attach another candy cane to a string and hang it over the cup. The person who can hook the most candy canes in a certain amount of time wins.
Wrap Them Up - All you need for this game is some wrapping paper and someone willing to be wrapped. The group with the fastest and prettiest wrapped teammate earns a prize.
---
Coordinate a family holiday potluck with a sign up. SAMPLE
---
Games for Church Groups 
The Nativity Test - Test your knowledge about the nativity story by making a quiz with questions about the Bible story and the nativity tradition in different cultures. Split up into teams if you want to do this during a youth group or small group gathering.
What's That Song? - Play a small sample of some classic Christmas hymns and see who can guess the song the fastest. Be creative by picking offbeat parts of the songs that participants might not immediately recognize.
Draw the Nativity - Have players put a paper plate on top of their head, and give everyone a marker. Instruct them to draw different pieces of the nativity scene without looking, and then have everyone compare their drawings to see which is best — you're sure to have a ton of laughs!
You're a Gift - Create a "gift" cutout with a person's name on each gift. Have everyone write a kind note on the other person's cutouts, then have each person read out the encouraging reasons why they're a gift.
Christmas Jeopardy - See who can quote Advent scripture and name the members of the Christmas story the fastest with a fast-paced Christmas themed jeopardy-style game!
Manger Treasure Hunt - Great for youth groups, this is a scavenger hunt with a festive twist. Have teams search for strategically placed mangers (inside and outside your church building) that hold clues to a final treasure. You can even include scripture references in each clue to help reinforce Jesus as the best treasure.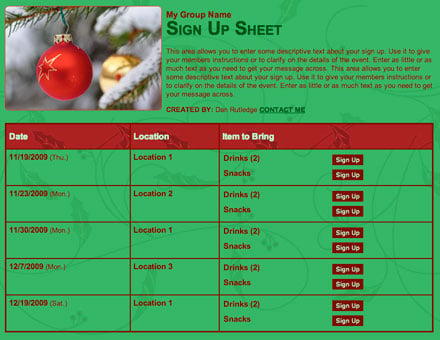 Games for Kids 
A Hard Nut to Crack - Half race, half eating contest, this game is all fun! Get some nutcrackers from the store, and see which team can crack (and eat) the most nuts in a designated period of time! This game may be best for middle and high schoolers — just make sure you have no nut allergies in the group!
Pin the Nose on the Snowman - Create a large snowman cutout on the wall. While blindfolded, see which child can stick a cutout of a carrot nose on the closest.
Guess the Ornament - Pull a Santa hat down over your contestants' eyes and have them guess the shape of a Christmas ornament by feeling it. Candy canes, Santa figurines and snowmen are some shapes that can appear in the mix!
Snowball Fight - If you live in a city without snow, create fake snowballs out of balled up socks and divide into two teams. When you get hit, you're out! This is probably best played outside.
Cellophane Santa - Wrap a series of small treats and gifts in a large ball of Saran wrap. Play musical chairs with the ball — when the music stops, whoever is holding it gets to try and unwrap as many gifts from it as possible until it starts again.
Frosty the Snowman - All you need is a roll of toilet paper and a fake carrot nose — and someone willing to get mummified. See who can wrap up their "snowman" the fastest in the toilet paper, and tape on their nose.
---
Plan a company Secret Santa exchange with a sign up. SAMPLE
---
 Games for Groups/Clubs 
Wrap That ____ - Find a host of hard-to-wrap items, from footballs to coffee mugs. Create two teams to see who can wrap the difficult items fastest — they'll have to get creative.
Draw That Christmas Song - Put a list of popular Christmas carols and songs in a hat, and divide into two teams. One member of each team must try to draw the carol and the others must guess it — without using any words from the song title!
DIY Reindeer - Give each team a pair of tights and a pack of balloons. The team that can blow up, fit the balloons in their tights, and put the tights on someone's head in the least amount of time wins.
Chubby Bunny, Snowball Edition - See how many marshmallows someone can fit in their mouth and still say the word "snowball." The person with the most marshmallows in their mouth wins.
Pop It - Get a pair of the thickest snow gloves you can find, and blow up a good amount of balloons. Whoever can pop the most balloons with the gloves on wins! Using your feet is not allowed.
Christmas Color Catastrophe - Fill two boxes with a mix of green and red items. As fast as possible, each team must separate their green and red items and run them to a designated green and red box.
Red Nose - Place some Vaseline on a paper plate. With hands behind their backs, players will dip their noses in the Vaseline and try to stick a red cotton ball on their nose long enough to beat another player in a race. If the cotton ball falls off, they must go back to the starting line.
---
Collect Angel Tree donations with a sign up. SAMPLE
---
Festive Party Ideas 
If you're looking for a quick theme, unique tip or simply a spark of inspiration, check out these ideas for Christmas parties that are sure to trim your tree. 
Theme the Night - Have everyone dress according to a holiday theme. For more casual parties, try an ugly sweater theme or red and green outfits! For a goofy crowd, have couples dress as Christmas duos like Mr. and Mrs. Claus or Rudolph and his red nose. Genius Tip: Need inspiration? Try these 40 holiday party themes.
Give Back - Christmas is a time of giving. Why not ask your guests to take the money they would have spent on a gift and donate it to a charity of their choice?
Occupy Little Ones - For kid-friendly activities, print out some Christmas coloring sheets or buy some (non-breakable) ornaments that your small guests can spend time decorating.
Fake It - Pick up some wreaths and fake holly from the dollar store and place them around holiday-scented candles to create instant centerpieces that will look classy and stick to your budget.
Hire a Sitter - If your party will have children and adults present, consider hiring a babysitter to lead younger kids in a Christmas-themed craft or game while the adults socialize.
Go Caroling - If you don't have the time or space to host a holiday party, consider instead going caroling and delivering holiday goodies to friends and neighbors. Go with friends or family — you'll spend time with those you love and give back to others in the process!
Create a Photo Wall - Set up a well-lit, open area for guests to take pictures. For a fun backdrop, hang red and green streamers, twinkle lights or holiday wrapping paper, and provide silly holiday props like Santa hats!
Provide Hot Cocoa - For a classy Christmas party, make a hot cocoa bar. With different types of cocoa, syrup flavors, whipped cream and spices to add, your guests will have a blast whipping up their best creation.
Share the Festivity - Create a party hashtag so that everyone at your soiree can share the best pictures from the night. Write the hashtag on a chalkboard near the entry so guests don't miss it!
Decorate Cookies - Bake some gingerbread or sugar cookies before the party and set up a decorating station with icing and sprinkles. For extra fun, judge which cookie is the best, and award the winner a prize!
Sing Along - Everyone loves a good Christmas carol! Hold a karaoke contest with some iconic Christmas tunes to entertain your guests.
Set the Scene - For soft lighting, wrap Christmas lights in tulle. Instantly great decorations that won't break the bank!
Organize a Potluck - Having trouble deciding what food to make? Ask each person to bring his or her family's traditional holiday food. You'll be sure to get many delicious options! Genius Tip: Create a sign up to avoid duplicates!
Wrap it Up - If you're drowning in your to-do list, why not check something off while you party? Host a holiday gift-wrapping party. You provide the wrapping paper and the tape, and your friends bring their presents! You'll all get the chore done while being around friends!
Watch the Classics - For a calmer gathering, host a Christmas movie night, and show favorites like Home Alone and Elf. Provide popcorn and other fun movie snacks, and curl up for some holiday laughs! Genius Tip: Browse these 20 classic Christmas films.
With these games and ideas, you'll be sure to throw a bash that Santa Claus himself would be jealous of!