50 White Elephant Gift Ideas for Any Party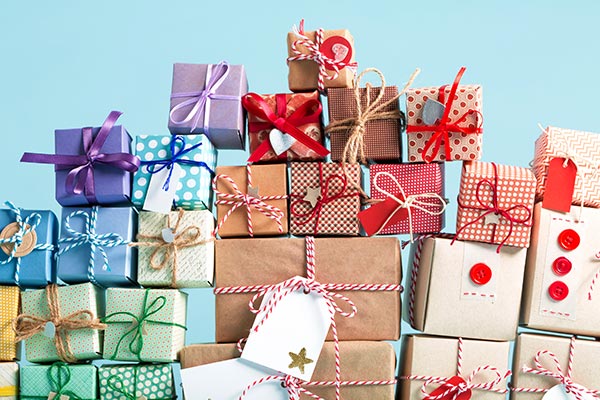 Even the most organized, creative and experienced partygoer can feel overwhelmed by white elephant gifts. You will want to bring something quirky and unique, and preferably something people would want to steal! Once you've clarified the gift exchange rules (including price limit and if the gift should be silly, sweet or both), try one of these ideas. 
Homemade Gifts 
Warm Drinks - A lot of white elephant gift exchanges happen when it's cold outside. Warm up the lucky present picker with Russian Tea or hot chocolate mix in a cozy mug.
Soup in a Container - Find recipes online and layer dry soup ingredients in a clear container. Attach directions for a simple and delicious meal. Many recipes can be assembled with what you already have in the pantry.
Piggy Bank - Make a homemade piggy bank using a shoebox, coffee tin or something you can put a hole through. Label the bank, so the recipient knows where the money is going. It can be nice, like "Saving Pennies for Vacation" or not so nice, like "Much Needed Personality Transplant," it's all up to you.
Re-gift It - Some of the best white elephant gifts are the ones people give year after year. Not only are they hilarious, they usually come with a memorable story. Keep stock of items you have received (or no longer use) to bring to white elephant parties.
Perfect Man or Woman - Bake a batch of gingerbread men and women, break out the frosting and sprinkles and create the ideal man or woman. It's fun and edible — who wouldn't want to unwrap this gift?
Funny Gifts 
Awkward or Signed Photo - Need a gift idea that works in a pinch? Take an awkward or funny photo of yourself, your family, your pets, or you and your significant other. Print out the picture, slip it into a frame and add the finishing touch with an autograph.
List Books - This gift-giving idea offers tons of title choices like top places to travel, most unique wines to try, most popular TV shows or a book of random facts.
Unique Board Game - This is a great gift that keeps on giving. Skip the usual Monopoly and Trivial Pursuit and surprise the recipient with "Clue the Golden Girls Board Game" or "The Brady Bunch Game."
Chia Pet - With so many to choose from (including Bob Ross, Shrek and more), a Chia Pet will be a fun gift to give and to get.
Back Scratcher - It's classic, useful and always the perfect gag gift. Don't be surprised if it becomes one of the more popular "stolen" gifts of the game.
Trick Candy - A sweet treat? Not so fast. Ghost pepper gumballs, garlic gum or candy bars that taste like snot will definitely get the party going.
Funny Calendar - You can up the funny factor with a gift of a 12-month calendar with pictures of pigs in tutus, Where's Waldo games or dogs sporting wigs.
Gift Not Included - All you need for this hilarious and straightforward gift are two batteries, a plastic bag and a piece of paper stating "Gift Not Included." Put it all together and wrap it in a large box to throw curious players off their game.
Bathroom Games - From darts to golf, there is a lot you can do while hanging out in your bathroom. These gifts are fun ways to pass the time.
---
Plan a company potluck party and gift exchange with a sign up. SAMPLE
---
Cooking and Kitchen Gifts 
Cookie Cutters - Cookie cutters come in all shapes, sizes and themes, just like white elephant parties! Give holiday themed cutters or go for Star Wars or Ninja-inspired dough shapers.
Barware - Every player will leap at the chance to swipe a set of martini, champagne or highball glasses. Be the real hero of the game and pair this gift with a bottle of your favorite libation.
Hot Sauce - Ready to bring the heat? Assemble a fiery hot sauce line up and let the fun begin. This gift is guaranteed to be fought over!
Coffee Mug with a Quote - Coffee mugs are useful, hold the life-giving liquid of coffee, tea or hot chocolate and have a great sense of humor. Give a cup that says "Namaste in Bed," "Mom Fuel," "Ugh, As If" or anything you find humorous. You can also purchase a mug with a place for you to write your own inspirational saying.
Wine Charms - Wine drinkers come in all shapes and sizes and so do wine charms! Choose ones with funny sayings, cat figurines or movie quotes to avoid wine glass mix-ups. This one is a keeper.
Vase of Candy - Need a quick go-to gift no one will turn down? Buy (or re-gift) a stylish clear flower vase and fill it with layers of candy. It looks great and will be a hot pick at the party.
Unusual Food - You know you are in the throes of a serious white elephant game when you unwrap livermush, fried rattlesnake, pickled pig feet or another rare food item. Bon Appetit!
Ice Cube Trays - You'll be the coolest partygoer ever when you bring trays that create mustache, shark fin or Lego-shaped ice cubes.
---
Organize a re-gifting party after the holidays with a sign up. SAMPLE
---
Decorative Gifts 
Doormat - Look for wacky tacky doormats or find one that will make houseguests chuckle with sayings like "Hi, I'm Matt." We guarantee the unusual shape and size of this gift will fool everybody when it is wrapped!
Candle - A candle makes an excellent gift to invite warm and relaxing fragrances into your home. For a funny twist, gift a candle with an unusual aroma like bacon, money or pizza. They're also perfect for Secret Santa gift exchanges.
Accent Pillow - Accent pillows add flair and personality to any room and a lot of fun to a white elephant game. Look for a pillow that has a lot to say like "Happy," "Just One More Chapter" or "You are Awesome!"
Toilet Night Light - When you've got to go, you've got to go — even when nature calls in the middle of the night. Help your friends safely find their way to this important destination with a fashionable night light.
Bathroom Hand Towels - You can never have too many hand towels, especially when you can liven it up with funny pictures or sayings.
Wearable Gifts 
Socks - Up anyone's wardrobe game with a pair of unusual or funny socks. Go food-related with socks covered in avocados or tacos, geek out with Star Trek or Star Wars or go for unicorns and rainbows. Another crowd-pleaser for sure!
Headband - Find a headband that goes with the theme of the party or bring something everyone will want — the "instant mullet" headband.
World's Greatest - We know your friends and family are the World's Greatest everything! Prove it by wrapping up a World's Greatest T-shirt with a personalized touch. Maybe you have a "World's Greatest Dad Bod," "World's Okayest Mom" or "World's Best Caddy" in the group. You'll find out as partygoers fight to take home the World's Greatest shirt.
Adult Onesie - For better or worse, onesies aren't just for babies anymore. Go for a camouflage, rainbow or a unicorn theme. We also suggest buying one for yourself.
Holiday Sweater - Everyone could use an ugly holiday sweater or sweatshirt. Oblige with this hot gift they will want to wear all season.
---
Collect RSVPs for an ugly Christmas sweater party with a sign up. SAMPLE
---
Gifts Under $5 
Flavored Lip Balm - Keeping lips from drying out is a full-time job, especially during the winter months. Surprise the gift opener with pickle, french-fry or cupcake-flavored lip balm.
Leave a Tip - Treat one of the lucky players to a few takeout menus and include $5 to use for the tip!
Bath Bombs - Baths are better when you throw in a good-smelling bath bomb. This inexpensive item will make a big, bubbly impact.
Mad Libs - Take players back to their childhoods and wrap up some Mad Libs. These fill-in-the-blank games offer themes for every age and "shocker" level. You won't be leaving the party without playing at least one round!
Rubber Chicken - Every proper game of white elephant needs this perfectly understated gag gift.
Random Gifts 
Toilet Paper - Every home needs some extra TP, so give this gift with flair. You can find this vital paper product printed with artwork of dollar bills, comic strips or funny sayings.
Bathroom Books - Something to read while you are getting down to business is always a popular gift idea. From amusing to funny, take your pick of titles.
An Actual White Elephant - Show up with a white elephant made of soap, candy or towels, and you are sure to get a laugh.
iPhone Accessories - People love their phones, so make them even more useful with a quirky accessory like a carabiner charger, a glow-in-the-dark PopSocket or a wind speed anemometer.
Inflatable Pool Toys - Summer or not, inflatable pool toys are something everyone can use. With so many to choose from including pizza slices, ice cream cones or a poop emoji, whatever you bring is sure to be a winner.
As Seen on TV - If you are stuck and have no idea what to bring to the get-together, cruise down the "As Seen on TV" aisle of your local big box store. From contraptions to help you put on your socks to gizmos that cook eggs lightning fast, all of these items will provide lots of amusement.
Emoji Pillow - They are soft, cuddly and express to the world how you feel. Purchase one large emoji pillow or wrap a set to bring to the party. With so many to choose from, your inner child will go wild.
Bathroom Spray - Give this useful gift of scented air spray you can take anywhere. All players (and the host) will appreciate this gift.
Magic 8-Ball - Will I get the big promotion? Does he love me? Are my children ever going to move out of my house? The winner of this fun prize will have all the future answers.
Jumbo Candy - Any gift opener will be thrilled to find a huge piece of chocolate or an endless supply of jelly beans.
Mouse Pad - Brighten up a friend's workspace with a funny mouse pad. Look for one with the periodic table, cats tangled in yarn or giraffes in shades. To make it a true gag gift, give one with your picture on it!
Perfume - Players will be excited to unwrap a new scent until they realize it will make them smell like coffee beans, bacon or skunk.
Beanboozled - Ready for another popular party game? Players must choose between two jelly beans that look exactly alike but with two very different flavors. For example, a green colored bean could be a lime flavor or grass clippings — it's all in the luck of the draw.
With these ideas, your next white elephant gift exchange is guaranteed to be a hit. Get the creative juices flowing, wrap-up a gift and enjoy the game! For more ideas, check out these
holiday gift exchange tips and ideas
.
Courtney McLaughlin is a freelance writer in Charlotte, N.C. She gratefully shares her life, home and heart with her daughter and their dog.