40 Secret Santa Gift Ideas for Coworkers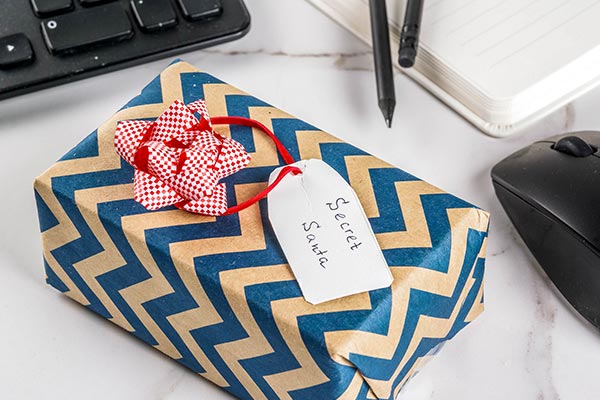 The Secret Santa tradition can be one of the most fun gift exchanges of the season — or one of the most stressful. Finding the exact right gift for the coworker you may or may not know well can be challenging. To help you out, we have a list of inexpensive Secret Santa options to help get you through the work Christmas party.
Secret Santa Clothing Gifts
Printed Socks - This has been a fun trend for a while now. Have fun finding festive socks that will warm anyone's toes! You can really score points by having socks specially made with your coworker's own face on them.
Sports Fan - It probably isn't hard to figure out who your colleague roots for. Grab a t-shirt, hat or mug from their favorite sports team and call it a win.
Winter Hat - From wool to fleece, practical to fashionable, there are lots of options to help keep your coworker warm.
Cozy Winter Gear - It's always nice to have a new scarf or a pair of gloves for those chilly winter days.
Apron - It always feels better to cook or grill when you have an apron. Whether you go the fun or fashionable route, your coworker will thank you.
---
Coordinate your team's Secret Santa party with a sign up. View an Example
---
Secret Santa Everyday Items
Lunch Bag - Perfect for the person who packs a lunch every day. You can get creative or practical (or both) when choosing just the right lunch bag.
Stylish Personal Planner - Help your coworker stay organized with an old-school day planner.
Cool Paperweight - Help your distinguished colleague keep track of important papers with a decorative paperweight.
Personalized Stationery - Go the classic route and have your coworker's name printed on the top… or get creative with a fun saying that they'll get a kick out of.
Colored Notepads - Always good to have on hand to jot down quick notes or reminders. Take things up a notch with cheery colors.
Tote Bag - A lightweight tote is a great thing to have on hand for those days when you have to take some work home with you. Make it a little less painful for your fellow employee by finding an attractive tote that will carry everything from books to files to gym clothes.
Secret Santa Tech
Charging Station - From phones to earbuds to laptops, a charging station can help make sure your coworker never loses power and keep all their devices tidy when storage space is at a minimum.
Portable Charger - Perfect for the person in the office who is always on the go and always on their phone.
Laptop Sleeve - Available in a variety of prints and patterns, a laptop cover can help protect a computer — and tell it apart from everyone else's in the office.
Key Finder - This is perfect for the coworker who is always losing his or her keys. You can sync a key finder like Tile with a smartphone and never worry about misplaced keys again. (Bonus: it can also work to find your phone!)
Bluetooth Speaker - Find an inexpensive portable speaker to help your work friend listen to their favorite tunes on the go.
---
Plan a company Christmas potluck with a sign up. View an Example
---
Secret Santa Decorations
Succulents - The perfect plant for the office, succulents require almost no maintenance and can be a great mood-booster for any cubicle blues.
Coasters - Head to a local gift shop and find coasters with scenes of your city.
Small Picture Frame - It's always nice to have photos of loved ones at work and a nice frame for them. (Just make sure they still remember how to get photos printed!)
Cookbook or a Coffee Table Book - Not sure what to get? This is always a great go-to gift for everyone. Every holiday season, a few new great coffee table and cookbooks are released for reading pleasure.
Decorative Cheese Tray - Perfect for the officemate who likes to entertain.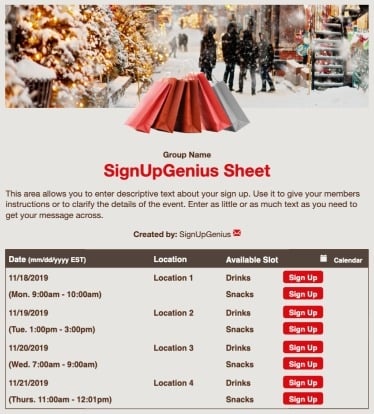 Secret Santa Travel Accessories
Decorative Passport Case - Help make sure they never lose their passport in a cluttered desk drawer again.
Travel Set for Flying - An inflatable pillow and cozy travel blanket can be a nice little luxury for the frequent traveler.
Customized Luggage Tag - They'll never lose their luggage again with a customized luggage tag.
Travel Journal - Encourage your work friends to keep track of their travels so they remember all the fun details and can fill you in at your next meetup at the water cooler.
Secret Santa Games and Gifts
Game On! - Every season there's a fun new game on the market. If you can't find a new one, go with a classic favorite like Twister, Taboo or Apples to Apples.
Desktop Cornhole Game - Perfect for the coworker who loves fun and games. If you're handy, try to make it yourself.
Trivia Game - From their favorite decade to their favorite TV show, there's a fun trivia game that will keep you all entertained during a quick work break.
Movie Gift Cards - If you're feeling stumped and don't know much about your coworker, you can still be a hit with this easy gift.
Adult Coloring Book - A great way to de-stress and pass the time. You can even pile together a whole collection for your coworker to keep for stressful days.
Gardening Tools - Grab a small gardening tool kit for your outdoor-loving coworker who takes pride in having a green thumb.
Beach Towel - Everyone can use an extra beach towel. Perfect to keep around the house or throw in the car for vacation.
---
Collect RSVPs and food orders for an office holiday party with a sign up. View an Example
---
Secret Santa Snacks
Gourmet Popcorn - Give your coworker something extra special to snack on. Make sure to pick some fun flavors.
Hot Chocolate (with All the Fixings) - Grab a fun mug, a box of hot chocolate and a bag of marshmallows for a Secret Santa gift just about everyone will love.
Tea Variety Pack - A collection of different teas can be the perfect gift for the stressed coworker who doesn't love coffee.
Candy Dish - Everyone's favorite person in the office is the one who always has a full candy dish. Help your coworker by gifting them with a pretty dish — and bags of candy to fill it. To take it a step further, get them an old school gumball machine to dispense the candy.
Novelty Mug (and some of their favorite coffee) - The office coffee doesn't always cut it, so it's nice to have options and even better if it comes in a mug adorned with a clever slogan or motivational phrase.
Grab Bag Full of Snacks - This better be the good stuff! Help your coworker avoid a few trips to the vending machine by compiling an assortment of their favorite snacks.
Mason Jar Cookie Mix - Gather all the ingredients from your favorite cookie recipe and put them into a mason jar. Include a handwritten note with the recipe, tie it with a red ribbon and you have a thoughtful homemade gift that will taste great.
Flavor Infused Water Bottle - Help your friends at work stay healthier by offering a twist on just plain water. These glass bottles let you mix in all kinds of fruits to help create flavored water.
The Secret Santa gift exchange usually involves guidelines, so make sure to stay in the right price range and do the best you can to buy something appropriate for the coworker you're paired with. But don't stress too much — if you focus on spreading holiday cheer and bringing your team together, that's what matters!
Michelle Boudin is an investigative reporter for WCNC TV and a freelance writer.