30 Christmas Scavenger Hunt Ideas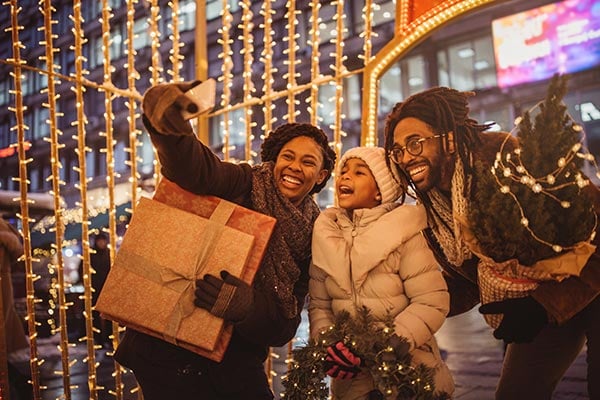 The Christmas season is full of wonderful traditions, but sometimes it can be fun to create a new one. A scavenger hunt can be fun for the kiddos at home, the adults in a work environment or even at a Christmas party. Here are 30 ideas to help you create a Christmas scavenger hunt and find even more of the holiday spirit.
Logistics: Plan Your Christmas Scavenger Hunt 
Define Your Goals - Do you want to make the hunt kid-friendly or funny for adults? What would you like the end result to be? Maybe stronger teamwork for your office team or a night of rest and laughter from the hustle and bustle of the holidays? Define your goals and build your hunt around those parameters.
Make Your List - Create a list of items for people to look for (see some suggested items below in the element section). Try to create a mix of practical items and creative hunting items.
Guidelines - Make sure participants know all the basics: the time limit, the geographic search area, and how they need to prove they've found what they were looking for.
How to Win - Decide if the winner is based on who comes in first or if you want to have a point system. Let participants know the rules and prizes before they engage in the hunt. Points could make things more interesting, so consider that route.
Prize Find - No matter which type of hunt you go with, you should offer a prize at the end. Make sure it's wrapped like the hard-won Christmas present that it is!
---
Plan a winter scavenger hunt at a race fundraiser with a sign up. View an Example
---
Use These Ideas to Design Your Hunt 
Selfie Scavenger Hunt - No matter how you structure the hunt, have participants take a selfie with each of their finds as proof that they actually found the items. Make sure to suggest they get creative and have fun with their poses!
Photos - Similar to the selfie scavenger hunt, only this really just means participants take a picture of their find. It's more straightforward and will likely take less time (but is also not as creative).
Collect the Finds - This can be a fun, hands-on way to get people involved, but keep in mind it may be hard to actually take some items when creating your list. For example, you probably shouldn't have people taking a nativity scene.
Obstacle Course Hunt - Design a mini obstacle course. With each clue or item found, ask participants to complete a task. For example, have them roll the dough for a Christmas cookie, wrap a present, create a fun Elf on the Shelf scene or sing a Christmas carol.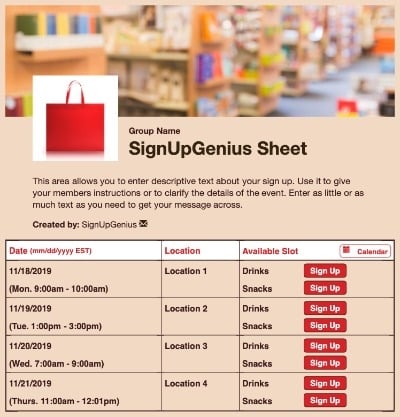 Christmas Lights Hunt - This entire hunt revolves around the different kinds of displays you tend to find at your neighbors' homes. Ask people to find a blue tree, a singing Santa or a sleigh full of reindeer.
Offer Clues - This type of hunt means more work for the organizer but can be a lot of fun for participants. Come up with clues ahead of time (make them mini rhyming poems if you dare) that lead participants to the next clue. Hint: you can use some of the objects to find listed below as places to stash your clues.
Christmas Morning Hunt - Opening presents is always memorable, so why not extend the fun? Consider having one person at a time do this type of hunt. Send kids (or adults!) on a scavenger hunt in your home to track down one (or some) of their presents. The clues will make or break this kind of hunt. Make sure the final clue leads them to an area where the entire family can see them opening their big gift. 
---
Gather Christmas caroling volunteers with a sign up. View an Example
---
Objects to Find on Your Scavenger Hunt 
Christmas Cookies - They can be freshly baked or store-bought. Encourage participants to eat them once the hunt is over or hide them all around the space you are hunting and give extra points per cookie found.
Ornaments - You can be vague or specific with this (ask for a certain color, shape or figurine or require people to find a homemade one) depending on how difficult you want this task to be. Or offer a DIY station where participants have to engage in arts and crafts to create their own ornament.
Giant Ornament - Up the ante and suggest groups find a giant ornament (the kind typically found in front of a business or as part of a big community display) or make their own.
Christmas Tree Toppers - From an angel to a specially made family topper, grabbing this could require some ingenuity (or just a ladder). Really any lightweight decorative item can work.
Nativity Scene - This could be found on someone's lawn or maybe inside a home by the fireplace. Encourage groups to get creative!
Christmas Stockings - Similar to the ornament, you can be as vague or as specific as you want when asking people to find this item or have them make their own at a station.
Decorative Snowman - The giant blowup kind works, and so does a small figurine or even an ornament. The group has to find a representation of a snowman to cross this element off the list.
Twinkling Wreath - A little bit harder to find than just any wreath, make the group find one that sparkles or glitters.
Season's Greetings Sign - They're all over the mall and at stores, but will there be one in the neighborhood? Participants may have to strategize whether it's worth finding this or giving up.
Family Christmas Card - The bigger the collection they can find, the more points the team gets. You can include both print and digital family Christmas cards, but don't tell them that, let them figure it out. Another fun twist would be to have each team recreate a pose from a family Christmas card they find.
Colorful Christmas Lights - Ask teams to find houses decorated in a specific color.
Elf on a Shelf - Offer bonus points for the most creative elf on the shelf scene that's captured. Just be sure you don't disturb the elf and don't touch him or her.
Document a Snowball Fight - Teams may have to get creative and "create" snow. They can use cotton balls, bundled sheets or any other white and round item that doesn't weigh much.
White Christmas Tree - This one is slightly harder to find than just any decorated tree but if you're near a big box store or a home decorating store they can be found in abundance.
Take a Team Photo with Santa - This could be at the mall or just with a neighborhood blowup Santa — but don't tell the teams they have options…let them figure it out and get creative!
Reindeer and Sleigh Scene - Consider extra points for creative poses with Rudolph and his friends.
Carolers - Suggest participants actually take a video of the carolers, or even join in singing with the group.
Ugly Christmas Sweater - Surely someone in the group is wearing one or owns one of these seasonal favorites.
The nice thing about a scavenger hunt is you can make it as easy or as challenging as you'd like. Host a party to celebrate the end of the hunt and make sure to celebrate all the participants. Ask people to sign up to bring holiday treats — everything from Christmas cookies to festive decorations, refreshments and more. Happy hunting! 
Michelle Boudin is an investigative reporter for WCNC TV and a freelance writer.