45 Virtual Team Building Activities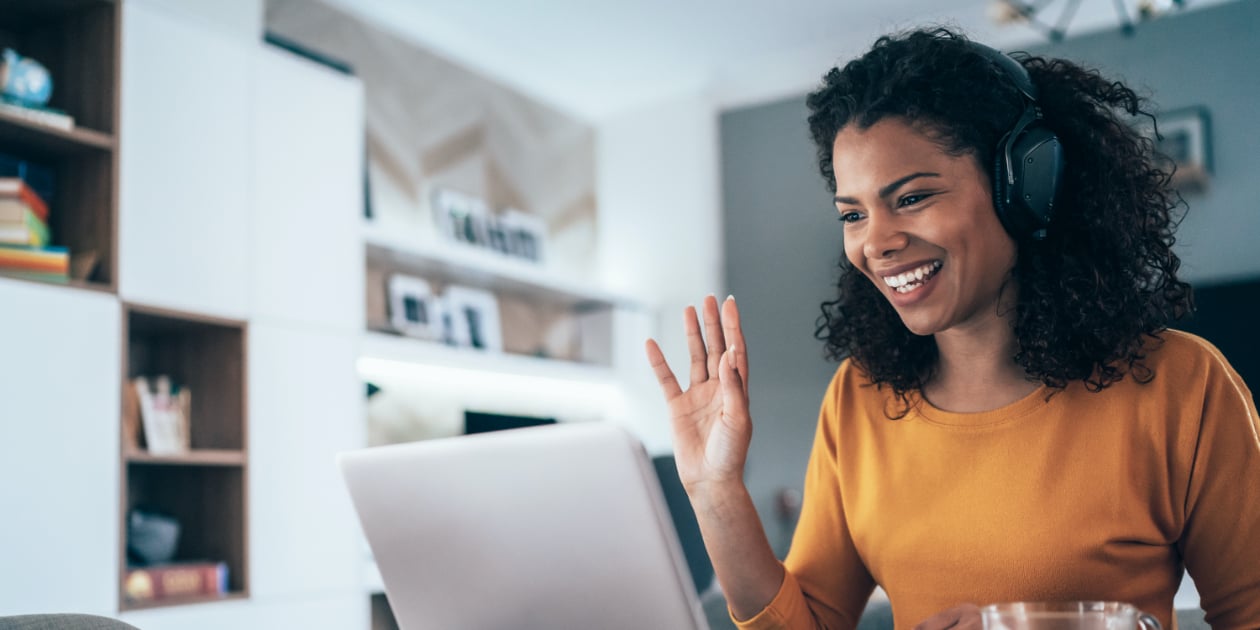 Remote work has been on the rise in recent years, and just about everybody has figured out how to make working from home, work, during the Covid-19 pandemic. We're rounding up virtual team building activities to keep your teams connected.
Have Fun Together
Joke of the Week - We all need to laugh, and this is something everyone can take a turn at. Assign someone on the team to find a joke each week to help start Monday morning off right. Make sure it stays clean and appropriate.
Caption the GIF - More and more people are having fun with GIFs. Choose one a week and ask your team to come up with a clever caption for it.
Best Pet Photo - There's no doubt our pets love having us around, so why not get creative with them? Ask your team to send in their best animal photo and offer a prize to the winner. Incorporate these photos throughout the meeting slideshow and ask each pet owner to tell the group a little about the animal.
Story Time - The idea is to have the entire team work together to tell a story that (mostly) makes sense. The organizer starts things off with a sentence and each person has to add a line. Hopefully laughs ensue. And it's up to the last person to wrap it up.
Two Truths and a Lie - This game is always a great way to get to know each other while having a little fun. Ask each person to submit two unique things about themselves and a third thing that isn't true. Have their coworkers try to figure it out.
Express Yourself - Most of us have gotten used to using emojis to communicate, and your phone keeps track of the ones you use the most. Have each person submit a screenshot of their most-used emojis and see if you all can guess which screenshot belongs to which employee.
Coordinate an online book club with a sign up. View an Example
Focus on Food
Let's Do Lunch - Invite everyone to eat lunch at the same time and host a video conference session that doesn't involve work talk. Make the activity optional and take a Zoom selfie of the group to serve as a virtual memory.
Themed Lunches - Schedule Taco Tuesday, Italian for Thursday or a barbecue on Friday. Encourage your team to participate by bringing their own version and even make suggestions for specific themes.
Recipe Roundup - A lot of us are cooking at home more these days (banana bread anyone?) and it might be nice to have some new recipes to try. At the same time there's usually a good story behind the recipe that could lead to team building. Try a recipe swap or creating a searchable cookbook together through a shared folder or document.
The Great Outdoors - Find a day when the weather is nice and encourage your team to take all of their meetings outdoors. Consider suggesting a Zoom picnic lunch to add to the occasion.
Have Food Delivered - Send a treat to your staff. It can be a full meal or just a fun dessert but the fact that it's being paid for and delivered will mean a lot.
Taste Test - Make sure each staffer gets a care package filled with the same coffee/tea samples to test. Include treats from local roasters and small businesses to show support, and invite everyone to share their favorites.
Make it Competitive
Rate Your Room - Did you know that there's actually a Twitter account rating people's Zoom backdrops? Have a little fun with the same concept as you rate each person's custom zoom background. Give team members a heads up so they have time to create the perfect scene.
Best Home Office Setup - Many people have turned their kitchen table into an office while others have a full office setup. Ask everyone for their best tips that they can pass along to their colleagues for improving their office design. (Bonus: Offer stipend money to spend on improving their home offices if you have room in the budget.)
Scavenger Hunt - Design a hunt that everyone can do in and around their own home. Offer prizes for the fastest hunter or the most creative finds.
Put Your Typing to the Test - Go old-school and see just who's the fastest and most accurate typist on your team. Award a techy prize.
BINGO! - Create a customized bingo card that your staff can relate to. For example, maybe someone spots a pet in the background of a Zoom call, has a delivery driver interrupt a call or an unruly child screams during a meeting.
Schedule a virtual financial planning consultation with a sign up. View an Example
Keep it Interactive
Icebreaker Questions - This old standby is still very effective. There are so many questions you can use. Consider ideas like things you need for a desert island, things you must have in quarantine, or items you can easily live without. Genius Tip: Try one of our classic icebreaker questions for work.
Show and Tell - This used to be the way we got to know people in elementary school and now it can be a great way to get to know more about your team. Have each team member pick an item in their home that they want to show and tell a brief story about.
Who's Who - Help your team get to know each other by asking each person to submit three unusual facts about themselves and then everyone has to guess who's who.
Town Hall - Schedule regular town halls with your executive team where everyone is encouraged to talk about how things are going. Water cooler sessions don't happen when everyone is working virtually, so this can be a good way to encourage conversation. Or create a sign up for employees to meet virtually in a one-on-one with a leader to grab coffee, talk about life and chat.
Say Cheese - Ask staffers to dig out an old photo — it can be funny or sentimental — and ask them to tell the story behind it.
Guess Who - Take "Say Cheese" one step further and have everyone submit their photo and then see if their colleagues can figure out who's who.
Share Your Bucket List - This can be a fun way to find out something new about your coworkers. Ask each person to share three things that are on their bucket list.
Book Club - Start a monthly book club and schedule a time to host a discussion. Give employees the choice of a physical book, eBook or an audio book to accommodate all learning styles.
Celebrate the Holidays - Find some of the offbeat days on the calendar and celebrate! For example, January 10 is Houseplant Appreciation Day, July 1 is Creative Ice Cream Flavor day, September 13 is Fortune Cookie Day. Get creative and snap selfies with the hashtag.
Go Team! - Celebrate big team wins. If you finish a big project, have that team leader make a video documenting the process. Once the rest of the team sees it, announce an unexpected reward for all involved. Surprise!
Send a Care Package - Gather a few items to send in the mail and make your team feel appreciated. (It can even be hand sanitizer and a mask or items with the company logo.) Everybody loves to get an unexpected delivery.
Take a Field Trip - Virtually. Some of the world's best museums and most popular tourist destinations are offering virtual tours right now that could be fun to experience as a team.
Costume Contest - Why wait for Halloween to host a good costume contest? Ask employees to include their loved ones to make it even more fun for everyone.
Celebrate Birthdays and Milestones - It can be a little bit harder to celebrate right now, so it's more important than ever to mark both personal and professional milestones.
Run or Walk a Virtual 5K - You may not be running side-by-side, but you can still complete the challenge as a team. Many nonprofits and 5Ks have switched to hosting virtual races that will make your team feel good — in more ways than one. Make sure everyone knows that the goal is just to finish, not get a perfect time.
Pics of Their New Coworkers - Ask staffers to take pictures of their "new colleagues" — whether it's their kids, the family pet or even the landscaper that interrupts their Zoom calls.
Trivia - Host a weekly contest with a different theme each week. You can easily find questions online. Some themes you may want to try include music, pop culture, sports or history. Offer a prize for the winner.
Home Sweet Home - Since home is the new office, have each person do a video showing off their favorite room or space in their home. Have a competition for the best setup.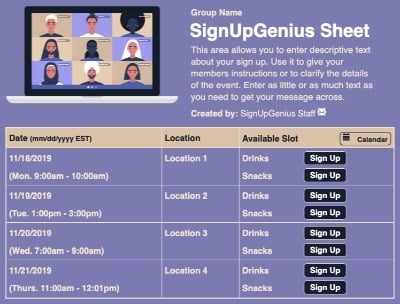 Incorporate Music and Dance
Throw a Dance Party - A New York DJ gained national attention when everyone from Michelle Obama to Oprah Winfrey tuned in to what became known as Club Quarantine. Ask your teammates to submit songs for a shared playlist and allow them to invite family, friends and pets to the party.
Talent Show - Have everyone sign up to perform their talent (serious or silly!) on a specially scheduled video conference call. Encourage people to form groups to perform with.
Get Your Groove On - Create weekly workday playlists and share them with your team. Ask each team member to contribute their favorite song in a certain genre and change it up each week. Make the playlists available to the full company so work becomes a little more fun.
Dance, Dance, Dance - Sign everyone up for an online dance or fitness class to take together. Make sure to give team members the option to turn the camera off!
Organize virtual nurse appointments with a sign up. View an Example
Bring in the Experts
Host a Lunch and Learn - Have your team weigh in on what they'd like to learn about and then find the experts (topics could include wellness, personal finance, leadership or life hacks).
Caricature Competition - Most of us are probably not great at drawing but that's OK, that's what makes it even more entertaining! Assign each person a colleague to draw. It could lead to fun moments and maybe even interesting discussions. Want to take it a step further? Hire a professional caricature artist to do a drawing of your full team (on Zoom?) to serve as a keepsake.
Online Cooking Class - This is the kind of thing you can all do together while you're away from the office. Lots of area chefs are now offering classes on everything from bread making to cocktails to cooking full meals online.
Baking Challenge - You don't have to be a good cook to be a decent baker. Host a baking challenge where each employee is encouraged to come up with a new take on a favorite recipe. Hire a professional baker to judge the entries by appearance and provide baking tips. Gift each team member a different cookbook based on their interests.
Hire Team Building Help - If you really want to make a big splash, consider hiring a professional company to lead your team in a unique exercise. There are several companies that specialize in virtual team building.
Volunteer Together - Lots of nonprofits have figured out ways to have people pitch in from home. Encourage your team to sign up to volunteer "together" while apart. Bring in a nonprofit leader from one of the places you've served to talk virtually about the current state of the nonprofit industry and ways their team has shown resilience and the ability to pivot. Show your team how we are all in this together.
The most challenging part of remote work can be staying connected to colleagues and engaged in the task at hand, so virtual team building experiences are even more essential! Get creative and keep your team connected.
Michelle Boudin is an investigative reporter for WCNC TV and a freelance writer.