30 Employee Appreciation and Boss Gift Ideas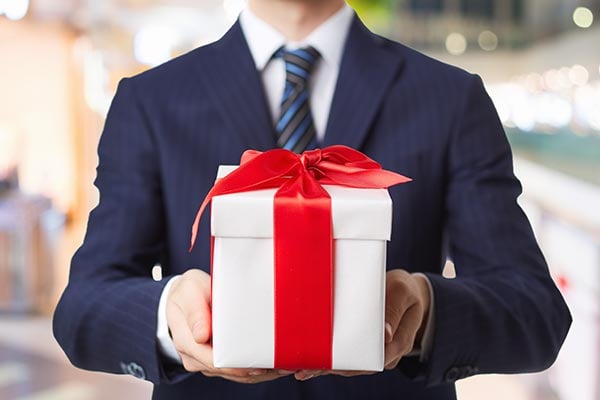 The hardest person to shop for might be one you'd never think of — your colleague. Whether you're the boss or an employee, keep it professional and personal with these gift ideas. 
Employee Appreciation 
Around the Office
It doesn't take a huge budget to make an employee feel special! Show appreciation for your workers with these unique gift ideas. 
Personalized Office Artwork - Does your employee have a quote they love? A state they're proud to rep? A university they root for? Search for free printables online and frame the artwork for their office or desk.
Snack Basket - Fill a basket with your employee's favorite snacks and drinks to keep their fridge stocked. You can also include a gift card to a nearby restaurant for a lunch break treat if it's in your budget.
Step Counters - Keep your employees healthy and bring the office together by purchasing step-counting devices and challenging your office to a fitness competition for the new year. This gift is fun and practical.
Streaming Subscription - Do your employees like to jam along while they work? Buy the office a subscription for Spotify or Apple Music and keep the tunes flowing all year long!
Office Productivity Basket - A pair of noise-canceling headphones, a nice notebook and pens, a new coffee mug — the possibilities are endless to make your employees feel more at ease around the office.
Break Room Reading - Subscribe to some favorite magazines and industry publications so employees will have something to look forward to as they take a well-deserved break. You could also include some favorite business books or best-selling novels.
Company Totes - Monogram totes or laptop bags (and include the company logo) so your employees can feel stylish while repping the company brand as they haul their supplies in from home each day. Fill the bags with other company swag such as T-shirts and pens.
---
Keep the conference room reservations organized with a sign up. SAMPLE
---
Group Gifts
If you've got a larger budget, do something memorable for the whole company that employees won't soon forget.  
Concierge Service - For a holiday perk, hire a concierge who will run errands such as picking up presents, wrapping gifts and mailing Christmas cards. Employees can sign up for one- or two-hour blocks and ask the person to do their most-disliked tasks!
Season Tickets - Is everyone in your office committed to a local sports team? Buy a corporate season tickets package for the office to give each employee a chance to see a game with family! Genius Tip: Organize the game schedule with an online sign up.
Escape Room - Escape rooms are all the rage right now — take your employees out for a fun, team-building day solving the puzzle and — hopefully — escaping together!
Day at the Movies - Surprise the team by reserving a block of tickets for an anticipated movie premier. Employees will get a kick out of feeling like they are playing hooky for the afternoon.
A Night Away - Plan a company party at a resort and pay for a hotel room for employees and their spouses. This will give everyone a chance to relax while also build better relationships with their coworkers.
Catered Lunch - Bring in lunch for all your employees from a popular restaurant. Better yet, take your employees out to a nice lunch to show your appreciation. Genius Tip: Try these office party themes and games to liven things up.
A Day Off - This may seem like the most obvious gift, but an extra day of PTO is a great gift, and one your employees will be sure to appreciate. Time it around a holiday for extra appreciation.
Breakroom Upgrade - Take the breakroom idea a step further by doing a total overhaul — hire a designer to paint and style the space, pick out new, comfortable furniture and buy new appliances. Don't skim on the coffee machine!
---
Throw a Thanksgiving office potluck with a sign up. SAMPLE
---
Boss Gift Ideas
Don't Break the Bank
Thanking your executive doesn't have to empty your bank account — they're people too!  
Gratitude Letters - Fill a basket or scrapbook with handwritten notes from employees, displaying your appreciation for their leadership. Employees can write a quick, silly note or get serious — anything heartfelt will encourage your boss!
Coffee Kit - Have a boss who loves caffeine? Buy some K-cups to give your boss a secret stash. You can also buy a pour over kit, French press or home latte maker. Include a fun mug and gift card to make a coffee care package!
Personalized Stationary - Thank you cards embossed with your supervisor's name or initials is a personal touch they'll be able to use in their personal and professional life.
Fan Basket - Is your boss always quoting that one sitcom? Constantly re-watching that movie series? Make a gift basket of funny items (mugs, T-shirts, food, etc.) based around that fandom! This is great for bosses who don't take themselves too seriously.
Travel Essentials - Is your boss always on the go? Fill a travel bag with business travel essentials such as a sleep mask, travel pillow, notebook, a nice pair of earbuds and portable smartphone/tablet charger.
Desk Swag - Whether it's a small sign emblazoned "Best Boss Ever" or a desk calendar with pictures of their favorite places, make logging extra hours in the office a little more tolerable by giving their desk an organized and fun vibe.
Break Time - Even the boss needs a break sometimes. Surprise them with tickets to a favorite event — whether it's a ball game, theater performance or movie — and insist they check out a couple of hours early that day. Get bonus points by coordinating with their spouse to arrange a babysitter for a date night.
---
Coordinate a company day of service with a sign up. SAMPLE
---
Group Gifts
Consider all chipping in to buy your boss a larger gift. Make it simple by
collecting payments
on an online sign up. 
Donate in Their Name - Unsure what to get the person who has everything? Make a donation to a charity they support in their name.
Hobby Classes - Has your boss always wanted to learn pottery? How about pie baking? Yoga? Pay for a series of fun date nights for your boss plus spouse.
Weekend Away - Whether it is by reorganizing to-do lists to give the boss a break, or by everyone chipping in to rent a beach or mountain house for a weekend, gift your boss with a weekend away from work!
Meal Subscription Box - Bosses are busy! If your boss loves to cook but hates meal planning, a meal subscription box is a thoughtful and practical gift, especially during busy times like the holidays.
Wine & Cheese Basket - If your boss loves the finer things in life, give them a fancy night in with a wine and cheese basket. Want to go the extra mile? Add in a gift certificate for a vineyard trip.
Milestone Night - Did your boss recently close a big deal or celebrate a significant work anniversary? Rent a space for a surprise party to commemorate the occasion. Make sure to have speeches prepared!
Holiday Spirit - Your boss might not have a ton of time to deck the halls with holly, so hire a service that will get their house in tip-top shape for the holidays. This year they won't have to worry about hanging those Christmas lights.
Game Night - Have a boss who's into gaming? Surprise him with the latest console and some of his favorite video games. Some relaxation time will be good for productivity down the road!
With these gift suggestions, you'll be sure to leave a great impression on your coworkers and employees.  
Kayla Rutledge is a college student who spends most of her time writing, singing for her church and eating quesadillas.