50 Office Party Themes, Tips and Games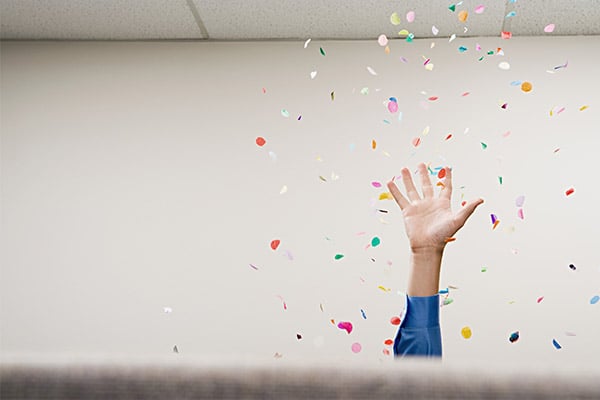 Word around the water cooler is that your team is hoping the next office party will be more than just a potluck and small talk.  If you've been looking for some fresh ideas for your company celebration, this list will get your creative juices flowing.
Un-Holiday Themes
Most companies plan an end-of-year or holiday party, but don't be afraid to throw in other un-holidays to liven up the seasons. 
National Chili Day (Last Thursday in February) - Many of us love a good bowl of chili in the winter. This day is a great excuse to have a cook-off, chili trivia contest, and recipe swap.
Pi Day (March 14) - Celebrate this great mathematical constant with a mini pie bar including pre-made mini pie crusts in aluminum pans, snack puddings, crushed candy toppings and spray whipped topping. Make it a contest by voting for a favorite!
Oreo Day (June 19th) - You may have seen the interesting varieties of Oreo cookies stocked in your grocery store. Have some people bring their choice of Oreos, milk and cups and it's an easy party in the making!
Mad Hatter Day (October 6th) - The Mad Hatter wears a hat labeled "In this style 10/6", so why not use the day to have an office party themed around favorite hats, a tea/coffee party and some dainty treats.
"Make-Your-Own Holiday" Holiday Party - Fun fact, American Thomas Roy has single-handedly invented over 90 holidays including "No Socks Day" (May 8th) and "Name Your PC Day" (November 20th). Pick one from his list or have employees create their own office-appropriate holiday and bring a food item to go with it.
---
Plan an office chili cook off with an online sign up. SAMPLE
---
Out-of-Office Ideas
To include employees working remotely or at an off-site location, these ideas will spark life into your old office party routine. 
Remote Employees Party - Don't forget to include those remote folks by looping them in through a video call or social media! Give virtual gifts like e-tickets or gift cards or a bonus day off! Treating them to dinner at a restaurant that would be considered a "splurge" is a great way to celebrate their hard work.
Hotel Lobby Costume or Masquerade Party (for larger companies) - Check out local hotels with great lobbies or ballrooms that can host your event and choose a masquerade ball theme. Or have a fun swing dance or country dancing night and enlist a local dance teacher for a group lesson.
Parties that Give Back (for a smaller office) - Find a local charity like the Ronald McDonald House and cook or serve a meal together, play some tunes and bring drinks and appetizers to share.
Make it a Day - Everyone loves to play hooky from work, so consider renting out a bowling alley or indoor trampoline park for an afternoon of office bonding. Bonus: no babysitters or fancy outfits required!
Outing on the Water (for a smaller office) - A pontoon ride at sunset with light food and drinks can make for a memorable and unique office party.
TV Show Themes
These ideas can be used any time of the year to promote relationships among your staff and have fun, too! 
TV Throwback Party - Introduce a new generation to shows like Love Boat, Dallas, or Happy Days and let the clothing, food and characters inspire a great office party.
"Caddy snack" Summer Soirée - The crazy characters from the golf comedy Caddyshack can inspire lots of great outfits. Plus you can create a putting course in the office and serve food with a golf twist: "iced tee" and "club sandwiches".
Mad Men Style Cocktail Party - Pull out some recipes for good old-fashioned cocktails (and mocktails), deck the office with some tinsel, put on some classic 60's tunes, and play a game of office-friendly charades for a fun throw-back evening.
Saturday Night Live Party - Host an SNL office party that encourages dressing as your favorite skit character, play some games (in character of course) and watch a highlight reel of people's favorite skits.
Netflix Original Series or TV Character - These days streaming channels have added a whole new cast of unique characters and shows that make great party themes. Host a binge-watch party and invite employees to dress as a character from their most recent show obsession. Serve popcorn and other fun movie concession food.
Seasonal Themes
Fall
Team Day - Who doesn't like the chance to show off their team loyalty during football season? Play some silly games between rival teams to keep the atmosphere light and fun. Ask employees to bring in their favorite game day food and you will have a fall office party hit!
Fall Back – The fall time change means it will be dark after the work day ends, and the holiday season is right around the corner. Surprise employees with a short work day to celebrate this seasonal rite of passage, and serve up a festive spread of snacks and drinks.
Comfort Food Buffet - A buffet featuring a mashed potato bar or a hot chocolate station is a yummy way to celebrate the weather getting colder.
Cider and Sweaters - Fire up the microwave to make s'mores for this office party theme.  Everyone gets to wear a cozy sweater and sing along to a few campfire songs.
Holiday
Holiday Card Photo Fail - Have teams pick an online "Holiday Card Fail" photo and reenact that photo for the office party. Set up a photo booth with festive props and create some new "fails" to post in the workroom.
Holiday Traditions - A few weeks before the party, ask employees to share their favorite holidays traditions, dishes, movies etc. Use their ideas for inspiration to plan a throwback event with classic music, food, games and cheer. Dressing in ugly holiday sweaters always adds a festive twist.
Step-Up White Elephant - If your company has a nice budget for a holiday party, you can make it more casual and then turn up the gift part of the event with a second "surprise" white elephant exchange (the first one can have the usual re-gifted, low dollar items). Surprise your team with splurge gifts like movie passes, concert tickets, massage gift cards, generous shopping gift cards, etc.
Holiday Cooking Class (for a small office) - Give your holiday party a tasty twist by signing everyone up for a cooking class at a specialty grocery store. Call ahead and ask if you can bring along some drinks and light appetizers to compliment what you will be making.
---
Plan your office holiday party with an online sign up. SAMPLE
---
Summer
Fair Food - How about an office party that celebrates all that delicious fair food! Rent a cotton candy or popcorn machine, order carnival inspired sweet treats from a local bakery, and set up ring and bean bag toss games.
Tacky 4th of July T-shirt Day - Bless America, we can sure put out some tacky holiday clothing! Encourage employees to wear their favorite gaudy t-shirt and serve some traditional picnic/4th of July food for a summertime office party.
Paper Bag Skit - This can be played with many variations, but basically teams are formed with four people (or more if it is a large office) and given a bag of props. Another bag contains a problem they need to solve in their skit.  They have ten minutes to create a skit that both explains who they are and solves their problem in a creative way.
Adult Lemonade Stand - Serve up lemonade or other juices and light appetizers for an office party that celebrates a great summer rite of passage.
Spring
Family Picnic in the Park - Include the families of your employees for a great office party.  Host an old-fashioned game of kickball or softball and have an ice cream truck visit your location to celebrate the season.
Kentucky Derby - You don't have to be a derby watcher to enjoy an office party that celebrates things of the south such as biscuits, fried chicken, cheesy grits and big hats. If you have derby fans on your team, challenge them to a trivia contest. Take it up a notch by adding an evening out to a local racetrack.
Cinco De Mayo - Take your May 5th party to a new level with several adult piñatas that include gift cards, movie tickets, decks of cards and mini plastic drink bottles. Add a few candy necklaces and ring pops for fun.
Go Green - Spring is a time of renewal and refreshment, so theme your office party around the season's bounties with farm-to-table food and giveaways of potted plants.
---
Online sign ups make it easy to coordinate your office potluck. SAMPLE
---
Office Party Games
Remote Employee Games – Have a desk decorating competition inspired by your party theme and encourage remote staff send in pictures or videos. If you want to celebrate in real-time, set up a video conference and play charades or compete to see who can find things near their work space the fastest (who has an American flag? Who has a tire pump?).
Synchronized Swim - Divide the office into teams, distribute team swim caps and give everyone 30 minutes to create a one minute synchronized swim routine (minus the water) to be performed during your office party to the music of their choice.
Famous Couples - A great guessing game is to have employees partner up (or assign pairs) and dress as a famous couple. You could do lots of contests with this: who looks LEAST like their famous couple or most creative couple. You could also have some fun challenges for the couples to do in costume like a three-legged race or egg toss.
Oh Baby, Who Is it? - Post baby pictures around the office and have everyone match up the babies to employees. This could take a holiday twist by having employees bring in pictures of childhood Halloween costumes or family Christmas cards.
Office Relays - For your summer time office party, plan some relay races where your team has to dress in swim gear (cap, goggles, floaties), then take off the gear and go back to tag the next teammate. Add contests like filling up a bucket using only swim goggles to scoop water for a fun afternoon office party.
Murder Mystery - If you do some pre-planning and assigning of characters, solving a mystery together can be a fun theme for an after-work party. Assign some employees to be players and some to be characters. Find mystery ideas online and have fun as your team channels their inner sleuth.
Thanksgiving Games - How about pumpkin bowling or creating a sculpture out of candy corn, marshmallows and toothpicks?  Add in a wall of thanks and some favorite Thanksgiving treats for a great celebration of "Teamsgiving." Need more Thanksgiving games? Try these 20 family-friendly ideas.
Chopstick Mania (great for a small office) - Set up a chopstick "obstacle course" including putting marshmallows into a small take-out box, picking objects (can be theme related) out of a bowl of rice, and finally, picking up a raw egg (you can substitute a hard boiled egg or lemon for less mess) and moving it from one carton to another without breaking it.
Snowflake Shake - Take an empty tissue box (you may need to widen the opening a little) and fill it with several ping pong balls. Attach the box around a participant's waist with duct tape, with it positioned to sit right at the top of their backside with the opening facing out. The challenge is to shake, shake, shake and be the first to empty your box of ping pong balls.
Office Olympics - Especially fun during Olympic seasons, you can plan some fun competitions such as Rubber Band Archery, Office Chair Relays and Wadded Paper Toss.
Let's Make A Deal Office-Style - This takes some planning and pre-shopping, but the idea is to have folks come forward and play a game to win a prize (a stapler) and then have a box with an unknown item, which may be better (a $10 Starbucks gift card) or worse (a staple). Everyone has to decide if they want to "make a deal" or just take what they've won.
Reverse Charades (great for a large office) - There is a box version of this game, and it involves group charades performed for one person in order to figure out the clue. You could personalize this by reenacting a funny office memory or an inside joke for the team member to solve.
Gingerbread House Contest - Stock up on gingerbread or graham crackers, frosting and all the yummy fixings for an epic holiday competition. Employees can team up in small groups to design and create their gingerbread adobe, then vote to determine the winner. For extra challenge, set a timer to see who works best under pressure.
Frozen Shirt Contest - Before your office party, buy enough XXL t-shirts for several teams.  Dip them in water and freeze them, wadded up, for several days before your office party. Give out the t-shirts and see which team can thaw and wear their t-shirt the fastest.
Hard to Kiss Game - Added with other holiday games, this one is lots of fun. Simply be the fastest team to unwrap all your Hershey kisses, but the twist is that you have on oven mitts while you do it. Have each team member unwrap two kisses (or more if teams are small) and time them. Then pass the mitts to the next team player and time them. The team with the lowest combined time wins.
Twelve Days Photo Scavenger Hunt - For a holiday twist, hide twelve things around the office, loosely based on the Twelve Days of Christmas. Assign teams and a task to do once they find the object, either captured on video or in a photo to be shared during the holiday lunch or potluck.
Blind Holiday Picture - This idea could be adapted for other seasons/themes. Everyone places a sturdy paper plate on their head and is given a pen or a marker. Players are asked to draw a series of things without looking, such as: a line for the floor, a Christmas tree, decorations on the tree, a star on top and a present underneath; a fireplace with a mantel, a stocking hanging from the mantel. Players earn points for how accurate their picture is (2 points if tree touches the floor, 2 points if the star touches the tree, etc.).
Games inspired by "The Office" – If you have some fans of the TV show, these games will be a hit! Put things in Jello and have people get them out and hold a race with reams of paper taped to your feet.
Doughnut Eating Contest - Most offices have ceiling tiles and the cross pieces can be used to dangle a variety of things including food! Host a no-hands eating competition with dangling doughnuts and let the hilarity ensue (National Doughnut Day is June 2!).
Office parties are a great way to boost team spirit and create unity during special seasons of the year. Hopefully these themes and games will inspire you to elevate the fun factor and camaraderie of your next office party.
Julie David lives in Charlotte, N.C., with her husband and three daughters.