50 Company Picnic Ideas and Games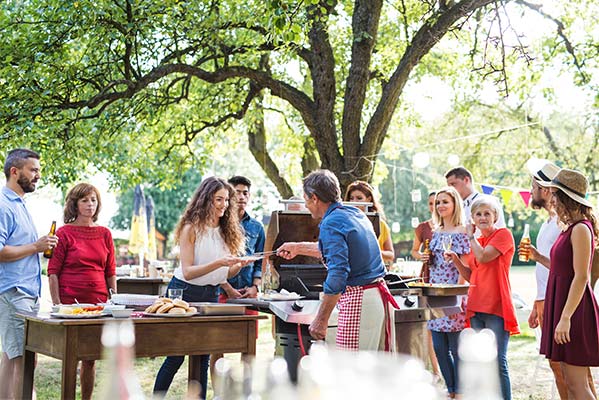 A company picnic helps coworkers get to know each other in a more relaxed setting. It's a chance to get out of the office, eat good food and play games. Organizing a company picnic can be a lot of work, but this list will help you think through the details and make your event a success.
Get Organized
Pick a Place for Your Picnic - Do you have an outdoor space near your building you can use, or do you want to get everyone away from the office for the day? Look for a place with seating options and plenty of places to spread out for games. Also, look for a place that offers shade and comfort. Consider nearby parks, ballfields, the beach or even an amusement park.
Invite Everyone - Send an email with plenty of notice to let people know what you're planning and when it will be. Decide ahead of time if this will be a family picnic or strictly for employees, and make a note of that on your invite.
Enlist Help - If the event is a potluck, create a sign up where people can choose to bring everything from paper goods to chips or a main dish.
---
Collect company picnic RSVPs and organize who's bringing what with a sign up. View an Example
---
Get Creative
Plan a Theme - This can be as simple as using your brand colors to guide you in selecting decorations, or the picnic might be a summer kickoff or a fall festival. Use your theme to help you with decorations, games, music and more.
Decorate - Make your picnic festive! Grab balloons, tablecloths and fun confetti or décor items to spread on the table. (For example, if your theme is patriotic, you can sprinkle small flags on the table).
Set Up a Photo Booth - This can be a fun way for coworkers to hang out and come away with a lasting memory. Find a small space a little bit away from the party and turn it into a photo booth. Use your company logo to create a backdrop, get fun props and encourage people to take some pics. Genius Tip: Check out our list of photo booth prop and backdrop ideas to get inspired.
Make a Playlist - Create a playlist that matches your theme and the vibe you're hoping for at the party. Be sure to mix in some classics from every genre.
Craft Station - Turn a picnic table into a full-on craft station. Have a mix of fun stuff for kids to create a variety of projects.
Hire Entertainment - Consider bringing in a magician, face painter or a clown to make balloons for the kids. If this is an adults-only party, think about hiring a DJ.
Get Social - Encourage employees to post fun pics using the hashtag you come up with. This can help promote your brand and your company and be a fun way to engage current and potential future employees.
Prizes - This is an easy and fun way to reward employees and give them an extra incentive to attend. Restaurant gift cards, tickets to sporting events, even big electronic items (like an Apple watch or TV) can all be easy prizes. You can do a raffle in addition to having prizes for some of the games.
Memorabilia - This is a company picnic, after all. Have your company logo printed on water bottles and make sure everyone gets one or two branded swag items to take home.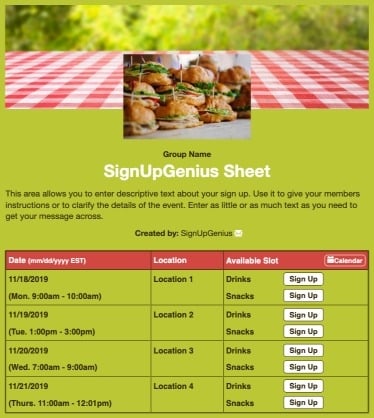 What's on The Menu?
Drinks - Make sure to have a mix of water, sweet (or iced) tea, soda and juice so there's something for everyone and be sure to have coolers (and ice!) on hand.
Paper Goods - Make sure to include this on your sign up sheet. You'll want plenty of cups, plates, silverware, napkins and garbage bags so that there's an easy clean-up.
Consider Catering - Even if you are hosting a potluck, you may want to think about having the main dish catered. This will save time and ensure a good meal.
The Grill Master - Recruit someone to work the grill and serve up the old standby of hamburgers and hotdogs. Don't forget the condiments!
Taco Bar - This is an easy and fun option that is usually a hit with just about everyone. Make sure to offer a few different proteins and toppings.
BBQ - Ribs, brisket, chicken, no matter which way you go you will win with your guests — just make sure you have napkins handy. Extra BBQ sauce is also good to have available. Want to get really creative? Host a BBQ sauce tasting station and ask people to vote for their favorite type of sauce.
---
Coordinate party committee duties with a sign up. View an Example
---
Sides
Macaroni and Cheese – You can't go wrong with this comfort food kids and adults love.
Coleslaw - No matter what the main dish is, coleslaw will go with it. Get creative and make your own variation of coleslaw or look up a tried-and-true recipe.
Pasta Salad - This dish is easy to make ahead of time, keeps well and is a perfect picnic food.
Basic Salad - It's a good idea to offer a basic salad with dressing on the side to make sure there's something for everyone.
Chicken Salad - No matter how you make it, chicken salad is always a hit. Pair it with French bread, chips or fresh spinach.
Nachos - Pile on the shredded cheese and toss in jalapeño peppers for a crowd pleaser. Want to make this the entrée? Add meat and veggies!
Corn on the Cob - This is pretty much a must-have at every picnic. Throw the corn on the grill for an easy and delicious side dish.
Chips - This may be the easiest (and most important) thing on the list. Make sure to have a variety of options spread out in different places, so there's always something to snack on.
Popcorn Making Machine - Make popcorn the old-fashioned way. It's fun, delicious and it smells great.
Dessert
Make Your Own Sundae - This is fun for everyone, but be sure to keep the ice cream in a cooler before serving. Ask people to provide whipped cream, hot fudge and bowls of sprinkles, Oreos, chocolate chips, nuts and more for toppings.
S'mores - Build a small fire and supply guests with kits including marshmallows, graham crackers and mini chocolate bars. Don't forget the sticks for roasting!
Candy Bar - Everyone loves candy. Get a fun sampling of all the old favorites. Make sure to have small bags on hand so everyone can make a goody bag to go.
Pies - Nothing says picnic like an apple pie, but why not up the ante and offer a few different flavors. This is an easy item for people to sign up to bring.
Cookie Baking Contest - Turn dessert into yet another competition. Ask people to sign up to bring in their best homemade cookie and have attendees vote on the tastiest.
---
Ask employees to contribute game supplies with a sign up. View an Example
---
Game On!
Tailor these games to match your crowd.
Three-legged Race - This only works in teams of two. Tie the left leg of one runner to the right leg of the other and have teams race to the finish line.
Olympic Games - From the egg-on-a-spoon race to the sack race to the water balloon toss and tug of war, ask people to form teams and create a list of activities for them to compete in. Make sure to have a small prize for everyone on the winning team.
Scavenger Hunt - Design a company-themed scavenger hunt where clues have to do with fun facts about your company. Genius Tip: Get started with our scavenger hunt ideas for the office.
Tricycle Obstacle Course - Use traffic cones to set up a "course" and have adults navigate the course on kid-sized trikes.
Putting Green - Kids and adults will enjoy taking a run at this game. Consider adding prizes and funny awards for all to earn.
Horseshoes - Players take turns tossing horseshoes at a stake in the ground and tracking points.
Cornhole - If you really want to impress the group, have a custom set made with the company logo and raffle it off at the end of the day.
Executive Pie Toss - Solicit willing volunteers from your leadership team to take a turn at getting a pie in the face. Employees will love lining up to take aim.
Lawn Bowling - Use a kid's plastic toy set to get the kids and adults bowling and laughing.
Kickball Game - It's the one team sport almost everyone can play.
Jump Ropes/Hula Hoops - No-frills fun. Just place them around the picnic area so people can pick them up at their leisure.
Slip 'n Slide - On a hot day, this is always a hit with kids and their parents.
Water Gun Fight - Nothing gets people laughing more than a water gun fight. Put the kids against the adults for even more fun!
Piñata - Make one for the kids and one for the adults. Stuff it with fun candy, tie it to a tree and start swinging.
Watermelon Eating Contest - This one is messy, but oh-so-much fun to watch. Participants can only use their mouths (not their hands) to finish this summer treat.
Karaoke - This is a chance for the singer in sales and the performer in project management to put their talents in the spotlight.
Company Trivia Contest - When was the company founded? What were some of the big milestones? Think up some fun company facts and turn them into a quick trivia game with prizes for the winners.
Music Trivia - Ask the DJ to play along and host a trivia session for the group. Make sure to mix genres and decades so that everyone can participate.
Whether it's a fall festival, a summer kickoff or Christmas in July, when you do it right a company picnic can be a fun way to help boost morale and bring coworkers closer together.
Michelle Boudin is an investigative reporter for WCNC TV and a freelance writer.