20 Appointment Scheduling Tips for Photographers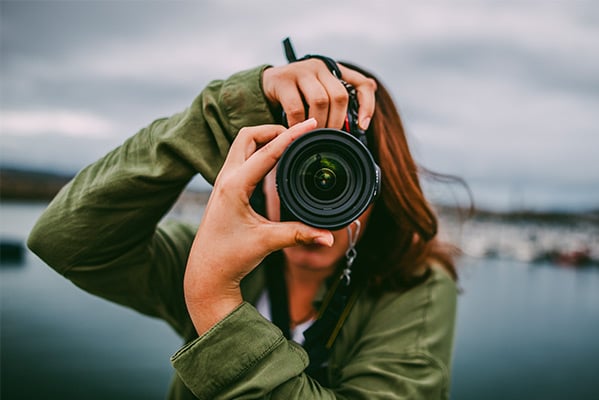 It's simple in theory to start a photography business — pick up a camera and start snapping. But the pros know that getting bogged down with administrative tasks like scheduling can take the fun out of snapping the perfect shot. Fortunately, with a few productivity tweaks and a vast internet full of tech resources, it's easier than ever for photographers to run their businesses smoothly. Here are 20 appointment scheduling tips to improve your next session.
Productivity Enhancers
Offer Set Dates and Times for Bookings - Cut down on back-and-forth with clients by suggesting a few dates and times that work for you, instead of leaving the conversation open-ended. Of course, be ready to be flexible if your proposed time slots do not work with your client's schedule.
Organize Your Week - Rather than filling every day with a hodgepodge of plans (an in-studio shoot followed by editing followed by an on-location shoot, etc.), consider organizing your week in chunks of time. For example, you could allocate Tuesdays and Thursdays for shoots and Mondays and Wednesdays for in-office tasks like editing.
Minimize Travel Time - If you're shooting multiple clients at several locations throughout the day, try to schedule bookings in a way that won't have you zipping back and forth across town.
Create a Shot List Ahead of Time - Get the most out of your session by creating an itinerary of shots and poses for each shoot. This can especially come in handy when shooting a family or other larger group (for example: all family members, just children, just parents, etc.). Print or write out your schedule and bring it to the shoot in case your smartphone battery dies.
Visit the Location Before the Shoot - Go at the same time of day you're planning your shoot so you can get an idea of lighting, shadows and how many people will be around. Take your camera for a few test shots if you can. Sometimes your perfectly planned shot won't work, and it's better to find out ahead of time than when you're on the clock with a client.
---
Schedule photography sessions and collect payments with a sign up. View an Example
---
Build in Time for Setup and Takedown - When accepting bookings, allow time to set up and take down any props you may be using. If you're able, get there a few minutes early to prepare.
Consolidate Props for Transport - Shave minutes off setup and takedown time by putting several props into clear or labeled bins you can easily grab and bring along. You could even label your bins by theme, like "engagement session" or "newborn shoot."
Edit on the Fly - Your favorite shots will be fresh on your mind as soon as you finish the shoot. If you have time, edit your favorites right away and save them to your final folder.
Let Clients Know What to Expect - People love surprises, but not when they're in the middle of a photo shoot. Communicate exactly what you're offering before the booking, including cost and number of images clients can expect. This will also help you keep your pace during the shoot — if you're nearing the end of your time slot and only have an idea of five out of your promised 15 images, you'll need to pick up the pace.
Have a Backup Plan - If you're shooting outdoors, you'll need to always have a backup plan for rain, snow, extreme heat or whatever else Mother Nature throws at you. Start checking the weather the week before the booking and prepare your client to have the shoot's location changed (or postponed entirely) if necessary.
Get Creative When Things are Slow - Photographers are typically busy with weddings in spring and holiday cards in fall, but you can generate revenue between those busy seasons by offering mini sessions around holidays like Valentine's Day or a theme like "snow."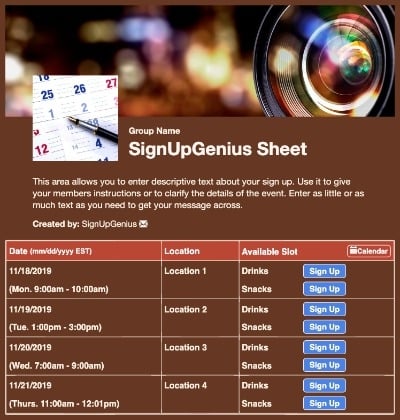 Put Your Technology to Work
Use a Software to Allow Clients Schedule Themselves - Using an online scheduling software creates an easy and professional way for clients to book appointments with you. Generally, it's best to avoid free appointment scheduling tools so that you can ensure you have the features that help automate administrative related scheduling tasks.
Send a Detailed Email Confirmation - Include all relevant information like the start and end time for the shoot, address of location(s), suggested wardrobe, payment amount, etc. so clients can check back for reference. You could also send clients a calendar request. Chances are, they're using Outlook, iCal or Google Calendar to manage their schedule. Genius Tip: With SignUpGenius, you can set up automatic custom reminders and also sync with digital calendars.
Include Late Cancellation and No-show Fee Information on Your Booking Page - Avoid playing phone or email tag with flaky clients. You could also include the info at the bottom of all email correspondence.
Communicate with Clients Before Bookings to Cut Down on Chances of No-shows - Ask when they'd prefer to be contacted — some may forget if you reach out too far in advance. Stick to the day before or even the day of your planned shoot. SignUpGenius can send automatic reminders so you won't have to worry about it.
---
See how Legends Event Photo keeps team photoshoots organized with sign ups. Learn More
---
Collect Money for Deposits Online - Accepting deposits online will eliminate the need for dealing with checks, cash or cards on the day of the shoot.
Create an Email List of Past Clients - Send occasional info on mini-sessions, reminders to book holiday card shoots, and more. You may be surprised at the additional bookings you get from this no-fuss marketing strategy.
Market Sessions on Social Media - Use your Facebook and Instagram pages and community groups to market mini-sessions or open time slots and link directly to your sign up page so clients can easily book.
Consider Blogging - Many photographers have a blog on their website (or through a free blogging service) to talk about techniques they love, trends in photography and more. Include a link in each blog post so clients can easily reach out to book a shoot. Post samples of your work and share with clients so they can spread the word, too!
Save Locations in your Chosen Map App Ahead of Time - Cut down on stress on on-location shoot days by mapping out addresses in advance and saving the location to your favorites list. That way you can hop in the car, pull up the map and head out. For your clients, include a location directly on your sign up for customers to access directions and travel times.
Whether you're a photography vet or a newbie with a growing business, these tips will make booking photography clients a breeze.
Sarah Pryor is a journalist, wife, mom and Auburn football fan living in Charlotte, N.C.