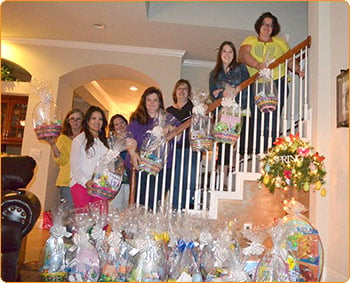 Friends of Fishhawk is a Florida nonprofit that helps families during catastrophic events by providing meals, collecting donations, and fulfilling other various needs. The group's "30 Days of Smiles" campaigns are organized for individuals who have been hospitalized or diagnosed with a serious illness. Most recently, volunteers got together to create "Operation Easter Bunny" baskets for needy kids.
Executive Director Kelly A. Rowjohn shared with us about the group's work, elaborating on the many ways they use SignUpGenius to make an impact in their community. 
How did you learn about SignUpGenius.com?  "We learned of SignUpGenius from a local teacher who used it for her classroom events."
Tell me a little about how your group uses SignUpGenius:  "The group holds over 20 events per year, between volunteer signups, meal trains, donation sign ups, etc.  We recently used SignUpGenius to collect items for our 'Operation Easter Bunny' event that we do.  We were able to provide 50 baskets to local children whose families are struggling a bit this year. [For our] 30 Days of Smiles campaigns we use SignUpGenius for people to choose a day and sign up to deliver a 'smile' - a small gift, card, note, flower, etc." 
How has utilizing the site affected your life as an organizer and the organization with which you work?  "[SignUpGenius] has really streamlined our processes.  It helps me to be much more organized.  It gives a clear picture of what is needed and what has already been collected.  It prevents me from accidentally missing a donation, etc.  I LOVE IT!" 
Can you share a specific story about how using SignUpGenius.com has had an impact on the people that you serve?  "We recently had a young woman near to our community who was diagnosed with Stage 4 Cancer. We decided to do one of our 30 Days of Smiles campaigns. I created and posted the SignUpGenius sign up link on our site which was then shared on other FB pages. Another young woman who was also recently diagnosed with the same type of cancer, saw the sign up and signed up to bring a smile.  During the drop off, the two women were able to meet and talk in person. Over the last two months, they have become 'lifelong friends' as they put it.  They attend Chemo together; they have each other to lean on and for support during this very difficult time. I'm not sure they would have met if not for the ease and functionality of posting the SignUpGenius link!"
What would you like to tell others who are thinking about using SignUpGenius.com?  "There is NO other way to go! It will make your life SO much easier!" 
SignUpGenius staff is encouraged by the stories of our users who are eager to help others and we truly celebrate the connections made as a result of online sign ups. If your group wants to simplify group organizing, get started HERE.