Florida Historic Preservation Group Organizes Annual Conference with SignUpGenius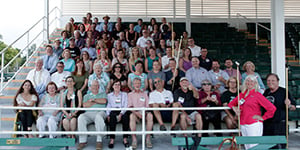 Florida Trust for Historic Preservation's 1,500 volunteers take the mission of preserving the past to heart. The organization's volunteers work to maintain many historic sites, museums and parks in Florida.
Executive Director Melissa Wyllie needed a powerful organizing tool for the Florida Trust for Historic Preservation Annual Conference. With more than 75 volunteer organizers coordinating a variety of educational sessions, Wyllie needed a tool that was easy to use and efficient. That's when she found SignUpGenius.
"SignUpGenius was a great tool, as attendees could view when and where needs were," Wyllie said. "Volunteers were able to choose times and areas that were most interesting to them."
Having used SignUpGenius with a local preservation partner in the past, Wyllie found immediate success in many features for the group's largest conference of the year.
"The ability for all volunteers to edit and change plans, times and needs in real time was very useful," Wyllie said.
Florida Trust continues to advocate for legislation and funding in support of historic preservation. For many Floridians, these sites mean well beyond their dusty forefront — they are an emblem of the state's rich history and rooted culture.
SignUpGenius is proud to help the Florida Trust make a difference in the Florida historic community. That's genius!