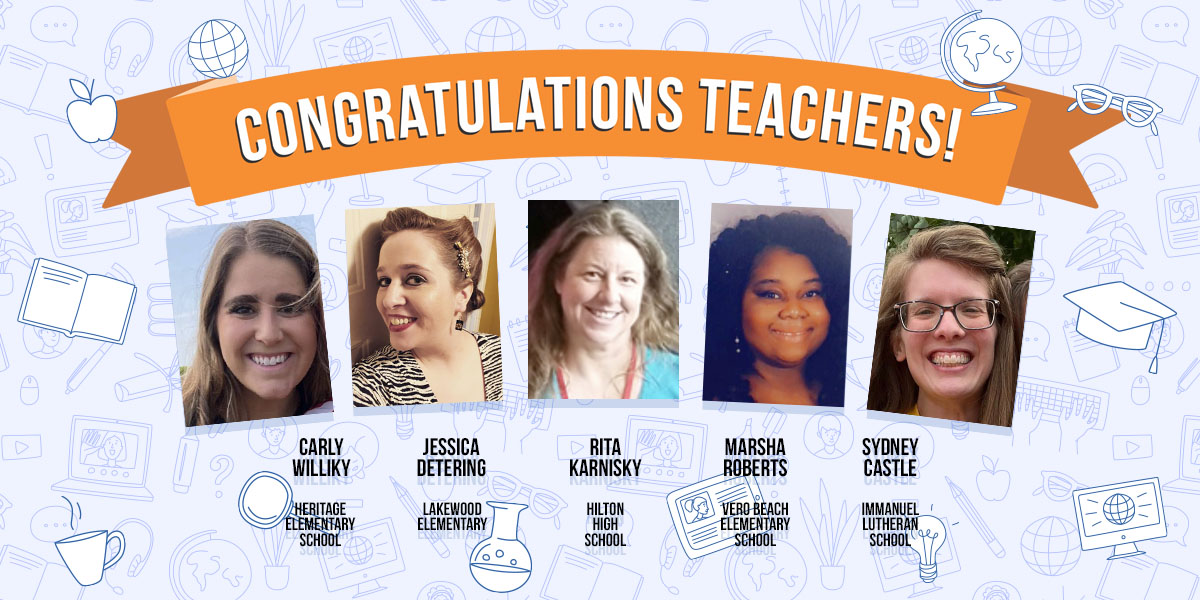 Teacher Appreciation Week is here! Celebrated from May 8 to 12, it allows parents and students to show educators just how thankful they are for the dedication and love that they pour into their work.  
To show our support for educators, we hosted a Teacher Appreciation Giveaway, giving you the chance to nominate the deserving teachers in your life.  
Five winners were randomly selected to receive a much deserved $500 gift card as a token of our gratitude. We're excited to announce the five teachers selected, and why they were nominated! 
Congratulations to these incredible teachers! Your impact on students and passion for teaching is inspiring.  
Sydney Castle from Immanuel Lutheran School 
"Sydney is one of the hardest working teachers I have ever seen as an administrator. She is kind and nurturing with the students. Every year the students connect with her and continue to navigate to her all throughout elementary school."  
Marsha Roberts from Vero Beach Elementary School 
"Ms. Roberts is an exceptional teacher and is dedicated to her students and school. She teaches 1st grade, and all of her students love her, and so do the parents. She goes above and beyond her job to make sure her students are having the best time in her classroom!" 
Rita Karnisky from Hilton High School 
"Rita is a special education teacher at Hilton High School. She has always gone above and beyond for her students and radiates passion for what she does." 
Carly Williky from Heritage Elementary School 
"Carly is an outstanding, compassionate, nurturing, first grade teacher in her very first year at HES and she has been an absolute gift for her students and families. It is evident when we see her interact with our children that she genuinely cares."  
Jessica Detering from Lakewood Elementary  
"Jessica works hard to make sure her students feel seen, heard, and have a voice in their own learning and the world. She spends long hours creating lessons that are meaningful, fun and engaging for all of the amazing learners in her classroom!" 
Show Your Appreciation   
Take time this week to show the educators in your life how much they mean to you, and how appreciative you are for all that they do!  
Treat teachers with a gift, volunteer time to help in the classroom, or send a thank you note! Coordinate group efforts with sign ups so the whole class can contribute!  
Happy Teacher Appreciation Week 2023!