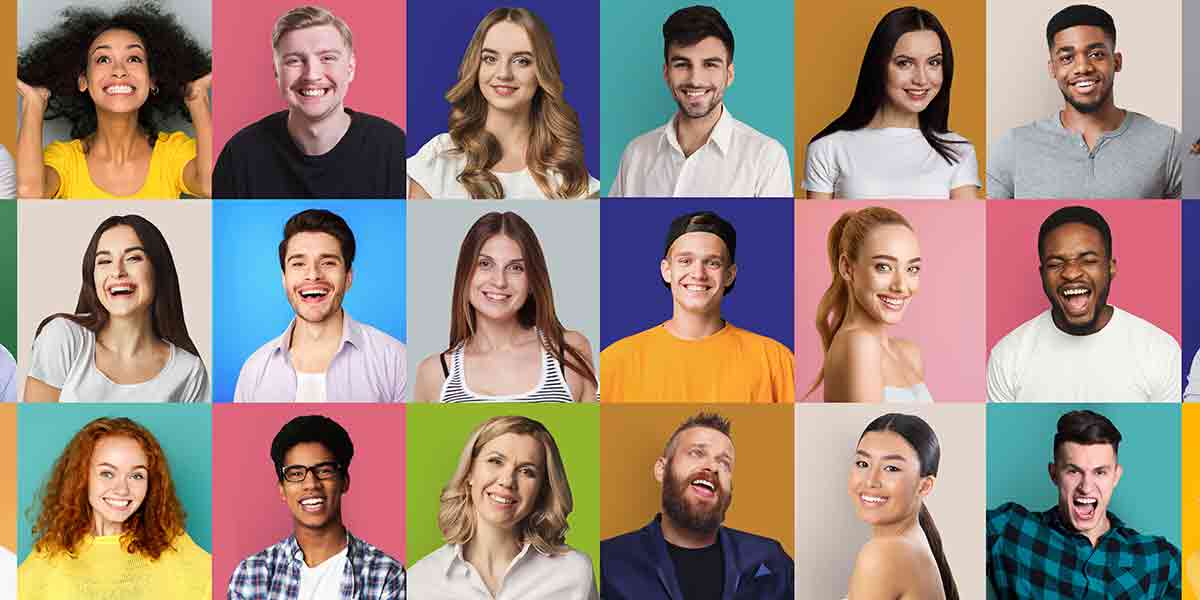 You've created an online sign up, saving hours of time communicating and coordinating with people. Now you're just waiting for those sign ups to roll in. And waiting… and waiting. If only people could just magically find your sign up.
Fortunately, there are a lot of helpful ways to spread the word and get more people to sign up. Here are three ways to promote your sign up to gain more participants.
Include the link in an email newsletter.
If you don't currently, send out an email newsletter to your group on a semi-regular or as-needed basis. Newsletters are a great way for any group to share information about events, opportunities and other helpful tidbits with your audience. You can place a link in your newsletter to make the sign up easy to locate.
To get started, create your sign up and once you publish it, copy the link from the Share tab. From there, you can paste the link into your newsletter.

Genius Tip: For a nice, clean look, use anchor text and set up a hyperlink. Most newsletter applications have a hyperlink feature in the text editor that allows you to highlight a particular word or group of words with your cursor and then turn them into a clickable link. You can also sometimes add a "Call to Action" button in your newsletter where people can click to access the sign up link.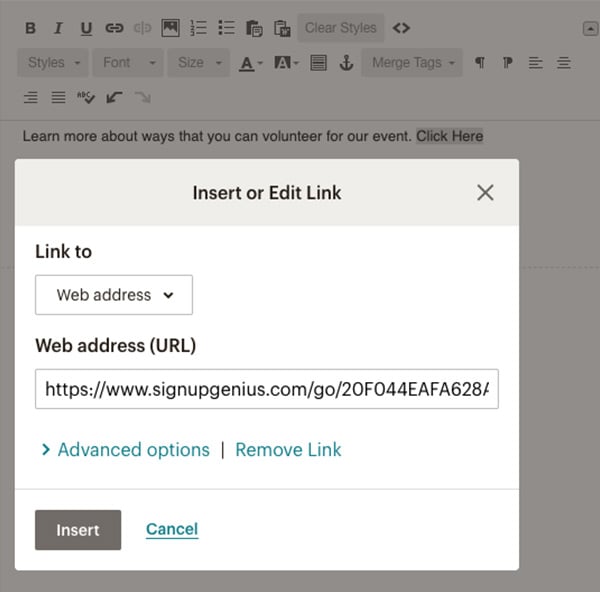 Place the link on a website.
Placing your link on a website keeps the link in a central location, making it convenient for participants to locate. This way, people don't have to dig through their inbox to find the original invite email or contact you because they never received the link. If your sign up spans a longer period of time or you have multiple sign ups, this is a particularly helpful way to make it easy for people to find your sign ups.
We offer a couple of handy tools to give participants access to all of your active sign ups in one location. For example, the index page lists all of your account's active sign ups in one spot. You can locate your index page in the Tools section of your account. From there, click the Web Button Builder option and copy the link to your index page. Or, you can copy the Web Button Builder code and embed this on your website.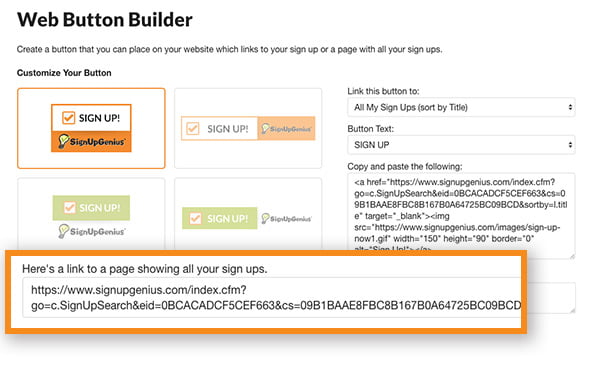 Do you only want specific sign ups grouped together? No problem! With our Tabbing feature, you can display specific sign ups together as one sign up link. Tabbing groups these sign ups into selectable tabs for your participants to select and view the sign up opportunities under each tab.
Post the link on social media.
Social media is always a good way to get the word out to an audience. This is especially true if you are part of an online group (such as a Facebook group) where everyone has a common interest. Sites such as Facebook make it easy to post your sign up link. They even generally provide a preview image and text box that describes your particular sign up.
Once you publish your sign up, you can share the link on Pinterest, Facebook or Twitter by clicking the provided icon on the Share tab.

Genius Tip: You can go next-level (and maybe help your sign up go viral!) by encouraging your group to re-share the link with their own groups or to share the sign up with friends. Simply select this option under the Integrations area when selecting the settings for your sign up.

All of these are great ways to promote your events or organize volunteers, so try all three of them! Using various channels helps you to get the word out to your audience with greater results. Remember, the goal is to simplify the sign up process.
Now that you've learned how to spread the news and recruit participants to your sign up, there'll be no stopping you from mobilizing your group into action!