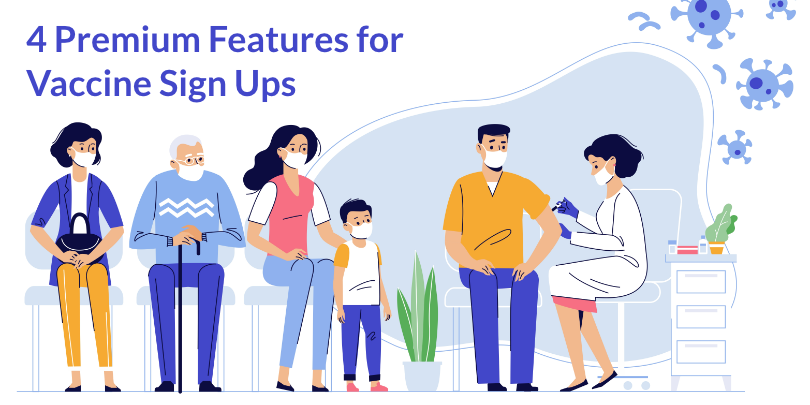 If you are scheduling vaccine appointments with sign ups, it can be difficult to know what features you need and where to get started. To help you along the way, we've created some simple resources to guide you through the process:
Platinum or Enterprise plans
to get the support and fast assistance you need — plus access to a host of custom tools.
Contact our friendly support team with any questions you may have about getting started. Without further ado, here are four of the best features for vaccine sign ups.
Remove SignUpGenius Branding
Need a software solution that looks like your website? With our no-branding
Enterprise
feature, you can white-label your sign up so it has the look of your own software — without the time and cost it takes to develop your own sign up software solution.
You can even customize the colors of the sign up and upload a logo or image to match your organization's brand. This way, you'll have a clean, professional-looking appointment registration page for your participants.
Additionally, you have the option to embed the sign up directly into your organization's website. This way, the sign up can operate seamlessly with your own site.
Portal Pages
Need a custom landing page to serve as the vaccine appointment scheduling portal for your organization? With our
Portal Page feature
, you can create and brand a custom landing page and display all your appointment sign ups on the page. Participants can visit the page and locate the particular appointment sign up that pertains to them. You can organize sign ups by location or any way you prefer.
Additionally, you can create content that will help provide directions and information to your participants. You can even attach downloadable forms — making it easy to communicate and provide everything your clients will need on a single page.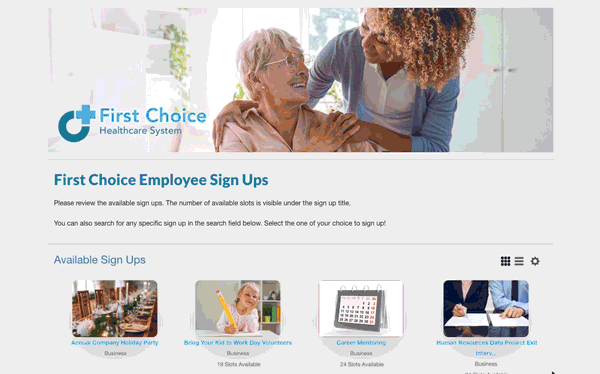 Additional Administrators
If your organization is managing multiple sign ups for various locations, it's probably best to allow each location to manage its own sign up. With our
multiple admin feature
, you can assign additional administrators to the account and customize their account permissions.
This way, you can have designated individuals managing specific sign ups — making your job a lot easier. Each administrator can be assigned as the contact person on their particular sign up and you can even assign them editing or view-only permissions on the sign up.

Dedicated Account Manager
Picture this, you're taking on the daunting task of rapidly creating sign ups in order to schedule a large number of vaccine appointments. Are you feeling just a little overwhelmed? Enter our Genius account managers!
Enterprise subscribers are assigned a dedicated account manager to help answer questions and provide useful insights for creating sign ups. They can even recommend using certain features that are super helpful with logistics, and ensure that you consider all your options to simplify your organizing. This personalized service will make your appointment scheduling so much smoother.
Whew! Aren't you glad one of our Genius account managers was there to help you through the process?

These premium features are sure to help you customize the appointment registration tool to fit your needs. You'll save so much time now that you've streamlined your vaccine scheduling and created a unified approach for your organization. Way to go!