Simplify Fall Gatherings and Events with SignUpGenius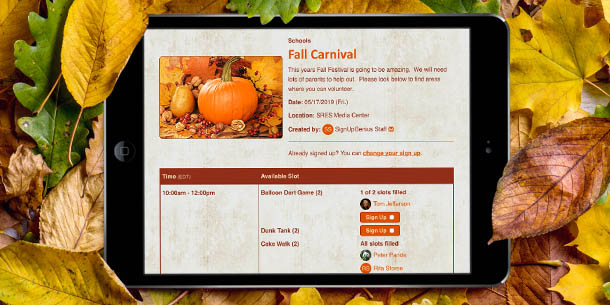 The return of crisp autumn weather signals it's time to gather together. So grab your pumpkin spice latte. Fall sports and festivals, neighborhood parties and school functions are just a few of the events we look forward to this time of year. SignUpGenius helps ensure you spend less time stressing about who's bringing the spicy taco dip to the tailgate and more time rooting for your team. See how we help simplify some of your favorite fall traditions: 
 Plus, our
SignUpGenius Pro
tools will make you look scary smart: 
Calendar Sync - Sync your entire sign up to a digital calendar, so you can see who's responsible for the carpool each day. The kids aren't going to drive themselves to gymnastics.
Email Scheduling - Schedule your email invites, so that you can write them when it works for you and send them exactly when your group needs to receive the information.
Custom Questions - Create your own questions to privately gather necessary information from your group, like T-shirt size or volunteer partner requests for your 5K.
Attachments – Convey extra information to your group by attaching documents to your sign ups. You can also easily include waivers that volunteers must bring to their assignments.
 SignUpGenius can help you organize groups, big or small. Now take a sip of that pumpkin spice latte and relax!